He's serious when it comes to business, designing his eponymous lines and for Brooks Brothers, but Zac Posen is unfailingly fun, charming, and energetic. Will there be a Project Runway musical? Who calls him Uncle Zac? What did he learn from Madonna? We gave him a ring to find out! 
What's new in the world of Zac Posen?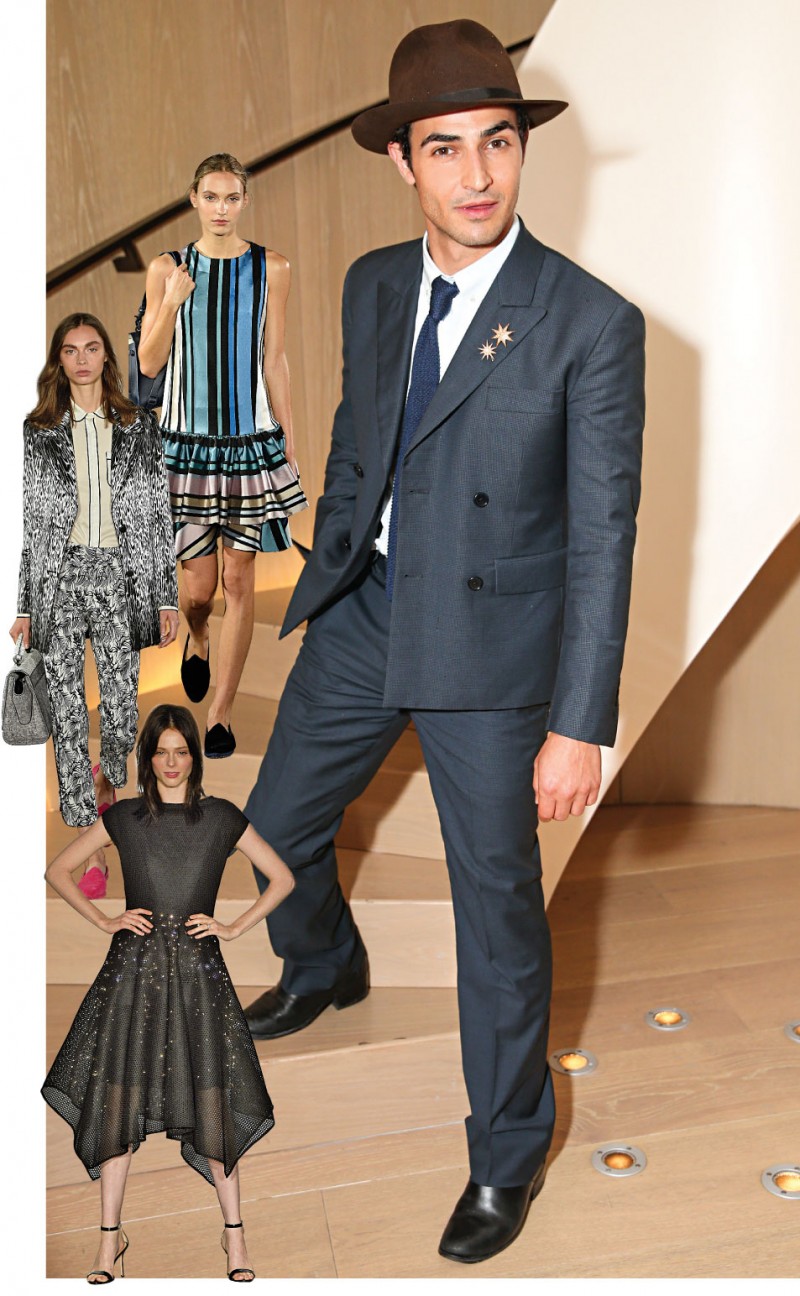 ZAC Zac Posen has seen lots of demand from retailers. We've seen double-digit growth in our accessories and handbags. We also have jewelry and hosiery. The collection is very day-to-evening pieces and body-con and flowy cocktail and evening dresses. It's exciting to see your young baby grow, and for it to get its own identity beyond the main line brand. And to kick off New York Fashion Week, ZZP partnered with Google and Made with Code.
What was the inspiration behind the collection?
It pulls inspiration from my trip to L.A., and has palm leaf patterns, animal prints, touches of blues, blush pink, seafoam green, and sandtones. It has that L.A. mood, and a little Coachella in there with the longer dresses. We used appliqué techniques on some of the outerwear, rainwear, and some of the bags.
Tell us about some of your collaborations.
At the moment our partners are Delta, American Express, and Brooks Brothers, and we have our line with David's Bridal. My plate is quite full and we have an incredible group of collaborators that I'm proud of. Shooting a TV show is a lot too. We have four Emmy nominations this year, which is the most in the show's history. I can't wait to have the right moment to find the best-in-class shoe partner. I've learned to wait for the right partnership at the right moment, and not to rush an evolution of a brand. I'm not a designer who shows things on the runway that I don't produce, except for this season's LED dress that Coco Rocha wore! But I'm sure there's going to be customers for that.
What is it that makes you and Coco Rocha work so well together?
She's a gem and a lovely person, and is also a spectacular model. She's only missed one show working with me, and that's when she was pregnant! She's passionate and she gets the big picture. She has major longevity.
Have you met her baby?
Yeah, of course! I'm Uncle Zac.
Cute! Being on a Lifetime show, do you have a favorite Lifetime Original Movie?
There are so many! I lived through the experience of my friend Gina Gershon, who was in House of Versace.
Tell us about your role at Brooks Brothers, please!
It's an incredible experience to do sportswear. Brooks' heritage is a global representation of American fashion. I feel really proud to be delivering one of the highest quality products at that price point in the global fashion industry. I know that's a big thing to say, but when you're able to use Loro Piana fabrics at that price point—it's a dream come true for me.
How do you switch gears from one line to the other?
My #cookingwithzac hashtag is my fashion detox! As you learn from working on different lines, the key to growing a business is knowing your strengths, learning how to be a good delegator and leader, making quick decisions and owning them, and giving it your all. My greatest strength is when I'm hands-on.
You're working on so many things—would you say you're stressed out?
Not at all. I've been in this business for 14 years. I still get excited, I'm still passionate, and I feel fortunate to do what I love. You can't bring that kind of stress and hysteria into your professional environment. When that anxiety starts to appear, you've got to focus that to do something positive for somebody else. You have to be passionate, involved, and a perfectionist, but the key to success is about enjoying the process. I learned that from Madonna.
She's amazing. Any other ways you like to relax?
I swim and I stretch. Anybody that's on the Project Runway set knows that I'm like a little dancing bean. Heidi [Klum] and I think one day we'll do Project Runway: The Musical. I'm joking! We don't have time for it. It's continuous work all the time. I'm not doing what I do to live a lifestyle—what I'm doing is my lifestyle.
Since you've been on TV, do people recognize you on the street more often?
Absolutely! I had to move out of Soho a few years ago because of it!
Did you spend your summer in the city?
I spent a few weekends with my family in Pennsylvania, and I went to Berlin for 36 hours, looking for the international designers of the future at Fashion Week.
How was that experience?
Wonderful! I've always worked with different universities, like FIT, RISD, SCAD, and Parsons. I'm doing a lecture with Fern Mallis at the Y in December. It's important to encourage people and be an approachable figure.
How long have you been showing at Coterie?
We've shown our accessories line, but we've never done the whole world of Zac!
What made you decide to go all-in this year?
The interest from retailers. [Coterie] has a great reach, and at the end of the day, we're in the business of selling clothing and product, and building a brand. It's one of the best platforms for that in the U.S.