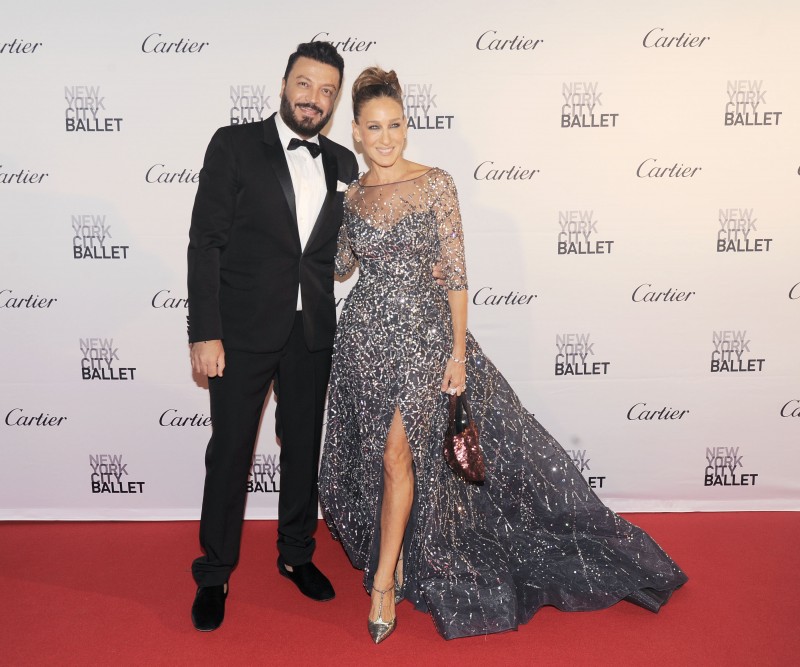 From the runway, to the ballet: Last eve, celebs and designers alike gathered at the NYC Ballet Fall Gala at Lincoln Center to witness and support the collab between the two arts…and the costumes were ah-mazing. Opening the performance was a number by Myles Thatcher, and Zuhair Murad applied his couture craftsmanship to create wearable and movable sequined leotards. Up next: A piece by Robert Binet, for which ADEAM's Hanako Madea created glittering blue leos with flattering sheer cutouts. Third in line was Troy Schumacher's number, and Marta Marques and Paulo Almeida for Marques' Almeida constructed flowy dress and pant pieces in bright fabrics sewn together in geometric patterns, hanging shreds of fabric from the sleeves and legs for a ribbon dancer effect. Humberto Leon and Carol Lim of Opening Ceremony and Kenzo designed modern full-body leos for a piece by rising star Justin Peck, using ombre-dyed fabric in hot pinks, oranges, yellows and whites, grays, and blacks, with some revealing midsection cutouts. And lastly, in a true grand finale (with a duet and jazz band onstage), Peter Copping for Oscar de la Renta did what the design house has always done best, fashioning a series of gorgeous evening gowns for a waltz-like number by Peter Martins.
Pirouettes and pliés aside, who sashayed down the red carpet? Jill Kargman stunned in a vintage Chanel black lace dress, Ivanka Trump in Pamella Roland (and yes, Ivanka Trump accessories), Jennifer Hudson walked arm in arm with Prabal Gurung, and Sarah Jessica Parker (gala chairwoman) looked très chic, dripping in Cartier and wearing a glittering gown with a thigh-high slit by Murad. Vanessa Williams, Julia Roitfeld, Carolyn Murphy, and Indre Rockefeller all made appearances, too. Here, some favorite red carpet moments…
ROSE MCGOWAN
What's your relationship with ballet like?
I started dance lessons at 3 and I've used my body as a stunt woman and also as a dancer in life. I've also been onstage at Lincoln center at night with my friend who's tonight dancing a principal role for the first time, Harrison Ball. And we kind of broke in and…maybe I shouldn't say that. [laughs]
ZUHAIR MURAD
Tell us about your costume designs tonight!
The choreographer has something specific in mind. The idea was very clear. I heard the music first to understand the mood of the dancing. We decided to do something feminine, very soft, very simple, very clean, with a lot of details. At the end, it was very simple. But when you see the dresses you can understand there is a lot of handcrafting…lace encrusted with crystals and embroidery, but very soft. And pastel colors. You have to make something really elegant but at the same time very comfortable, and to give them the movement.
Gorgeous! Do you ever go out dancing?
I love music and I love dance, but unfortunately I don't practice.
Will you be heading to Paris?
Yes, on Saturday! Usually I show only the couture, and for ready to wear we do a press presentation.
JILL KARGMAN
On dancing:
I'm a shit dancer. I mean I dance in our apartment. My mom went to the School of American Ballet, so it skips a generation!
On her kids' dancing:
My daughters did [ballet] and then they were dropouts. You have to be really serious and committed. It's not just an art, it's highly athletic, and your body has to really bend. I don't think we have the commitment in our family. We're a bit of a quitter family, and I'm OK with that!
IVANKA TRUMP
Any favorite collaborations tonight?
That's one of my favorite parts, the fusion of fashion and dance. I never really know what to expect and I'm always pleasantly surprised.
Are you going to Paris?
I'm done, I'm going to the office. [laughs] I wish I was going to Paris! Next year.
Do you dance?
I was actually just telling Leandra [Medine] I danced here for years at the American Ballet Theater, so this is a bit of a homecoming. Not at this level. But in The Nutcracker, I was a backup.
Are you going to put your daughter in ballet lessons?
She is in ballet lessons—she loves it!
SARAH JESSICA PARKER
On the designer/choreographer collabs:
That's the express purpose of the night, is having these two worlds come together and having these collaborations, which are really exciting for the choreographers. And our experience thus far has been that the designers, they love this experience. I think the designers love trying to sort it out. It's a very different experience…having it move and twist and breathe is a really interesting challenge. This is our fourth year doing it. It's been a great fundraiser for us. And I think the audience is excited by it. Without fashion, we wouldn't have this night. So I'm terribly grateful to those that say yes.
On her jaw-dropping jewelry display:
Cartier is our sponsor and they let me borrow [jewelry] for the night, but they're coming to our apartment tomorrow at dawn. I'm not kidding!
On her earliest memory of ballet:
I guess 8, when I first went to the Cincinnati Ballet Company's rehearsal studios where I had my first ballet class. Just seeing the company rehearse in one big studio—I had never been that close to professional ballet dancers and that was a fantastic, really gifted, very talented company.
On why she loves ballet:
It's the experience. The storytelling, what a dancer can do, what they can convey. This level of talent. Some might argue this is the best ballet company in the world. But I love the whole thing, I can't explain!
On the dream designer collab for ballet:
There are so many. I never got to see Mr. de la Renta design in my time with this company. Jeez, Claire McCardell, that would have been amazing, because she built beautiful skirts.