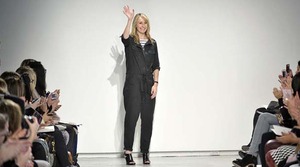 Skating By! With Rebecca Taylor
|
Backstage with Rebecca Taylor, The Daily finds out how R.T. gets her R&R!
How are you going to unwind post-show?
I'm going ice skating! There's a new rink in Prospect Park. I'll be living life large.
How did you come up with this collection?
I was influenced by street artist Philippe Baudelocque, He does chalk graffiti in Paris, these huge pictures of cats and rhinoceros.
Do you wish graffiti was still over the city?
I'm a fan. I like free expression!