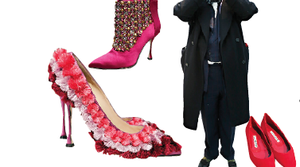 Being Modest…With Manolo Blahnik
|
Shoe whiz Manolo Blahnik was in town this season to show his latest heeled (and flat!) confections, and it was his first NYFW presentation. Turns out, Blahnik is nothing short of hilarious, and quite humble, to boot…
You're such an icon!
An icon of what?!
An icon of fashion!
Oh, please. You're losing your mind.
Why'd you show in NYC?
New York was the first city to really sell my shoes on a bigger scale.
As a kid, you dressed animals in shoes! What kind?
Lizards. I love them. I'd caress them.
You should do a line of shoes for dogs.
Don't complicate my life, but that's a divine idea.
Will you see any shows while you're here?
Are you crazy? I don't have time!
We know Anna Wintour loves her Manolos.
I adore her. She's my great idol.
Does she get a discount?
I guess so!