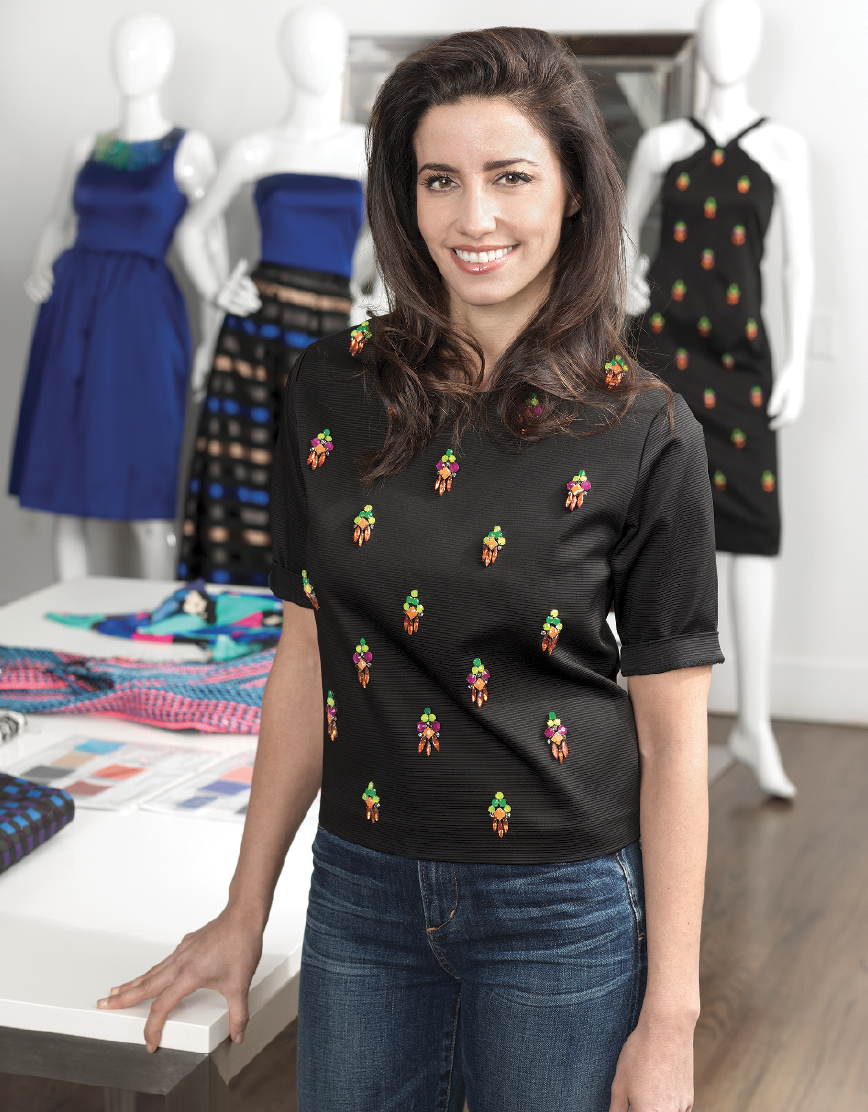 Shoshanna Gruss's playful, flirty designs put her on the map as the go-to girl for flattering day-to-night dresses. Now, the frock star is branching out into evening garb with the introduction of a new line, Midnight. Belles of the ball, take note!
Why did you make the entré into eveningwear?
When I first launched Shoshanna, I was focused on going-out pieces; I needed more date dresses. Since then, the collection has really grown up, and so have I! Since we started, I've become a wife, a mom, and a businesswoman. Now I need clothes for luncheons and evening events, and my customer is right there with me. We've always sold cocktail dresses alongside our daywear, and the cocktail pieces always sold out. Saks, Neiman Marcus, and Shopbop have already picked up Midnight for their evening departments.
What's the story behind the name Midnight?
Shoshanna is known for a lot of day-to-night pieces, but this collection is totally not that. I was envisioning the ball, when you're out at midnight. This is a true evening collection.
Does eveningwear mean strictly gowns?
There are a lot of separates in the line, including bustiers. And while there will be some jumpsuits in the next collection, this collection is mostly gowns and separates.
When you've got a fancy night out on your calendar, what kind of pieces do you opt for?
I'm always looking for pieces that are a little more fun and youthful. Sometimes evening can seem a little too serious! So for Midnight I made sure my love of color really shines through. I also added glam details, like fancy beading.
What are your favorite fancy events to attend?
I was the vice chair for the Memorial Sloan-Kettering Associates Committee for five years and the chairman for two, so I'll consistently attend and support their events for the rest of my life. Not only are they fun, but a big group of my friends are involved as well.
Which New York soirées draw the chicest crowds?
I haven't been in a while, but everyone always looks incredible at the New York Botanical Garden Conservatory Ball. Also, this year Monique Lhuillier co-hosted the Society of Memorial Sloan-Kettering Cancer Center's Fall Party—everyone looked gorgeous. I wore a beautiful dress of Monique's. It was pink and white with a skull beaded into it. My whole look was very "sugar and spice."
Who are the best-dressed ladies on the gala circuit?
Hmmm, there are many! I happen to think Eleanor Ylvisaker is the best-dressed woman out there, always. And Dani Stahl always looks elegant but cool.
Let's discuss the best-dressed chicettes on the red-carpet scene.
Cate Blanchett always kills it! Her face, her hair, her clothes, everything! Julianne Moore always looks impeccable and age-appropriate, and Naomi Watts is stunning and really natural-looking in person.
How long does it take you to primp when going out?
Getting ready is my favorite part of the night! I love putting together my outfit. Figuring out the shoes, jewelry, hair, and makeup always feels like an arts-and-crafts project. First,
I usually go for a blowout. Then, I get my makeup done at home, which usually involves a smoky eye. That means there will be three children and the dog running around, with one kid sitting on my lap, but it's still fun! Then Sienna, my oldest daughter, gets involved and tells me what looks good and what doesn't.
What are your favorite accessories for a night out?
Edie Parker is usually a go-to for me, and I'm also obsessed with Olympia Le-Tan. I collect her bags, but I've never used them! They're more like art pieces—I'm scared to spill drinks on them. As for shoes, I'm a huge Nicholas Kirkwood and Charlotte Olympia fan. I'm short, so I need a platform, which both designers do really well.
What about fragrance and lip color?
I wear Elizabeth Arden Untold as my scent; it's really good and very beautiful. And I like Kevyn Aucoin lip gloss.
What's your mascara of choice?
I'm very serious about mascara, and Lancôme Hypnôse is no joke! I always do my own mascara. No one else has ever done it. It's the one item I'd want to take with me if I was stranded on a desert island.
What's your curfew?
I get home as fast as I can! I was very good at staying out until 4 a.m. when I was younger, but I learned that nothing good happens after midnight!