Take a seat, as Cosmo's Sergio Kletnoy has a lot to talk about. His social calendar has been on full blast, and this past week was stuffed with cameos by Barbra Streisand, Kelly Osbourne, Prabal Gurung, and more…
When I thought that life couldn't possibly get any better, with no more highs left to reach, no more artists I adore and admire to meet (and an umpteenth cup of Chamomile caffeine-free tea to pour) last week happened and completely blew me away…
The legend that is Barbra Joan Streisand made a very rare public appearance at the Hearst Tower for a Q&A with O, The Oprah Magazine editor-at-large Gayle King. This was the mother of all Hearst events! Over 700 Hearst employees RSVP'd and only 156 of those got a seat in the Hearst theatre. This was a first come, first serve, no special treatments or guarantees function. Many fans were left in the cold and ended up watching Babs on a big screen outside of the theatre. #AintNobodyGotTimeForThat! And I thought to myself: "Don't tell me not to live, just sit and putter. Life's candy and the sun's a ball of butter. Don't bring around a cloud to rain on my parade." Come hell or high water, I was going to get a seat. After intense pushing and a little bit of shoving, I ended up sitting on the stairs in the front row, so close I could smell Donna Karan's Cashmere Mist Eau de Parfum all over Mrs. Streisand. The icon was there to talk about the newly launched Fight the Ladykiller campaign to raise awareness, encourage action and drive new research to fight women's heart disease (which kills more women than all cancers combined). During the hour long chat with Gayle, Barbara made every single one of us fall in love with her all over again. She was playful, warm and entertaining. Don't ask me how, but after the talk I ended up in the green room and was introduced to Mrs. Streisand by her uber-famous manager of over 40 years, Marty Erlichman. I mentioned my fave Barbra film For Pete's Sake, which my mom made me watch when I was 15 and Marty's eyes lit up! He told me he made a special cameo in the film (which almost no one knows about). A few moments later Barbra's smooth as butta hands touched my hand and then my shoulder. Although I've said this before, I might never wash again…
The next day I ended up at the Top of The Standard for the launch of Prabal Gurung and MAC's collaboration, where one of my faves, Jessie Ware performed for a room filled with flashy fashionistas. Jessie was hand-picked by Prabal, who shares my love of Ware's smooth voice and baby making tunes. She's also a massive Streisand fan and before taking the stage, pulled me to the side to get every juicy detail about my meeting with Babs. She even touched the hand that Babs touched. Memories, light the corners of my mind. What can I say? I'm a giver.
Next up? Three major film premieres. First, Cinema Society with Details, Brooks Brothers and Patron hosted a screening of Sony Pictures Classics Foxcatcher at the MOMA starring Channing Tatum, Vanessa Redgrave, Anthony Michael Hall and Steve Carell. All four made it to the premiere, where naturally everyone in attendance was salivating over Channing. Among the star studded guests were Mary-Kate and Ashley Olsen, Olivier Sarkozy, and Valentino, who sat a few rows in front of me… Having the Olsens in front of me made it hard to focus on the film, since all I could think about was my favorite Full House episodes.
Then there was the Cinema Society and Olay's screening of Miss Meadows starring Katie Holmes at the exclusive members-only NeueHouse. Katie plays an elementary school teacher who is out to save the world from bad guys and moonlights as a vigilante. Katie was excellent and in some way, the film and her role reminded me of the brilliant Suzanne Stone Maretto, also known as Nicole Kidman in Gus Van Sant's To Die For. #LovedIt!
The last premiere of the week was the hottest ticket in town: the Cinema Society, InStyle and Grey Goose screening of the hugely buzzed about Cake starring Jennifer Aniston. Jen's performance was chills-down-your-spine impressive and deserves all of the critical acclaim and early Oscar buzz. Her portrayal of a deeply disturbed female who is fighting major demons while obsessing over a friend's suicide is nothing short of brilliant. Did I mention that I met both Jen and Justin Theroux? I even told her about my obsession with The Edge, a short-lived sketch comedy show from 1992, which aired on FOX and starred Julie Brown, Wayne Knight and the then-unknown Aniston. She was as sweet and warm as you'd want her to be and even joked about being upset when the show was cancelled after one season. She ended up sitting two seats away from me during the film, so you can say we're almost BFF's now and will be braiding each other's hair in 3, 2, 1…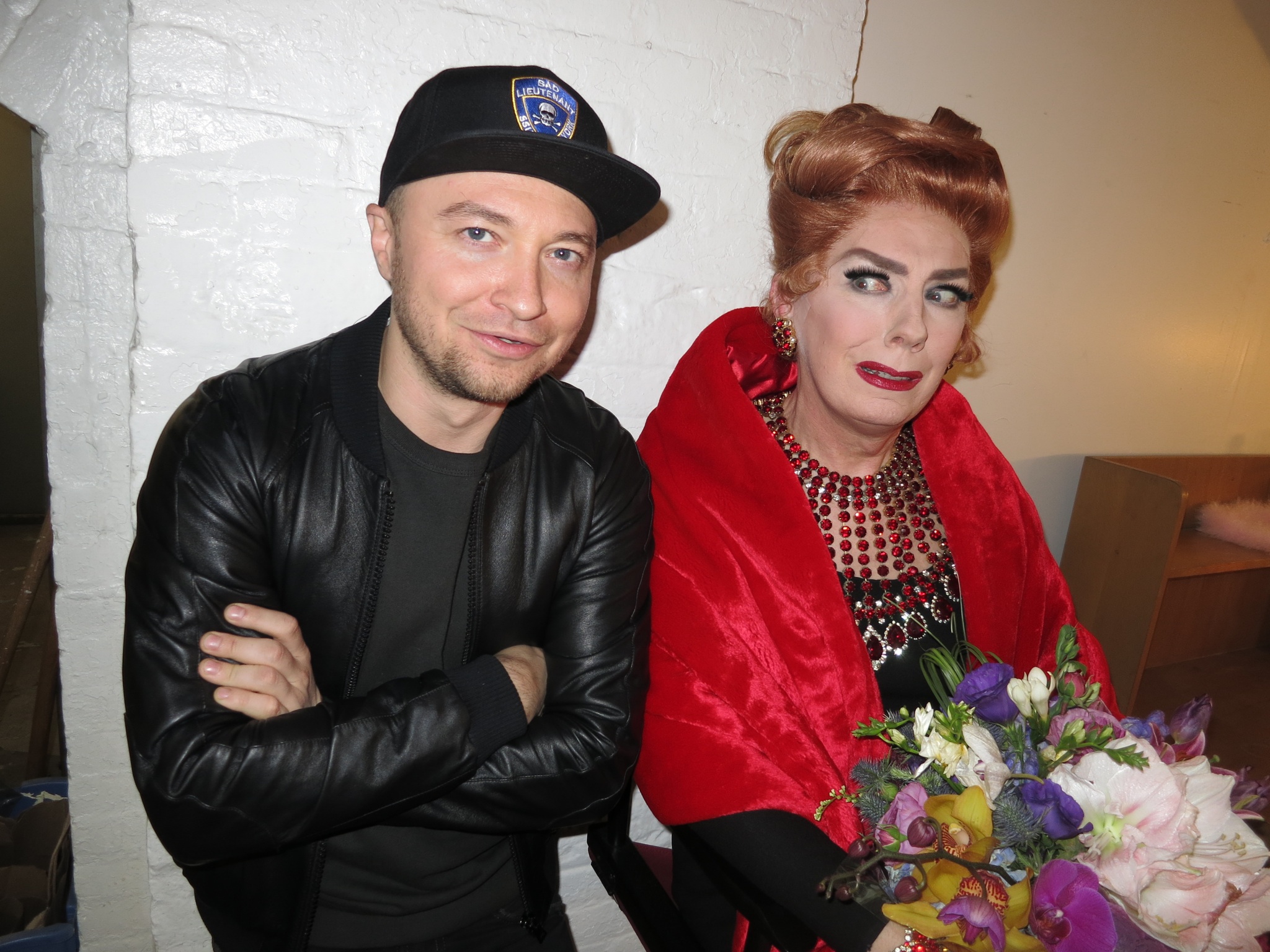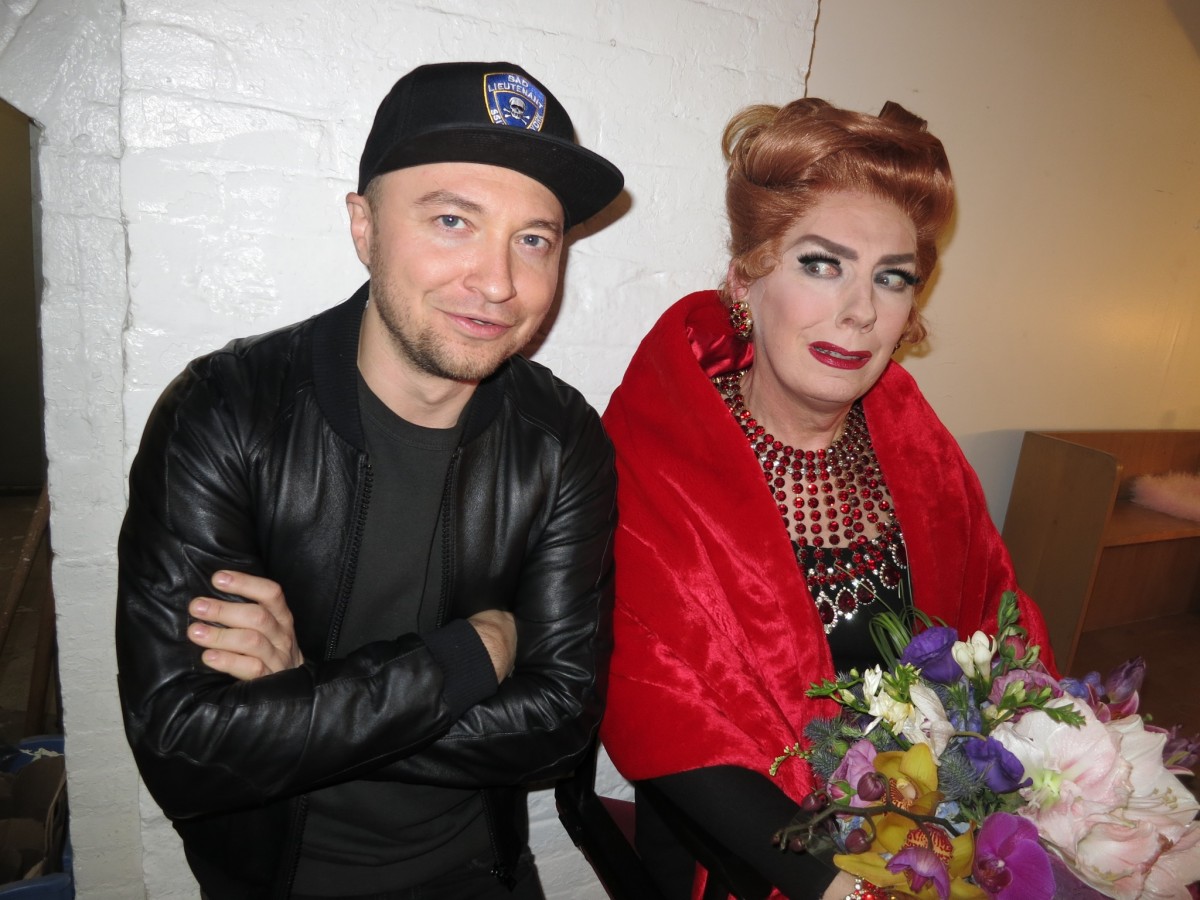 And finally, I saw the brilliant John Epperson in Lypsinka! The Trilogy playing at The Connely Theatre until January 3rd. After a nine-year absence and over three decades in showbiz, Lypsinka is back with three incredible shows. There's Lypsinka! The Boxed Set, not seen in New York since 2001 featuring Lyp's greatest hits. There's also Epperson as Lypsinka as Joan Crawford in The Passion Of The Crawford last presented in New York in 2005, which featured a re-enactment of Crawford's onstage interview from 1973. And finally a New York premiere of John Epperson: Show Trash, an autobiographical multi-media pastiche, revealing the man behind the madness. All three are super and widely entertaining. The night after Cosmo's Fun Fearless Life conference at Lincoln Center, I brought Kelly Osbourne to see The Passion Of The Crawford, and she fell in love with Epperson. The following night, I watched the same show seated between Lady Bunny, Ugly Betty's Michael Urie, and the legendary Bob Mackie. I'm literally obsessed, you better get your tickets! Until then have a great weekend and be sure to check out my fave new tunes below.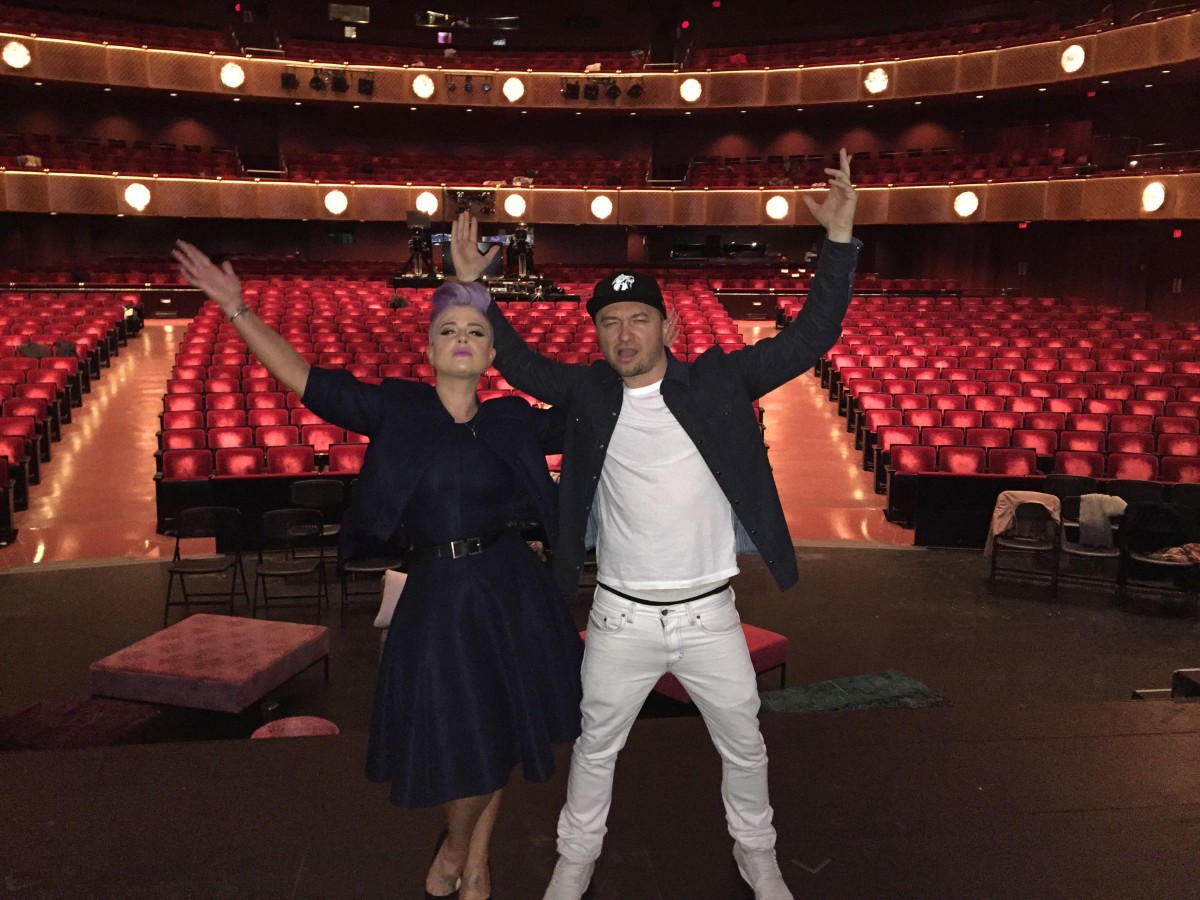 OBSESSED
"Oceans" by Coasts
"LA Love" by Fergie
"Real Love" by Tom Odell
"The Key" by Breach & Kelis
"LAF" by Broods
"27 Club" by Chløë Black
"Uptown Funk" by Mark Ronson
"Moonquake Lake" by Sia & Beck
"Paper Crown" by Alex Benjamin
"Under The Tide" by CHVRCHES
"Candy" by BORNS
"Froot" by Marina + the Diamonds
"Meltdown" by Stromae with Lorde, Pusha T, Q-Tip & HAIM
"More Than Silence" by Culture Club
"Human" by Aquilo
"Calm Down" by Lolawolf
"Outside" by Calvin Harris & Ellie Goulding
"Borderline" by Tove Styrke