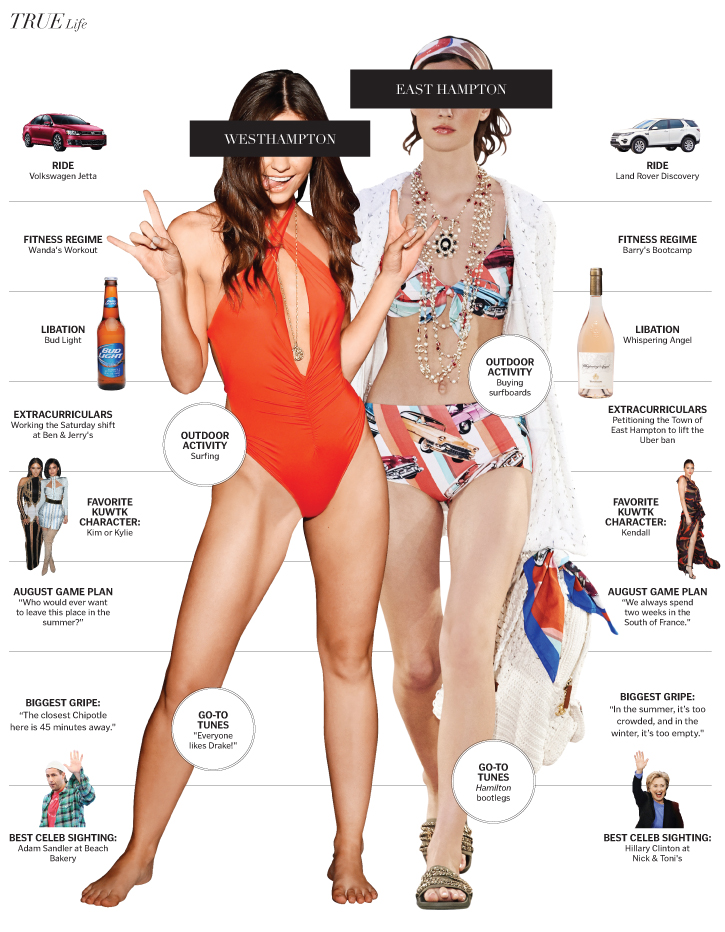 What's the difference between a teen who spends the entire year in Westhampton versus an Upper East Sider who's been weekending in East Hampton since the toddler years? The Daily Summer recently grilled two (anonymous) high school students from vastly different tax brackets to find out everything possible about the secret life of the East End teenager.
AS TOLD TO EDDIE ROCHE

THE WESTHAMPTON LOCAL
What's it like to be a Westhampton local?
In the winter, it's dead. Nothing is open. It's a ghost town. I know people say that, but, like, it really is. The summer is obviously so busy. You can't even go to the local places that you are used to going to. Now that I'm older, I definitely realize that no one knows how to drive. People from the city don't even know how a four-way stop works. It's so bad. I avoid traffic circles altogether!
Are your parents rich?
I wouldn't say my parents or any of my friends' parents are rich. That's a very stereotypical take on the Hamptons. When you say the word 'Hamptons,' people think you have so much money and live on Dune Road. No one lives on Dune Road all year long. People are comfortable around here, but they aren't driving around in Range Rovers.
Do you ever mingle with the really, really rich kids?
One hundred percent. There's a private school in East Hampton where a lot of the kids are wealthy. I grew up going to sleepaway camp, so a lot of my friends are from the Upper East Side. We call them the "snottier kids" for obvious reasons.
How often do you visit Sag Harbor?
That's way too far out. That's like 45 minutes from Westhampton. That's like crazy to think there are legit people who go there. It's also so tiny, but I'm sure it's fun.
It is! Thoughts on Montauk?
I've only been there once, on a school field trip to see The Montauk Point Lighthouse. I'm dying to go back. It's the place to be out here, but it's so hard to get to with the traffic. You don't want to go anywhere when you're a local.
Which designers do you wear?
Mixology is my jam. That's the place in town to shop for kids my age. They have everything from Kendall + Kylie to Junk Food.
What do you do on the weekends for fun?
Usually, there's a house party at night. Most of the clubs are further out East. It's not worth it to Uber, because it's so expensive. During the day, everybody is on the beach.  Everyone works, whether it's being a lifeguard or a cashier at a store in town. Everyone is consumed with work, especially on the weekends.
We know teens party! What do your friends drink?
Bud Light, Natty Ice [e.g. Natural Ice beer], and sometimes Svedka. But it's mainly beer and weed.
At these house parties, are there any parents around?
It depends. Most of the parents here know each other, and they're all friends. The kids know all the parents, too. It's really small here, so if I'm with my friends, it's likely the parents are all getting dinner together.
What's your allowance?
I don't get one, and I don't think my friends do, either. If we really wanted something, I'm sure our parents would help us. I'm not talking about a $2,000 bag. I have a credit card through my parents, with a limit. If I want something, I always check with them.
Is it hard being a teenager these days?
If grew up in Roslyn, Jerricho or Syosset, I would feel the pressure. There's a lot of competition that doesn't exist here about what kind of car you have, and who is paying $60,000 a year for college. I couldn't keep up. I can't imagine growing up anywhere else.
THE EAST HAMPTON LOCAL
How long have you been coming to East Hampton?
Since before I had a nanny. This is like my second home, but I follow a strict Memorial Day to Labor Day schedule.
What do people misunderstand about privileged teens?
That we only hang with other rich kids. I have friends from all over. I know some people want to just stay with their own kind, but I feel like I can figure out by now who likes me for my dad's money and who likes me for me. Money isn't something I look at when I pick my friends. I also don't really care if people think I'm a rich kid of Instagram. It beats the opposite. I've taken the Jitney. I'm not too good that I can't take a bus.
How could life in East Hampton be better?
In the summer, it's too crowded, and in the winter, it's too empty. I wish it was somewhere in between.
How often do you visit Sag Harbor?
Not very often, but I like eating on the water. And we might go on a yacht to go tubing or on Jet Skis.
Thoughts on Montauk?
I wouldn't want to live there or have a house there, but it's a lot of fun now. I still want to leave when I'm done there. I'm sure the people there are mad because it was the last spot in the Hamptons that was completely local.
What do you and your friends do for fun on the weekends?
I stick with the pool. I don't like getting dirty, and the beach is way too dirty. At night, we typically go to house parties and events. I've been on the charity circuit for as long as I can remember. It doesn't matter if you are 16 or 21—there's not a huge difference in your potential activities.
What are the house parties like?
They aren't really fun unless there's an event planner involved.
Are the parents home?
Usually. The houses are so big that you can find your area and the parents forget you're even there. It's a lot harder in the city.
What do your friends drink?
Cocktails and champagne. Everyone is obsessed with rosé lately. I would never touch beer.
What's your allowance?
We don't really do that. I have friends with credit cards with no limits. That's pretty norm. I can see why people might think that's really obnoxious, but you don't really think it's that weird when you're younger. A lot of people nowadays get hated on social media for having money, which isn't something my sister had to deal with when she was my age.
Sorry about that! Do your friends work part-time jobs?
There will be enough time for jobs later in life.
What are the popular fashion brands for your set?
The usual suspects: Saint Laurent, Céline, Alexander Wang, Elizabeth & James for the girls. I always check out Intermix. It's going to be a real problem with Scoop out of business.
What's the hardest part of being a teen?
Obviously, getting into an Ivy is constantly on the brain. There are also the petty things, like the stress of getting likes and followers on social media, but adults seem to be bothered by that, too. There's also the stress of getting in the door at clubs with a fake ID. But all in all, it's really not that bad.
Photography: Getty Images; Firstview; Shutterstock