Rachel Rodin launched ROYL in 2018 with the aim of creating a luxury loungewear brand that was less Lululemon and more The Row. Made in New York City out of Loro Piana and other exclusive, high-end fabrics, the collection is sold at only a handful of retail locations for now, but has a kind of easy appeal that bodes well for future growth. And if Rodin's past accomplishments are any indication — she cofounded the hugely successful luxury consignment furniture and home goods e-commerce platform Viyet in 2012 — it's just a matter of time before her new brand starts blowing up.
The Daily caught up with Rodin to find out more about her latest venture (now in its third season) and talk all things rest and relaxation. 
What inspired you to launch this brand?
In the past few years, I definitely began prioritizing comfort above all else. Whole portions of my day, I ignored fashion and chicness in the name of stretch and ease. My husband began making jokes at home about my look. Envision leftover Bar Mitzvah swag mixed with sweatpants that have lost their elastic. When I traveled, my standard uniform was workout leggings and oversized sweatshirts. I justified my look by telling myself, "no one is going to see me," but over time I realized that a little bit of my fashion prowess and self-confidence died each time I gave in to not caring. I was hearing similar stories from my styling clients. They too had their presentable 'wardrobes' but would slide back into the comfort black hole of athleisure. As their stylist, I didn't have great options for either them or myself. I knew I needed to address the epidemic.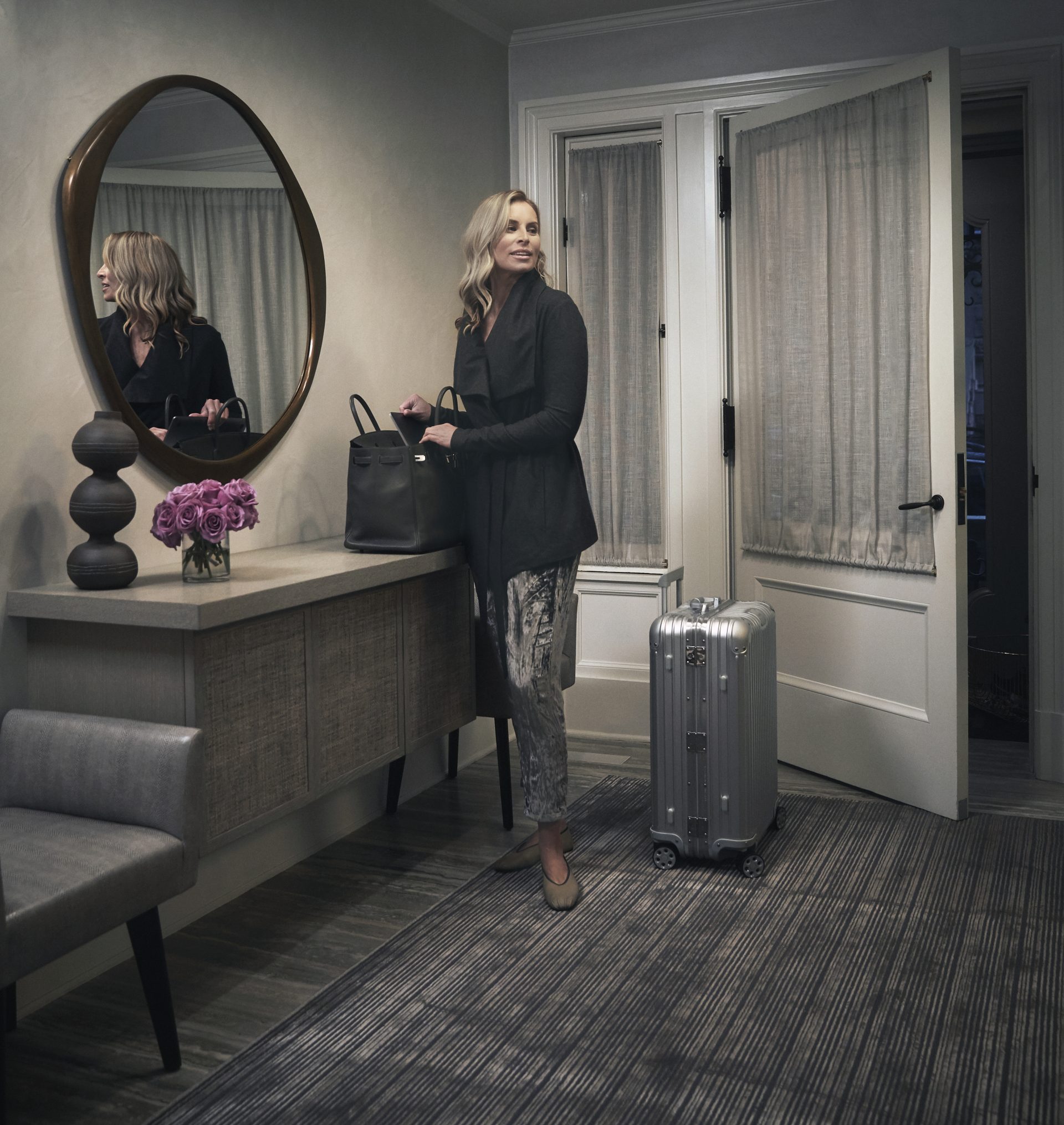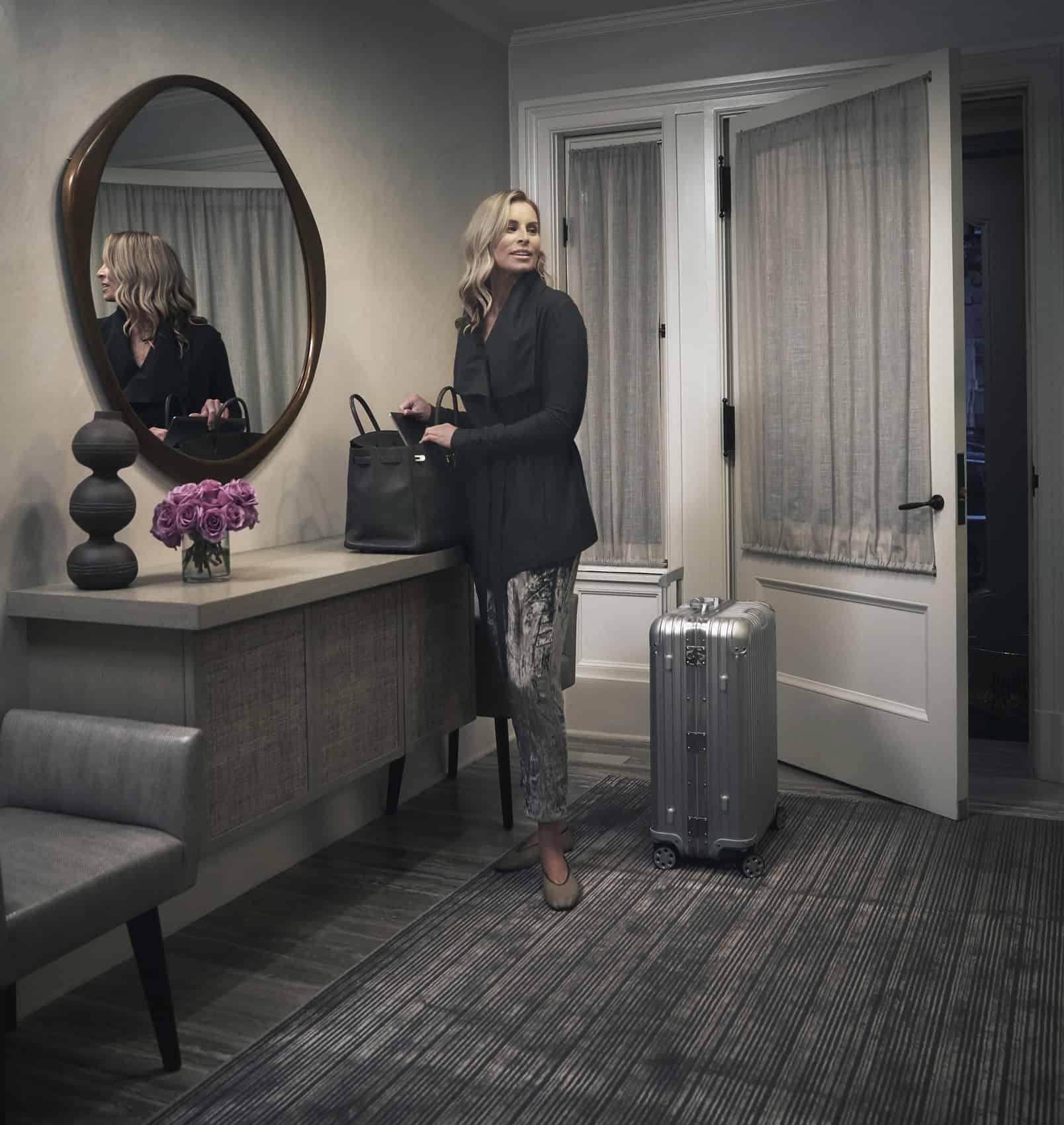 Italian Cashmere Wrap Jacket, ROYL, $995 ; Crushed Velver Cropped Pant, ROYL, $395
This is some pricey athleisure you've created. What makes these pieces so special? 
You know when you splurge on that one piece because you think it will transform your wardrobe? Then, after wearing it once or twice, it pills or wrinkles? Stretches out? I obsessively review each of my fabrics and designs so that each piece actually does transform your wardrobe. And when bought all together, they
transform your life. Excellent craftsmanship and attention to detail means it wears well, stays in fashion, remains special. It doesn't hurt that ROYL collections are also made from the softest, finest fabrics we can find.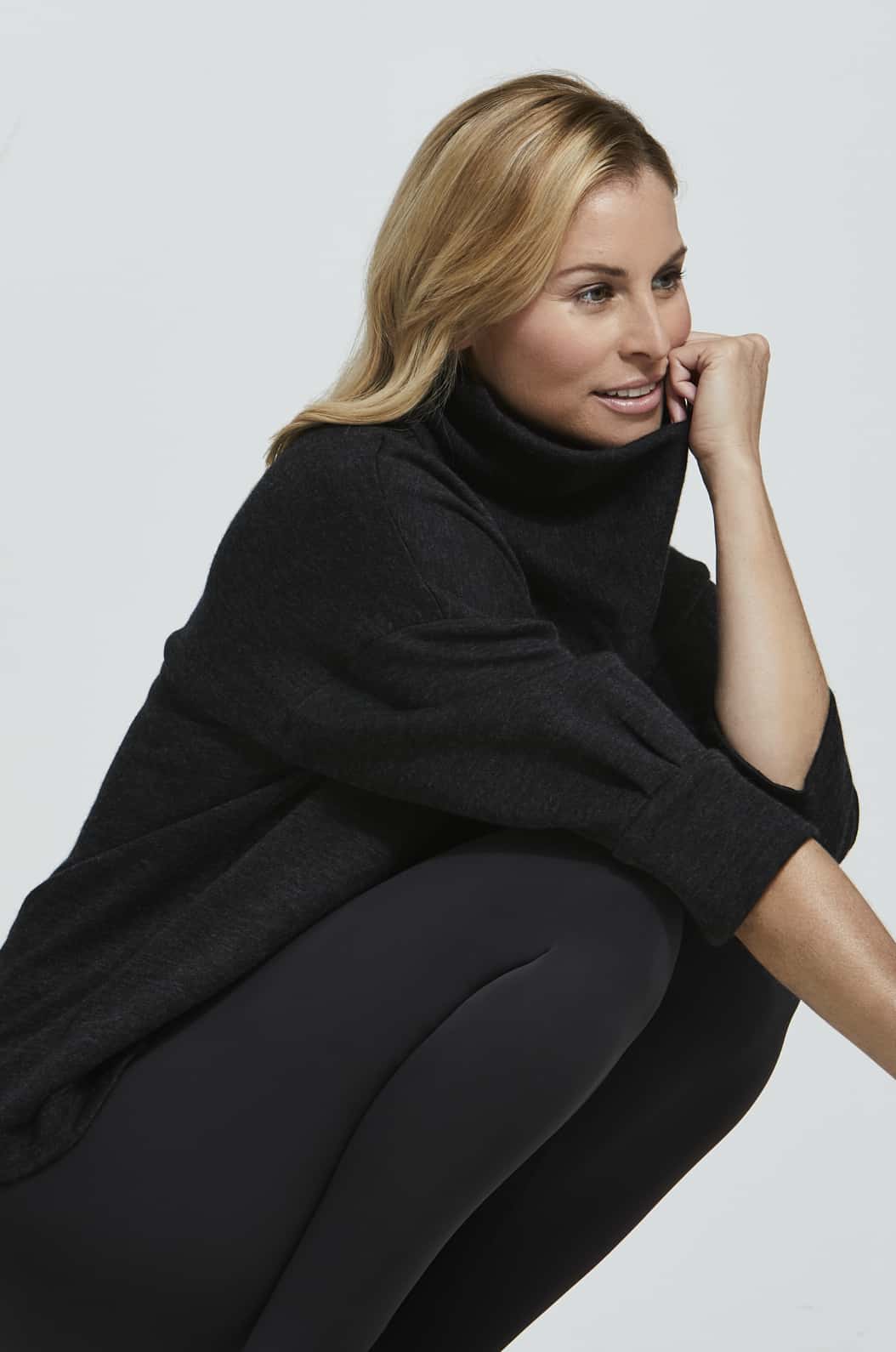 Italian Cashmere Cowlneck Pullover, ROYL, $595; High-Waisted Leggings, ROYL, $225
What do you hate about the athleisure/loungewear market? 
I feel like loungewear is an area where age-appropriateness is completely ignored. I see women in looks or trends that my teenage daughter might wear — bright colors, brighter labeling, etc. It looks out of place and just isn't flattering. Monochromatic dressing in long and lean silhouettes is timeless and benefits
every woman.
I also think brands combine athleisure and loungewear into one category. So many women wear their workout clothes whether they are exercising or just trying to get dressed fast and comfortably. I want athleisure to exist and be worn when someone is actually doing something active. Loungewear is different. ROYL is the first loungewear brand that can be worn any time of day that is both soft and fashionable.
What do you do to relax?
Bravo reality shows. Period.
What is the craziest thing you've ever done in the name of comfort / relaxation?
Have you ever heard of wearable sleeping bags? Need I say more? Turns out even if you get a demure color, they are still completely ridiculous. And hot!
What wellness trend are you obsessed with right now?
Intermittent fasting. I literally need someone to tell me that eating is over for the night.
What wellness trend do you think is completely overrated?
Any device that rolls the skin on my face. It's skin. That's attached. You can't change that by rolling it up to your ears.
Subscribe to our newsletter and follow us on Facebook and Instagram to stay up to date on all the latest fashion news and juicy industry gossip.