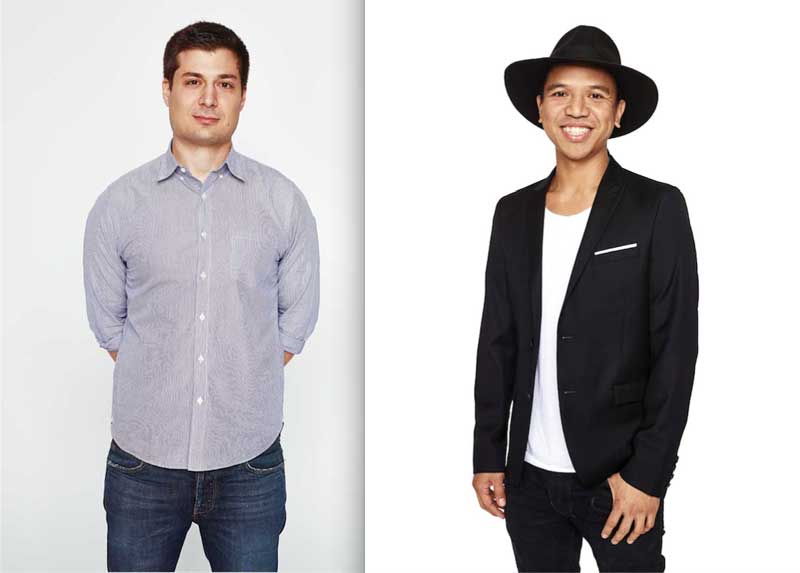 Michael Karanikolas and Michael Mente (aka The Mikes) were on the e-tail scene before it evolved into e-tail as we know it. Since its launch in 2003, REVOLVE has grown to become a leader of the L.A. fashion pack.
How did you end up in the fashion industry?
Michael Mente: We don't have fashion backgrounds—we were in tech. We started REVOLVE in 2003 after realizing that people were starting to search online for fashion, and especially jeans. We were looking for things to sell on e-commerce, and a friend suggested the jeans that Jennifer Aniston wore on Friends—7 for All Mankind. Hollywood, fashion, and celebrity are so intertwined in L.A., so we were able to understand trends, which influenced the REVOLVE aesthetic.
What's REVOLVE's fashion story?
Mente: We were a little hesitant to identify ourselves with L.A. fashion because we thought it lacked a certain credibility—it was the time of Juicy tracksuits and Von Dutch hats, which we ended up carrying because they were relevant. And L.A. was viewed as a denim world. Now, our customer is focused on complete looks. L.A. is very influenced by the runways, and vice versa. The world has become more integrated in terms of high fashion and mass because of social media.
What are the most memorable trends you've carried?
Mente: Definitely the Von Dutch hats! A couple of years ago, wedge sneakers were all the rage, from Isabel Marant to athletic brands like Puma. It's interesting to see how trends evolve and hit mass quickly.
Why work with digital influencers and bloggers rather than take the traditional advertising route?
Michael Karanikolas: Fifteen years ago, the major influence in the fashion world was fashion publications, which were largely New York–based. Of course, New York is still the U.S. fashion capital, but today many people's fashion is informed by the blogger world. A magazine like Vogue might have a circulation of around 2 million, but a blogger like Chiara Ferragni has more than 5 million followers on Instagram, and a lot of the top bloggers are based out of the L.A. area.
Mente: And models, too. In the past, model recognition was reserved for those on the runways and magazine covers. Now, some are Internet famous before they're industry famous, and have huge social followings. We also had to keep up with the shift in the customer. Millennials are shopping online. That might be obvious, but it's still not completely embraced by the industry. The first time we ever worked with a blogger was in 2008. It was when Rumi Neely was still known as [her blog name] Fashion Toast. She was local and she had style, but she developed her own audience and exposed our brand.
What made you stay in tech after you watched the dot-com bubble burst?
Karanikolas: Being on the inside of the industry helped give us perspective. We saw a lot of the problems at the time: excess, too much hype, not enough focus on fundamentals, and trying to grow too fast. That gave us the confidence to go about it in the right way.
How have you stayed in the game?
Mente: Every decision that we make is driven by what we think the customer is going to like. I think that might be different from some other fashion businesses.
How do you know what customers want?
Mente: From user testing and constant surveys with our consumers. We read every single piece of feedback. On the fashion side, we have complex systems to constantly analyze, project, and provide data to our buying and merchandising teams.
Who's in charge of spotting the trends?
Mente: It's a diverse team of 30 to 40 people; we have talented leadership, a broad buying team, and a strong analytics team.
Was it always that way?
Mente: In the beginning, we were developing the analytic systems and had to identify people on the team who were smart, hardworking, and who lived the lifestyle of our customer. As we learned to trust and empower them, it helped transform our business.
How do you know when a trend is fading?
Mente: That's where our analytical background helps; it's easy for us to identify when the acceleration of a trend has ceased to exist, even when it appears a trend is still going strong. It's that combined with our team's natural instinct—there's a science and art to defining when the market will be saturated with a trend or when our core customer will no longer be excited by it.
Who is the REVOLVE customer?
Karanikolas: This is always a fun question. [Laughs] The words we use are young, fun, trendy, sexy, and she tends to be social and have a vibrant personality and style.
How are people shopping online today?
Karanikolas: There's been a huge shift toward mobile versus desktop, toward apps versus websites. Our customers used to shop our site by brand. As we've gained the consumer's trust over time and as our brand has strengthened, the majority of customers are shopping by category or what's newest.
Which brands does REVOLVE own, and are you looking to scoop up others?
Mente: We started the brand called Lovers + Friends, and then we launched Tularosa and NBD. We also have Privacy Please, L'Academie, and shoe line Raye. We sell a lot from these brands to our competitors—Shopbop, Nordstrom, Saks, Neiman's, Bloomingdale's, and Intermix. We have some others in the works, and we're always looking for new designers who need help to bring their fashion vision to life. It's so challenging to start a fashion brand from scratch and manage the creative, operational, production, and finance parts. We have a great platform for emerging designers.
Tell us about FORWARD by Elyse Walker.
Mente: It's the part of our business that's focused on the true designer market, like Saint Laurent and Givenchy. That's about 20 percent of our business, but a quickly growing segment that competes more with the likes of Net-A-Porter. It infuses that L.A. fashion aesthetic at the designer price point.
And your men's market is expanding…
Mente: Dudes, just like girls, want to express themselves in the way they dress now more than ever. Our male customer is no longer satisfied with going to the mall and buying whatever—he's more knowledgeable and fashion savvy. He'll come to us for what's new. That's a huge long-term opportunity.
You're based in Cerritos. Why not the heart of L.A.?
Mente: I bought a house in Cerritos, and we started the business there. Nine months in, it was overrun with boxes, racks, and clothes, so we got a warehouse down the street. We built a team and slowly grew the company, and have moved to bigger warehouses. Today we're in 160,000 square feet about a quarter mile from our original 3,000-square-foot office. We also have a design studio of 60 people in downtown L.A. for REVOLVE-owned brands, and we're in the process of opening a marketing PR showroom in West Hollywood. We're exploring opportunities in New York as well. Our heart and soul are in Cerritos, but to have a global reach, we'll have people everywhere.
What else will we see from REVOLVE?
Mente: We have a couple of awesome clothing lines that are still in the development phase. They'll launch in the next year. That's really important to us; develop good product first.