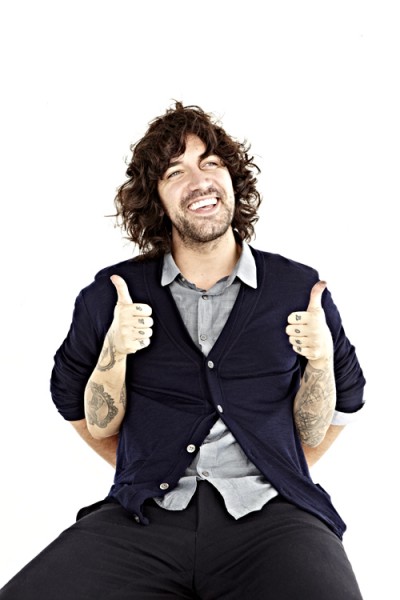 For the inaugural season of New York Fashion Week: Men's, Amazon Fashion has tapped celebrated fine-art photographer Erik Madigan Heck to capture the mavericks of the menswear scene who are sold across Amazon's platforms. Isn't it about time you met one of the industry's most in-demand creatives?
First things first: How did you become a photographer?
When I was 14, my mom, who was a painter, gave me a camera. For the first couple of years, I turned my lens on the girls I was dating at the time, and eventually, that evolved into a career in fashion photography.
What was your first important gig?
In my early twenties, I lived in Paris, and I met Ann Demeulemeester through friends. I did a project and sent her a couple of pictures, and she wrote me a letter saying that she was so happy with the work I made. We instantaneously had dinner in Paris. We spoke a lot and wrote letters back and forth, and she would commission me to do different special photo and video projects for third parties—she never really did a campaign for her own brand. We became friends out of nowhere, and she's kind of like a second mom to me. The biggest gig in terms of exposure and money was a job for Acura. I had already finished graduate school at Parsons, and Acura somehow found me and asked me to shoot an exhibition that would travel to seven different cities around the country.
You've also dabbled in publishing with Nomenus Quarterly.
It was a limited-edition collector's item—you would buy a box of prints and the idea was that you could hang them up in your house and enjoy the art. It cost $7,500. The New York Times ran a front-page story in its Arts section about Nomenus being the world's most expensive magazine. It was really genius, but terrible press, because it positioned Nomenus as very pretentious. But in effect, the reason it was so expensive was because it was so expensive to produce. We were barely profiting. Nomenus isn't really in existence anymore. I started a new publication—I like to make things—called No Photos Please, which I sold at Colette in Paris. There are 20 prints in a plastic sleeve instead of a bound publication.
Where are you based?
New York, but to be honest, I'm here very little. I just returned from Europe after shooting there for a month straight. I spend about half of my time in London.
What are you working on these days?
I just finished a project with Thom Browne. It's a campaign, but you won't see it as an ad—it's a really beautiful long series of 80 pictures in black and white. I also shoot a lot of fashion stories for Harper's Bazaar UK. I'm working on my first big monograph of my work, which comes out in early 2016.
For Amazon, you turned your lens on menswear designers. What inspired that project?
First of all, there was a lot of thinking that had to be done because we were pulling together 16 very different designers. We tried to find a cohesive way to bring them all to life and have the photographs live as a series. For the past couple years, I've been doing fashion from behind. For me, it's a very subtle, poetical statement about fashion—trying to erase the celebrity from it, and erase the fact that we focus on who's wearing it as opposed to what they're wearing. Because this is New York's first menswear week, I felt like it was really important to show the clothing. We shot one guy from behind, and the sets were all designed around the clothes. There are a lot of monochromatic colors, and some of the photographs are really simple studies of just the fabrics or the silhouettes. Ultimately, menswear, except for Thom Browne's, is less theatrical and more day-to-day actual ready-to-wear, so it's harder to really bring it into a world of theater. These are much more realistic pictures and portrayals, but I think they are really powerful art in how simple they are. It's really about taking a hoodie or Windbreaker and trying to see that object as beautiful.
What do you wear?
I attempt to be fashionable, but I generally feel silly when I get dressed up. Right now, I'm wearing a pair of faded shorts from middle school that have paint on them and a cotton T-shirt. I like to be invisible when I'm in public. If I can look like a tourist, that's as good as it gets.
On July 13, Amazon Fashion unveils another NYFW: Men's-related project: DreamWorks Animations' 16-piece Character Clash collection. The range of tees and hoodies features five of its classic figures (Felix the Cat, He-Man, Richie Rich, Underdog, and Where's Waldo) used in designs from Billy Reid, Ernest Alexander, Michael Bastian, Ovadia & Sons, Public School, Robert Geller, Timo Weiland, and Todd Snyder. "We're always looking for new ways to tell stories with our characters, and for us, fashion and apparel can serve as that 'content,' " says Brian Robinson, head of creative, design, and development at DreamWorks Animation. "Ultimately, we wanted to create a program that challenged and inspired designers to write a new story, and the Character Clash collection is the result." Prices range from $75–$175, amazon.com/DWCharacterClash.