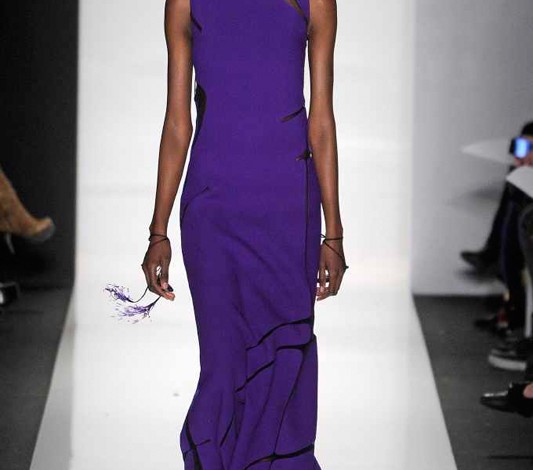 NYFW Fall 2013: Chado Ralph Rucci, Patrik Ervell, Emerson, Cynthia Rowley, DKNY
|
(NEW YORK) Chado Ralph Rucci
Lady and the vamp! At Ralph Rucci, it was all about sophisticated, sleek silhouettes with a hint of sultry. Classic staples for his uptown set came via mink furs vibrant hues (lime green, perhaps? Pepto pink, anyone?) Daywear debuted conservative turtlenecks and button downs paired with leather skirts. A fantastic gown with sheer beaded mesh fell into a partial skirt that artfully revealed an underpinning of Francis Bacon's famous Screaming Pope painting screen printed onto gazar. Accessories also revealed a subtle wild streak for the Rucci woman, what with tassel bracelets hanging suggestively from the wrists. Ooh la la! We suspect Rucci will be all tied up when his customers come calling to pre-order…
Patrik Ervell
Outerwear was the focus for Patrik Ervell's Fall collection. The designer kept it simple for the most part, with a predominately black and navy collection that kept things casual with slim, tailored suits and button downs that were mixed with windbreaker bomber-style jackets. Things got interesting when Ervell took cues from pervasive outerwear brands (yes, those ruggedwear-fit-for-cityslickers-and-sorority chicks purveyors), with mountain-bound fleeces and touches of nylon on the pockets and collars. A wool jacket in cobalt blue had the effect of classic denim. Another look had the appearance of full-on camouflaged attire for the hunters among us, while a poncho got retooled as a shiny green cape. While it won't get you far out in the elements, style and invention was at its height.
Cynthia Rowley
Hello, stark contrasts! Such was the case for Rowley's latest, shown in presentation mode at her new UES boutique (completely with a candy store inside!) Sweetly styled bell skirts paired with slouchy sweaters and boxy jackets, for example. Meanwhile, demurely sleeved marble-printed dress paired with snakeskin-patterned tights. Another mishmash du Rowley? That burgundy, double-layered fur and leather motorcycle jacket over a floral printed navy shift dress. The vibe was that of a bourgeois babe gone bohemian, which fit right in with the sweet and sour candy Rowley was serving up pre-show. Consider us converted.
Emerson
Before the runway-ing could begin, Emerson designer Jackie Fraser-Swan's publicist, Kelly Cutrone, took over the mic and announced to the crowd that the show would be delayed another 10 minutes before Fraser-Swan's husband and two little girls could arrive. The designer's brood had been delayed by the downpour of snow, but the show went on as her tiny toddlers made their way to their seats. What followed was a rocking youthful collection of 90's references. See: that yellow plaid chiffon deep-V blouse, paired with black and purple leather low-rise trou, a shift dress with plaid draping, and a metallic tinsel dresses in purple and red. A faded plaid one shoulder draped gown seemed apropos for the Cory Kennedy types on the town; Fraser-Swan's target is a hipsterette who doesn't take life, or her fashion, at times, all too seriously.
DKNY
Hot off the heels of an Opening Ceremony collab brimming with reissued archival favorites from the '90s, DKNY continued its nostalgic streak with a Fall 2013 collection that "had its way with iconic classics." Parkas, quilted bombers, and sweatshirts spliced with neoprene came oversized while jackets winked to menswear with elongated silhouettes. Meanwhile, dresses received a new, sculpted shoulder that no doubt had front row starlets, PLT's Shay Mitchell, Teen Wolf's Holland Roden, and actress-singer Victoria Justice, in a frenzy. A Daily favorite? A long quilted hip-hoppy animal print bomber over a camel flannel blazer and slim black trousers.