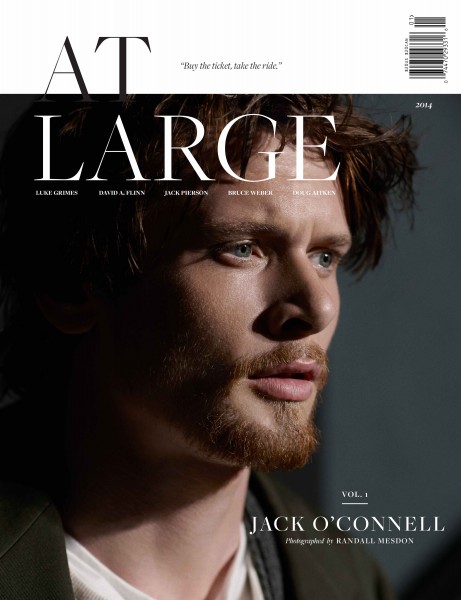 The men of the world are in need of a new bible — at least that is what Randall Mesdon, Erik Rasmussen, Enrico Pirondi, and Julie Ragolia believe. The quartet of creatives who recently left the Man of the World mag, a two year old glossy entry from entrepreneur Alan Maleh whose main raison d'etre is to generate e-commerce sales for the eponymous website, have left their former title to create their own version — a new tri-annual men's niche magazine entitled At Large. The title should be taken literally as the entire team, six of whom formerly worked with the founding team at Man of the World, now collaborate to produce the magazine from around the world.  "We are like a large extended family," said At Large editorial and creative director Randall Mesdon exclusively to The Daily. "Some of us live in different cities and different countries, but we all share the same passions. This project's point was to unite this big family. Even when we don't see each other we have a platform where we can exist and still be creative."
So why the big exodus from Alan Maleh's Man of the World? Mesdon says it is all about autonomy. "The simple answer is that while I may have a French accent, I'm very American in that I believe in being my own boss. If you are a decorator you don't own the house and I have no plans on decorating somebody else's house. It doesn't matter whether it's Man of the World, Condé Nast, or Hearst." While none of these creatives actually held top of masthead title at magazines before Man of the World, Mesdon has been working in the industry since 1986 as a photographer, contributing to GQ, Details, and Vogue Hommes International among others and shooting ad campaigns; Rasmussen, At Large's EIC, has written for L'Uomo Vogue, Mondo Uomo, and Content;fashion director Julie Ragolia has styled for Vogue, W, Details, Interview, and Vanity Fair; and art and design director Enrico Pirondi has done global branding for Jil Sander and campaigns for Boglioli Milano (an ad runs adjacent to At Large's masthead), Acne Studios, and Nike.
Clearly there is a good deal of client cross pollination in this camp. Contributing photographer Bruce Weber who shot one of the premiere issue's covers, told Mesdon to "keep his freedom". But can you publish a bona fide magazine when your bread an butter is the ad agency business? "I will say yes and not because I'm naïve," said Mesdon. "The niche market can actually carve out its own path through new relationships with designers or new relationships with advertisers. It's never said enough that some of the advertisers are actually fantastic people that have supported not only us, but other niche magazines. They are not only demanding, they are also helping and supporting us."
The first issue of At Large for Winter 2014, which will have a circulation of 8,000, has debuted with four cover stars including Ben Skinner, Luke Grimes, David Flinn, and Jack O'Connell. The latter, who stars in Angelina Jolie's upcoming and hotly anticipated film, Unbroken, specifically requested to be shot by Mesdon himself, but that won't be typical. "I love curating and I love the work of others. I'm not in publishing for it to be just about myself," he told us. Admittedly, At Large is similar to Man of the World in its male driven content and visuals, but Mesdon says the magazine, whose target audience is 24 to 38 years old, is to embrace creativity everywhere. "Our intellectual model is closer to National Geographic or Magnum," said Mesdon. "That's a pretty big statement, but what I mean is that a good editor is in the field not behind the desk, and that is our objective." Meanwhile Maleh has re-staffed his Man of the World franchise and retained former Voguette Lottie Oakley to sell advertising.
At Large will be available at selected newsstands, The Chateau Marmont, and J.Crew men's shops. Let the games begin!