Sun, salt water, chlorine, and other assorted environmental factors can wreak havoc on hair. Enter Moroccanoil's new Color Complete Collection, a full range of products that protect and rebuild your strands. Celebrity colorist Lorri Goddard explains the phenomenon!
What's your professional background? How did you get into the industry?
I'm a hair color specialist and a consultant for film and media hair color. My passion also lies in training people to evolve into professional hair colorists. I got started in the industry because my aunt had a salon and I worked as a receptionist over summer break. I fell in love with working with clients and the art of creating.
Tell us about your salon!
I am coloring hair at Suite Retreats this summer. Right now, I am in an amazing residence at Palihouse West Hollywood. Check out my Instagram Story @lorrigoddard_ for a look! I wanted to give a more private house call experience. There are so many mobile house call companies and hairdressers, and my clients are really into the VIP experience.
Which celebrities and influencers are you working with these days?
Emmy Rossum, Reese Witherspoon, Ashley Olsen, Chloë Grace Moretz, and Hillary Kerr to name a few. One of my longest collaborations has been with Ashley Olsen.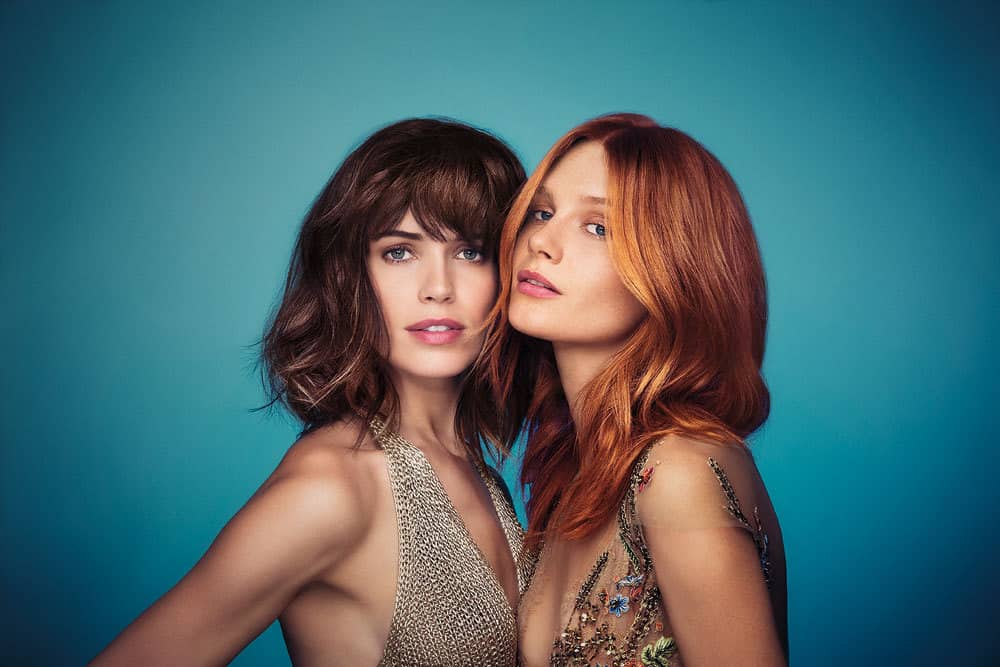 What's the longest color process you've ever done — how many hours and sessions?
Three days for four hours per day. It was for Jennifer Lawrence when I had to get her back to blonde for American Hustle. Four weeks prior to that appointment, we had taken her blonde — this was right before she won her Oscar. The next day we took her very dark for Hunger Games and two weeks later she had to go light again for American Hustle — so it was crucial that we let her hair rest during the process.
How did you get involved with Moroccanoil?
I teamed up with Moroccanoil to launch their incredible new Color Complete Collection. My clients undergo so many hair transformations, whether for different film roles or events, so maintaining the health of their hair is priority. I was so excited to work with Moroccanoil because their products contain such high-quality ingredients! Their proprietary argan oil–infused formulations are unique in that they instantly transform hair, so it looks shiny, healthy, and beautiful, and also improve the condition of hair so it becomes even healthier over time.
What's the concept behind the Moroccanoil Color Complete line?
Because compromised hair color is unavoidable, caring for color must be part of your lifestyle. Moroccanoil Color Complete Collection takes a holistic approach to color care, targeting the full scope of color loss by addressing all daily sources of color degradation. As a stylist, I'm happy to finally see a collection that answers the need for a hair-care regimen to protect, maintain, and sustain color.
How does its formulation help to retain color?
Moroccanoil Color Complete Collection uses the power of two proprietary technologies — ArganID™ and COLORLINK™ — to help nourish, repair, and seal hair for optimal color retention. ArganID™ harnesses the power of ionic attraction and infuses argan oil deep into the cortex, helping to repair and seal the hair, while COLORLINK™ helps rebuild damaged keratin structure to trap color within and minimize color washout.
What are your favorite products in the line, and why do you like them?
I love the whole line, but I have to say my must-have is Moroccanoil Protect & Prevent Spray. People are often unaware of the environmental effects on hair, especially colored hair. Oxidation — a reaction that affects hair color pigment when hair is exposed to UV rays — can cause hair color to lose vibrancy and appear brassy. Using Moroccanoil Protect & Prevent Spray as a daily leave-in conditioner will help protect hair from oxidation by absorbing damaging UV rays, preventing color fade and brassiness.
What are some of your favorite color trends?
Red and strawberry blonde! Also mauves and pinks with a rose-gold hue.
Whose hair do you want to get your hands on now?
A little hand-painted sunshine for Meghan Markle, aka the Duchess of Sussex, would be a highlight!
Has social media helped you expand your clientele? If so, how?
Absolutely! Social media plays a huge part in my day-to-day as people constantly reference pictures to show what they want. I also gain many new clients who either find my Instagram or follow one of my celebrity clients on Instagram and they reach out to me for appointments.
What's your daily hair routine like?
Moroccanoil Protect & Prevent Spray should be part of everyone's daily routine because it not only helps protect hair from environmental damage, but it also acts as a leave-in conditioner to nourish, repair, and detangle. Moroccanoil Treatment is also one my must-haves! I love that it's so versatile and I can use it as a conditioning, styling, and finishing tool.
How often do you change your hair color, cut, and style?
I recently went from paler blonde to strawberry. I kind of edit my look with certain lengths and lighter and darker hues, but I don't tend to do drastic changes. 
Subscribe to our newsletter and follow us on Facebook to stay up to date on all the latest fashion news and juicy industry gossip.