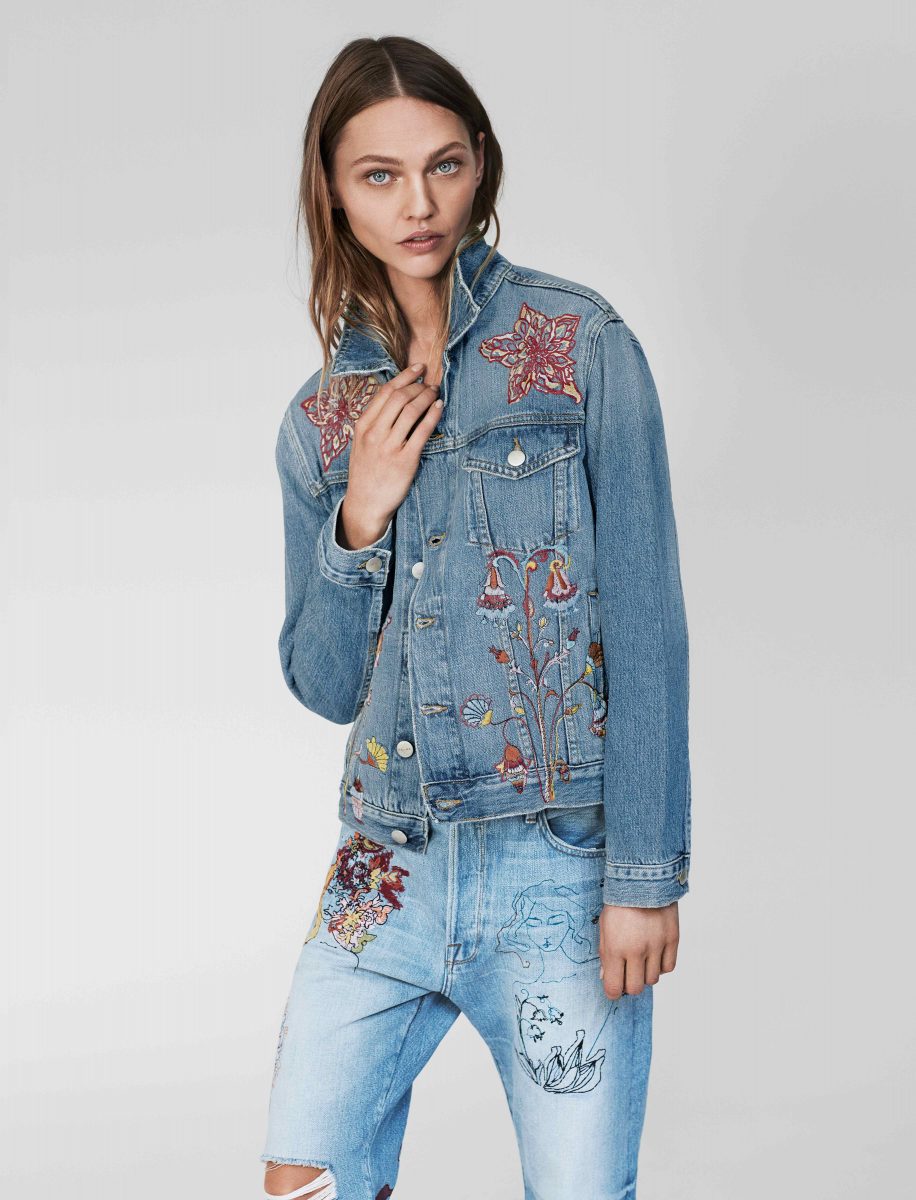 While you likely know model Sasha Pivovarova from the runway, the Russian beauty has another talent: drawing. Pivovarova has been working on her career as an artist, illustrating books for both Miuccia Prada and Karl Lagerfeld, as well as exhibiting her work in Paris and New York. Now, she is lending her skills to Frame for a limited-edition capsule collection of denim, and her illustrations are embroidered onto two styles of jeans and a jacket. The collaboration doesn't come as a surprise, as the mod has been friends with Frame founders Erik Torstensson and Jens Grede for over a decade and has worked on campaigns around the globe.
"I always made art as a child—it allowed me to sink in my fantasy world. I drew everything that was inspiring at that time, including fairies and nymphs. I drew until high school, and when I started modeling, my art began to resemble fashion illustration with long-legged, big-eyed girls. My sketchbooks are my diaries. When I was pregnant with my daughter I did many drawings that had the theme of motherhood," Pivovarova told W Magazine. "Altering and redesigning my clothes has been my passion since I was a little girl. Frame sent me a pair of jeans and a jacket as a gift and I took to my fabric markers and went wild on it. I showed those jeans to the their creative team and they loved it. I appreciate the fact that they gave me full artistic freedom and were very supportive in the process. The illustration I created for the collaboration was inspired by nature and beauty."
The artwork was created in water-base ink and pen and then translated with the most luxe and delicate embroidery techniques. The two jean styles and jacket mark the London-Los Angeles fashion brand's most bohemian collaboration to date—the brand has also teamed up with supermod Karlie Kloss and photographers Inez & Vinoodh on collections in the past.
The collection is available for purchase on Frame's website.