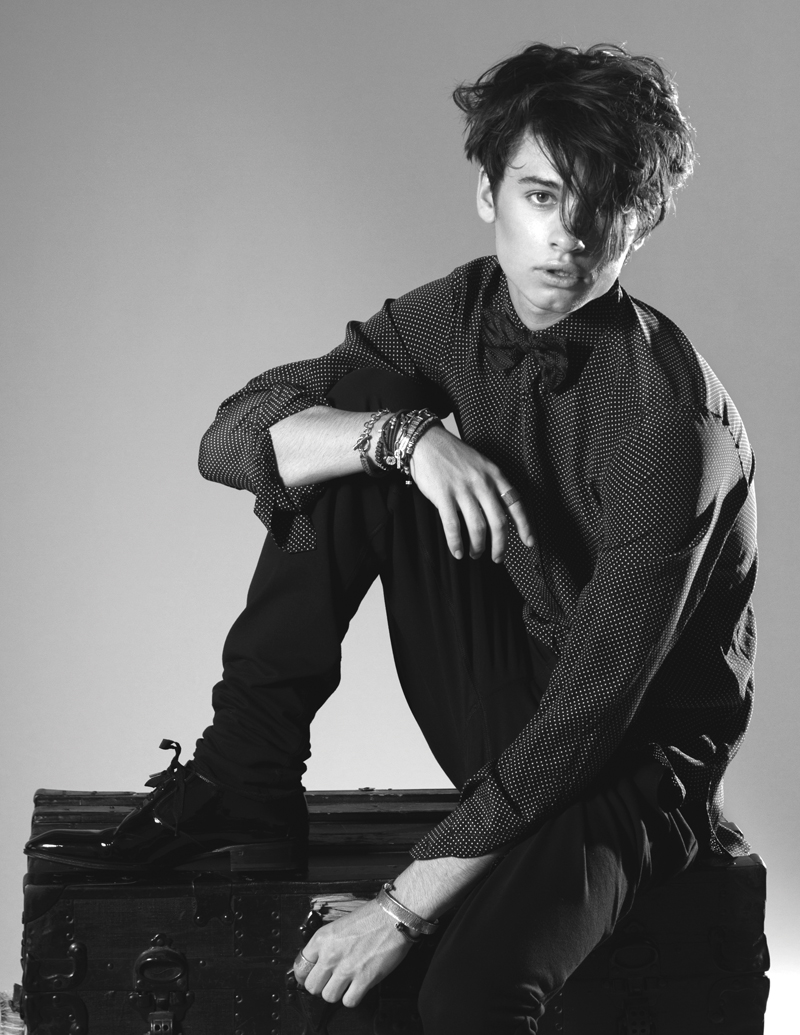 It's not exactly common to serve as muse for Hedi Slimane, sit front row at Dolce & Gabbana, and land a major fashion editorial all before you can legally vote. But for the gorgeous spawn of Pamela Anderson and Tommy Lee, anything can happen. Meet Dylan Jagger Lee, a model du moment who's ready to hit a new high note in not-so-foreign territory: music.
How did you end up as a major model?
It just happened! I told my mom that some guy named Hedi Slimane wanted to meet me, but I had no idea who he was. My mom was like, "I'm pretty sure I've heard that name," so then I found out he was the creative director at Saint Laurent. I was just a surfer kid who liked going to the beach in swim trunks—I didn't really have a fashion sense. Someone reached out to my agency for a casting he was holding, and as soon as I got there, he kicked everyone else out.
What were your first impressions of him?
People told me he was going to be mysterious and a little on the edge, so I prepared myself that it could be weird. He loved everything I was doing, so I got comfortable with him. We had dinner together, which was cool, because I was told he never just goes and hangs out with people. We shot a video in Malibu two weeks later.
Do you still keep in touch with him now that he's left the brand?
No, but I was supposed to get his number. I wish he was still there because he's the man, and I had a really dope connection with him.
Who else have you modeled for?
I recently did a campaign for True Religion and shoots for W and VMAN. Things have been starting to roll.
Would you ever consider runway modeling?
I would do it, but I'm a little short. Maybe one day I'll do a strut for everyone. [Laughs]
Who are your favorite designers?
I love Dsquared, Fear of God, Off-White, Vivienne Westwood, Dolce & Gabbana, and Saint Laurent. I used to hate clothes. I'd say, "Anyone who wears that Prada or Dolce stuff isn't cool," because I was this beach bum. But now, I love it—I live for my Tom Ford suits.
What's up with your music?
I've always found music fun. I play guitar and piano and I guess I sing, but that's not going to be part of the deal. [Laughs] I produce electronic music—Diplo and Skrillex kind of stuff. I think it would be really cool to intertwine the two—music and modeling—so I do want to keep up both.
Do you have plans to release tracks?
I'm going to [music] school, so I'm going to wait until that's done. I want to be the best I can be before I release tracks to the world. I have plenty of music that I made, but you have to come out with a bang, especially if people already know who you are—you can't do something half-assed.
What's the dynamic like with your brother, Brandon [Thomas Lee]?
He's really into acting, but we both model, so we're linked together. We want to go our separate ways. Modeling is good for both of us because it's a good way to travel, make money, have fun, network, and meet new people, but we want to be known as Brandon and Dylan rather than "the brothers."
You grew up out of the public eye. What was that like?
Me and my brother went to boarding school in Canada for five years. We left L.A. when the Jenners and Will Smith's kids were rising up. The fact we were gone kind of made us outcasts. We were our own little random team, which I think is really cool. I want to be in the big scheme of it, but on my own scale.
Did your parents give you the success bug?
Both of them tell me, "You can't just be some kid [who's] an offspring of famous people and make it—you actually have to put in effort." They've really drilled that into my head. I know a lot of these kids who say, "I'm obviously going to make it because my family is successful."
Does your mom come on shoots with you?
She came with me to meet Hedi—because I told her to—but she doesn't really like being involved. She says, "I don't want to be a model mom, like a soccer mom." [Laughs]
Who do people say you look like?
Some say my mom and others say my dad. People will say, "You look nothing like your mom but exactly like your dad," and another person will say exactly the opposite. Like, how is that possible?
Has your dad been influential in your music career?
I wouldn't say he pushed me to be in music, but he's been really influential. As soon as I turned 15 I knew it was exactly what I wanted to do. He has a studio at his house so having that is huge; I use it every day.
What are some of the next milestones you want to hit?
To start playing big-scale music and performing at festivals like Coachella and EDC. That's the goal!