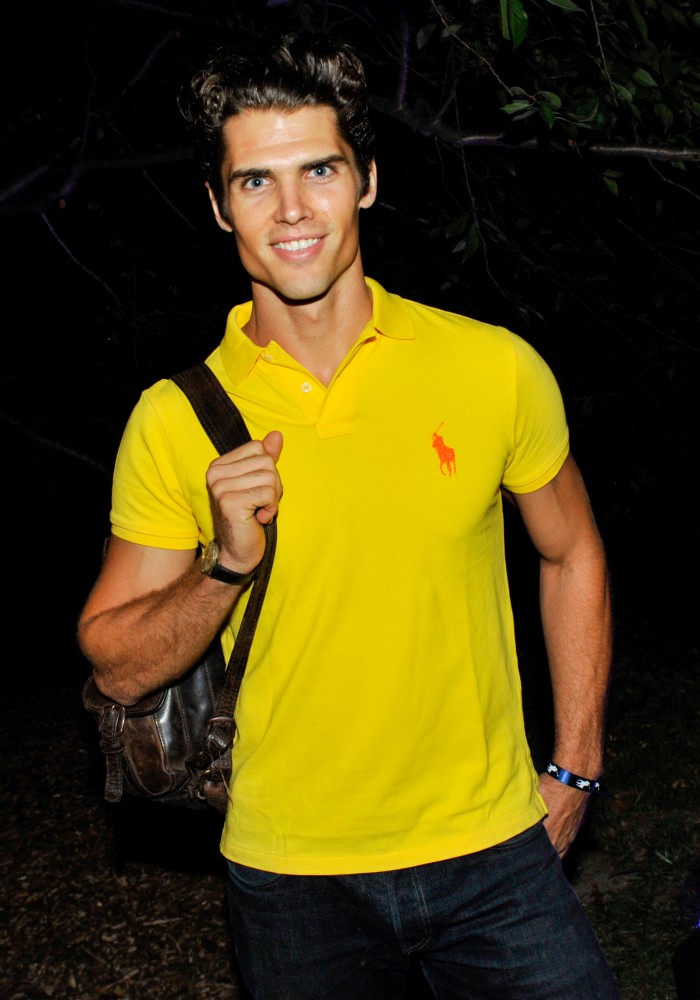 Ever wonder about the guy strong enough to hold a massive Verace Eros cologne bottle? Meet Jersey boy Brian Shimansky, who you'll likely also recognize from his work with Moncler, D&G, and Nautica. (And the Versace gang sure loves 'em…) He opens up to us about his favorite food, guilty pleasure, and retirement plans. Essential things to know… 
Hometown: West Caldwell, NJ
Current City: New York
Single/Married/Dating? Dating
Nickname: Shammy
What was your first modeling job ever? A L'Officiel Hommes editorial by Milan Vukmirovic in Paris.
How did you spend the money you made? It was unpaid! However, the proceeds from my second job ever, a D&G campaign, were used to purchase a red Blackberry World Edition, gasoline, a Metro Card refill, and an oiled-leather bag.
Where are we least likely to find you? A crowded room.
Who are your best male model buddies? The Davenport twins and Julian Schratter.
What's your guilty pleasure? Speeding and sleeping
What time do you wake up every day? 8:37 a.m.
What time do you typically go to bed? 1:12 a.m.
What scares you? Those demonic children's movies.
What do you always eat? Eggs
What was your best subject in high school? Geometry and shop class
And worst? I constantly fell asleep in English, but I've grown to love it.
What kind of student were you in high school? I was on the quieter side, B+ average, and athletic with spontaneous bits of behavior requiring disciplinary action.
What's your least favorite food? Irish moss powder; I dare you. But its devastatingly healthy.
When are you in the best mood? In the moment when you sit down after a creative rush.
When are you in the worst mood? Traffic.
What's your greatest fear? Forgetting
Where do you travel to most? Paris
What word do you say too much? "Boom"
Will you be buying the Apple Watch? Meh
Where do you think you'll retire? Ibiza
The definition of happiness is…the journey within and along the way.
Where do you think you'll be in 10 years?  Near yet far.
Who's your favorite female model? Daria Werbowy 
What advice would you give your 13-year-old self? Learn languages, play music, keep playing with Legos, read more, run more, fail more, fear not, speak up, and create.
How would you describe your current state of mind? Full, balanced, moving.