What's the legendary Kenzō Takada up to these days? The designer—who left his eponymous label almost 20 years ago—was in town to promote a collaboration of furnishings (think the iconic Mah Jong sofa) and decorative objects with French furniture company Roche Bobois, all in Takada's signature patterns and bright colors. From his latest projects to life in Paris and more, Takada fills us in!
Why was collaborating with Roche Bobois appealing to you?
I got approached by Roche Bobois two-and-a-half years ago, but I knew of the Mah Jong sofa for ages. It was developed nearly the same year that I started Kenzo—the sofa came out in 1971, and I started opening shops in 1970. I love working with textiles, colors, textures, and different materials, so it was definitely a fun challenge for me, one that I enjoyed working with the Roche Babois team on. It was a great collaboration. They made it possible to find the perfect harmony of all these different elements and techniques, even up until the final process, when I kept changing the prototypes of what they were producing. Really quickly, I realized I wanted to choose a theme around Japan. I wanted to find traditional patterns and graphics that also made it really contemporary.
When you retired in 1999, you had said that you wanted to focus on decor. Why was that?
When I left Kenzo, I started to really take care of my home in Paris and really enjoyed working on the decoration, creating an ambiance and harmony. That made me develop a certain taste and attraction for decor, and wanting to focus on it.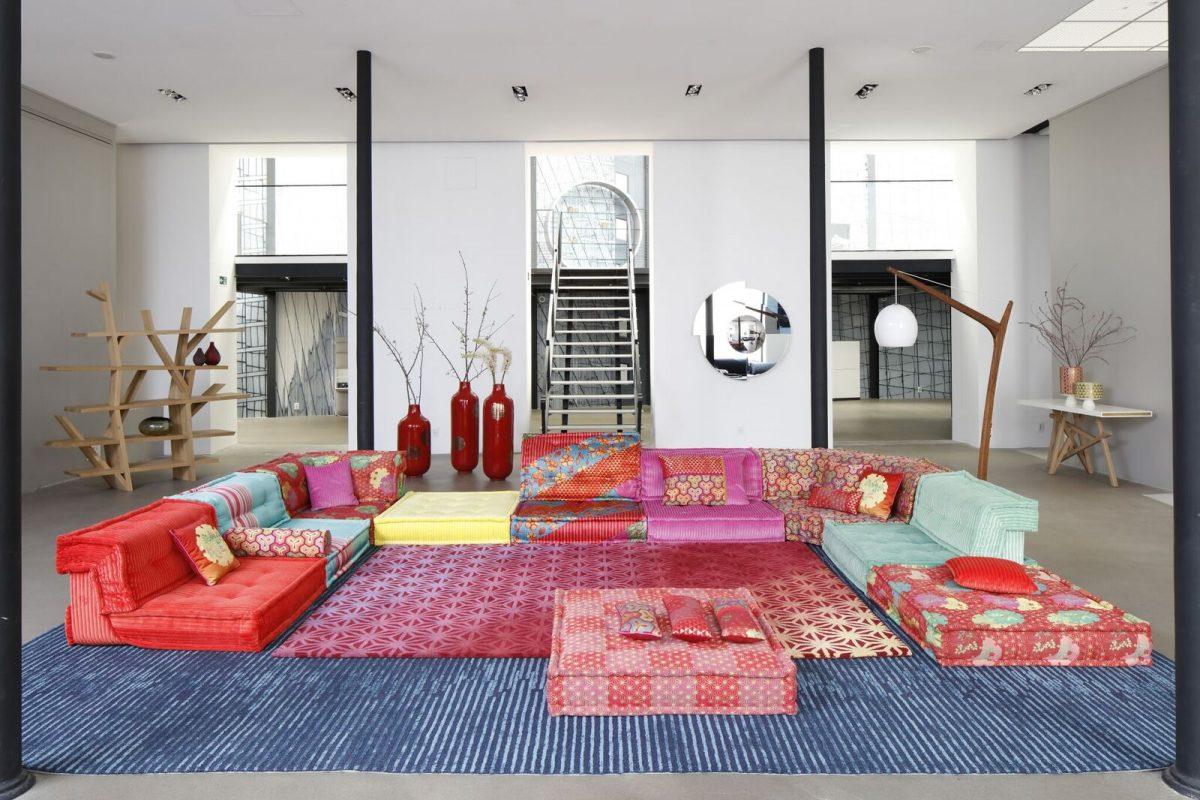 When you moved to Paris, what were your initial reactions to French culture?
I always wanted to go to Paris. I grew up in a very dark era of Japan,  just after World War II. I started thinking of Paris after reading my sister's magazines and watching Audrey Hepburn movies. That's what really motivated me to go. I took a boat to Paris, and when I got there, I was in total shock. I arrived on January 1, 1965. I ended up taking a train late in the night to a not-so-good area of Paris. I thought to myself, What am I doing here? Because it wasn't at all like the Audrey Hepburn movies—at all.
What's your favorite Japanese restaurant in Paris today?
My ex-personal chef used to work at my home for many years. He learned to cook French and Japanese cuisine in Japan, which is kind of like a fusion. A few years ago, he wanted to start his own restaurant, so I helped him. It's called Toyo. You have to try it!
Yum! In March, Carol Lim and Humberto Leon paid tribute to your most iconic looks with their fashion show. What was your reaction?
I went to the show but didn't know what it was about. I knew it was a tribute to me, but I didn't know they would completely replicate the same sketches of the same clothes. When it came out I was really shocked to see what I did so many years ago. I appreciate that they [Carol and Humberto] have the guts to do things. In the end, it turned out quite good. I was proud.
You've worked in a range of creative mediums. What else could you see yourself pursuing?
I'll definitely continue to work on the decor, but whatever I do, it will always have a certain link to fashion. For now, I'd like to bring back some more know-how traditions of Japan to the forefront. I like being creative and creating a harmony.
We can't find you on Instagram! What are your thoughts on social media these days?
I'm discrete. I'm obviously from Japanese origin and am a bit of a shy person. I don't really like to take selfies and such. I don't see a strong interest. I'll discuss it, but I think about what will I show, and what's the point? I don't really like to promote myself.
What are your plans this summer?
Every summer for almost the past 10 years, I go to Greece on summer vacation. We'll take a boat and visit the Greek islands. I'll head there after New York.
When was the last time you were here in NYC?
Last year. I used to fly the Concord every month from New York. And I loved Studio 54. I spent a lot of time there! I even had one of my fashion shows there, in 1977. Now I'm a little old…but I [still] love to dance.
Note: Kenzō Takada's answers were translated by his personal translator.