John Varvatos chose to lead the pack this season as one of the first menswear designers to sign on for New York Fashion Week: Men's. Tonight, his show will close out the event. We caught up with the designer in his New York City office to dish on his new store in Detroit, a particularly sweet homecoming for the Michigan native, and more.

What's the inspiration for your show?
I never do anything too literal, because then it becomes costumey. But back in the late '70s, there was a big movement of British musicians who moved to southern California and became a part of the scene in Laurel Canyon. There was that whole dandy look, like what the Rolling Stones, specifically Keith Richards, brought over. But when they got to California, they fell in love with the  Bohemian, romantic side, and the two kind of melded. We are loosely inspired by this British meets Southern California look.
Do you have anything special planned for the show?
My production head, who has worked with me from the beginning, tells me that he's feeling really good about it. We're going to do something cool. Bill Mullen is styling; we've been friends for the last six years. We have a lot of mutual respect each other. He's like family to me. Let me tell you: I have worked a lot of places when I was getting my start in the industry and it was always a nightmare working on shows, but we have a lot of fun here. We might be up against the wall with time constraints and alterations, which is just part of doing the shows, but we always have a good time. But five minutes before the show starts, I always get nervous.
What were your initial thoughts about NYMFW?
I had been fighting for a New York Men's Fashion Week since I joined the CFDA in 2000. So on one end it was excitement, because we finally got it, and the second thing I thought about was that we had been committed to Milan for about seven or eight years and we already had our venue committed when we first heard that the CFDA was going to do this. Both sides of my brain were thinking, 'Well, what do you do?' It was a little bit confusing, because we were still in motion with our Milan show, but I'm very excited about it, that's for sure.
Were you worried about not showing in Milan?
One of the thoughts we had to have when we made the decision to show here was, what were the positives and negatives about pulling out of Milan for a season? In fact, we don't really know if it will just be one season. We had to look at it from an economic standpoint and a business standpoint, but in the end there's no way to totally figure that out. So in the end, yes there will be some negatives about us pulling out of Milan, because we'll miss some players of the world and customers that don't come to the States. But I also think that coming back to New York and there being a lot of buzz about New York Men's Fashion Week, it's going to create a whole lot of positives and I can't tell you what they'll be but I'm really enthusiastic about it. First of all, we have 22 stores in America and all of our department store distribution so we'll get a lot more buzz in America for sure. Globally, I can't tell you what it will be like. We may lose some and some we may gain. It worked the other way when we were in Milan. We are just one of I don't know how many that show, but in America we are one of the top brands so when you are looking at it from that point of view you know you're going to get a lot more looks in America because of it.
There has been some naysayers about NYMFW. Do you think it will get off the ground?
I think it's definitely going to get off the ground. There has been a good turnout of designers showing and I think that a lot of people rallied after we threw our hat in. The amount of international press and retailers that registered on top of the domestic ones is already significantly more than expected. I truly believe it's already off and going. It's already left the Launchpad. Will it make it to the moon or not? I don't know, but it's already further along than many people thought.
Did the CFDA come to you first or was it more of a discussion?
Steven Kolb came to me and at first we said, 'We would love to support it, but we are committed to Milan' and then they finalized that they were doing it. At first, we had said that we couldn't do it because we were too committed to Milan and we had all of these plans and the venue booked, but then I went to Detroit for our store opening and something changed in my mind.
What happened in Detroit?
We were opening a store in my hometown and it was kind of emotional in a lot of ways. We opened in downtown Detroit where there's no fashion and no retailers at all. Thank goodness we've been doing great, but we did it for what we thought were all the right reasons. I'm from Detroit, my family is there, and I wanted to support the city and I wanted the store opening to attract other people to come down there. I wanted the store to be the impetus for something important and be the city's comeback. While I was there, people were talking to me about being an American designer and I just had this epiphany that we should probably come back to New York. I'm an American designer, I got my start here and I showed here for the first seven our eight years of our business. Just to put it simply, I thought it was the right thing to do.
Why did you decide to open in a place where there are no other shops?
Woodward Avenue is a street, which when I was growing up, it was kind of like our Fifth Avenue or our Michigan Avenue. It was a hustle bustle street filled with department stores, fashion stores, music stores and as a kid it was completely fascinating to me, but then over time everybody moved to the suburbs. The city got rough. There's a guy by the name of Dan Gilbert who owns a real estate company in Detroit, he also happens to own the Cleveland Cavaliers and Quicken Loans, and he approached me about coming to take a look at what they are doing in downtown Detroit. I had seen the changes, but had never had anyone walk me through what they have in store for downtown. I brought my CEO with me, who is Italian and has been living in the states for three or four years, and had never been to Detroit. We went to downtown Detroit to look at spaces and we passed by all of these dilapidated buildings and when we got in the car to go to the airport he said, "We have to do something here." I was expecting him to look at me and say, "Are you out of your mind?" People are going to be talking about the revival of Detroit the same way they talk about Brooklyn now. Five years from today, I guarantee you it will be one of the most talked about cities in the world for urban renewal. Young people are just flooding there right now. It felt great to be one of the first people to put my flag down there. We never planned on making any money in that store. That wasn't our goal, but already there is definitely potential to make money in that store very soon. I never would have thought I'd have a store in my hometown 10 years ago.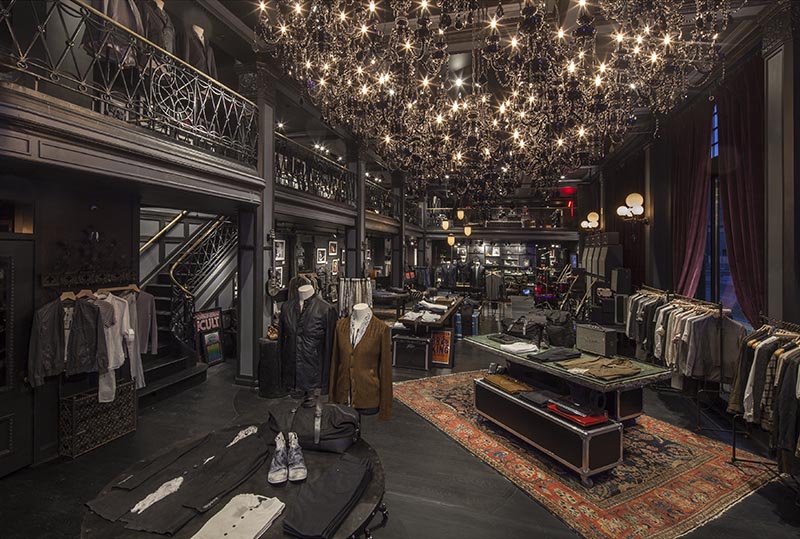 What's the history of the building at your Detroit store?
When we looked at the building, I loved the bone structures inside, but the outside was awful. Somebody in the 70's had transformed it into a brown marble jewelry store with very little windows. So I told the city that I wanted to redo the storefront and they told me that it was registered as a landmark and that it can't be changed. I went back and we did research and found pictures of it from the turn-of-the-century with women passing by in dirndl skirts and it had been called Schlotzky's Temple of Music, or something like that, and with the music connection it was just perfect. So we took the images of the building in its original form to the city and told them, "This is what we want to bring it back to." So that's what we did.
We were surprised to hear this is your first store in the Midwest. What about Chicago?
We've been looking in Chicago for 11 or 12 years, but we've never been able to find the right space. Chicago is about either Michigan Avenue or Oak Street, which is like a little Rodeo Drive so there are only a few areas in Chicago, without going to the suburbs, which I'm not interested in. But we will be there in the next couple of years.
What other brands are helping to revive Detroit?
There are a lot of other companies in lease negotiations after we opened the store. I haven't spoken to the Bedrock people that are leasing out the spaces in a month, but the last time I spoke to them they gave me a list of some pretty important people that are looking at coming down there. I think Restoration Hardware is one that has signed on. Of course, there's Shinola, but they aren't right downtown. They're a mile and a half out, but they are also in a cool area. I'm friends with the owner, who lives in Dallas, and he flew into town to show me what they're doing and I was totally blown away. I ultimately want to find a way to do manufacturing there. I want it to be more than a retail store. I believe it can be a lot more than that.
Fellow Detroit native Alice Cooper performed at your store opening. How long have you been friends?
Probably, about a dozen years. When we were talking about doing a party for the store opening we reached out to some musicians who were natives of Detroit like Jack White and Alice Cooper. Jack White couldn't do it, but Alice Cooper immediately said yes. He was proud to be part of it and thought it was spectacular that we were doing something there. I'm actually doing a big music project with him soon that we'll be announcing shortly. It's not an Alice Cooper project, but it's more of a celebrity studded benefit project that I'm doing with him that has a number of spectacular people involved—some of the biggest names in music. We're both from Detroit and into music, so there's a root there. Iggy Pop, who is also from Detroit, was in our campaign and I didn't really know him at the time, but since then we've also become close.
Did you ever want to be a musician before you became a designer?
Oh yeah, always. I wanted to be a rock star for sure, but I wasn't a good musician. It was my goal my whole life growing up to see as much music as I could possibly see and go to as many shows as possible. I play a little guitar, but I don't really practice. Sometimes, I'll get pulled up on stage with friends. My wife saw me play with Cheap Trick and she said, "I had no idea you could play like that!" But I really just looked like I was playing it well.
What's the most memorable show you ever saw in Detroit?
When I was about 14 years old, I saw Led Zepplin. That was pretty amazing. Before that I had seen a lot of other artists, but nothing had really shook me the way Led Zepplin did. That on was game changing for me. It was at a place called Cobo Hall in Detroit.
What is your most prized music possession?
Gold albums that were given to me by Jimmy Page and Robert Plant from the first four Led Zepplin albums, which actually have their names on them. Also, my platinum albums from Alice Cooper and I have guitars that are signed by people like The Rolling Stones. I also have Slash's top hat from Guns N' Roses. But of everything, it's those four gold albums that are prized above everything. I keep them in my office so I can look at them everyday, but I'm building a house in upstate New York where I'm building a music room to keep some of my memorabilia there.