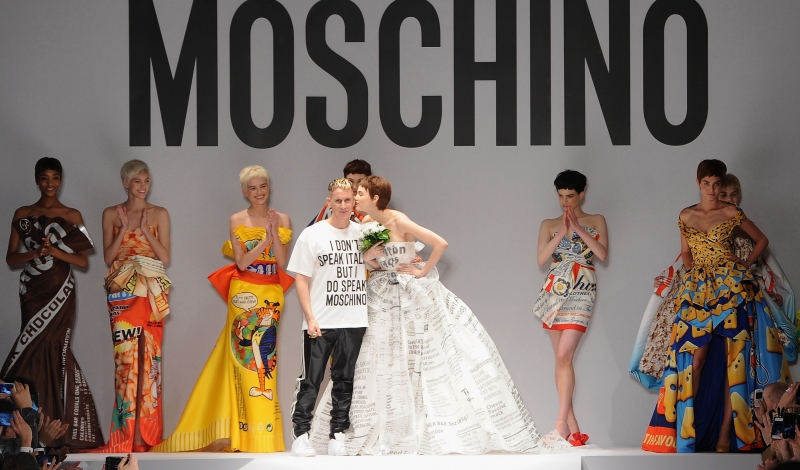 There's only a few hours to go until Jeremy Scott unveils his first men's collection chez Moschino in London! Your Daily snagged an interview with the spunky designer, and we we got the dish on how his women's collection is selling, his real thoughts on Carlyne Cerf de Dudzeele, and his jetset lifestyle from L.A. to London, Milan, and beyond. So, would you like a side of McMoschino fries with that?
DENA SILVER
What can we look forward to from your first men's Moschino collection?
I'm touching on the brand's history of poking fun at high fashion and the status quo of consumerism.
Will Carlyne Cerf de Dudzeele style the show?
Yes, Carlyne will come to London to style the men's show! We have a ball working together, especially at Moschino. I create a lot of jewelry, bags, and accessories, which of course Carlyne loves! I mean, what is #CerfStyle without accessories?
Why did you decide to show in London?
I thought it would be fun! I love London and don't get to come often as I mostly travel for work, so if I wanna go someplace, I have to make work for myself there. And I've always enjoyed such wonderful support from the English press.
Who would you like to see in your menswear?
A$AP Rocky, Rihanna, and Neymar!
How does working with a well-established Italian brand differ from running your own label?
I don't have to worry about how things are going to get manufactured. I ask for them and they just get made. Period.
What was the feedback like for your first Moschino women's collection?
Honestly, I was floored by how overwhelming the love for the collection has been. I was touched to see all the fan art that kids make and post to me online. They draw the looks of the show, creating video collages and paintings. It's so moving to see how the collection has touched so many people and inspired them.
How has the collection been selling?
Like hotcakes.
What did McDonald's think about your McDesigns?
I think that they got the love I was sending them, as the day after the show they posted on their Facebook a picture of Anna Ewers carrying the tray with the purse on it and wrote "Milan Fashion Week has never looked so good!"  I mean, I don't think you get to be a cultural icon like that without having a sense of humor.
Why did you decide to choose the iconic supes of the '90s for your first Moschino ad? What was that shoot like?
To be able to work with Linda Evangelista is a dream. To work with Linda, Stella Tennant, Karen Elson, Carolyn Murphy, Raquel Zimmermann, and Saskia Debraw is beyond belief! And to do all this with Steven Meisel and my love, Carlyne Cerf!?  #heaven
How does working out of L.A. influence your collections at Moschino?
L.A. is my home and I feel very happy there. I feel like I design best when I'm in good spirits. But trustfully, I design wherever I am, as it comes from my head. Right now I'm talking to you from London.
What's the most difficult part about living in L.A., since Moschino's HQ are in Milan?
Honestly, not a lot. I have a great assistant named Alice, who prepares for me the urgent matters from Milan and sends them via email, so I go over them while I have my breakfast in L.A.!
What's one of your Milan haunts?
I love that I can get to see my favorite furniture store, Memphis Milano, in person.