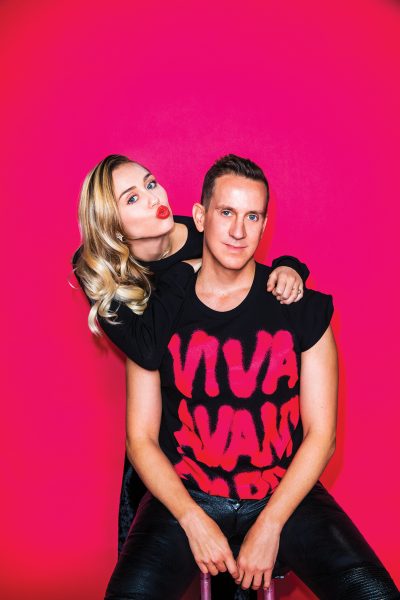 It's hard to believe that eternally youthful Jeremy Scott has been in the business for two decades. The Daily revisited the past with the people's designer to discuss his origin story, his brand's longevity, and his plans for the future.
Let's look back to 1997. Why did you throw yourself into this crazy fashion business?
Honestly, it came out of a necessity to express myself. When I moved to Paris, I hoped to get an internship and later have a job. I couldn't seem to get either, and I was frustrated. I was homeless, staying on the floor of this French guy's apartment, and complaining. The guy said, "Well, if you're so good, then why don't you do it yourself?" That was it. It triggered me to say, "Fine, f**k you! I'll make my own show!" It wasn't about the start of a lifetime career—it was more thinking about ways to express myself, and seeing where that took me. It was like a firecracker—it lit up, and went from the first show to the next one to the next one. Here I am, 20 years later!
How did you pay for the first collection?
I sold pieces from my graduation show. My sister bought me a sewing machine, and my mother helped me source the paper hospital gowns that I wanted to use to make the dresses. Very couture! I asked for tons of favors. I knew people who were throwing parties in Paris, and they helped me get a venue. Pablo [Olea, Scott's longtime right-hand man] walked around and hand-delivered something like 500 invites because we didn't have money for stamps. It was really a labor of love.
What was that first collection like?
It was inspired by the J.G. Ballard book Crash and this idea of body modification, which was the name of the collection. Car accidents, cars, and plastic surgery—you modify your body like you can modify a car. One of the things I created was a high heel that had no shoe—it had a bone-colored heel, and then wrapped around your ankle like a bandage.
What was the reaction to the collection?
I actually got one of the biggest reviews that you could get at that time—it went on Marie-Christiane Marek's TV show, Paris Premiere. Soon, everyone in France knew who I was. I went into my second show with big support from French publications and media. By the third show, the Americans and other international editors and buyers came. News traveled differently back then!
What was the Paris scene like at the time?
It was all about old houses and old designers. Around the time of my first show, John Galliano was just going to Givenchy. There wasn't really a youth culture in fashion, not like what we have today. I was a little kid with pimples, and everyone else was an adult. I promise you, I had pimples—that's not a euphemism!—but that dynamic made it kind of exciting. Here was this spunky kid from America in Paris, riding around on a BMX bike, and somehow, it just captured people's imaginations. They wanted to hear what I had to say, and I was pushing a new aesthetic.
Do any collections stick out as particularly difficult?
They're all hard! It's a cruel business.
Any design regrets?
Absolutely not. They were all genuine expressions of that moment. Whether I particularly love it or don't, I respect that it was who I was at that moment. I was all-in for whatever I was believing in. Fashion is an expression of the moment—it's so much about context.
Who are some of your all-time favorite front-row guests?
One of my early supporters and tried-and-true friends was Isabella Blow, who came to my third show and then became a huge champion. She beat the drum with my name on it so loud and so proud. I always cherish the memory of Issie at all the shows. Debbie Harry came last season, and that was a big wow moment. Neneh Cherry was a teen hero whom I loved when I was growing up, and she came to my show in London. Of course, my girl Katy [Perry] came, and my girl Miley [Cyrus] came, and my girl Nicki [Minaj] came. My girls always come through, and that's always super wonderful and supportive. I'm also extremely lucky to be able to have my family come to the shows.
Tell us more about your relationship with Isabella Blow.
She was one of the people who made me want to move to Europe in the first place. When I graduated from Pratt [Institute], New York was not very exciting. Marc Jacobs had just left Perry Ellis and was starting his own line, but there weren't a lot a of things that I felt a kinship to like I did with European designers, makeup artists, stylists, and editors. Issie was really high on my love-letter list of people who really fascinated me. She came around and met me, and was really into my work. She helped me try to find sponsorships, the right manufacturers…. She was one of the most supportive patrons of the arts that I have ever experienced. She'd give the last cent in her purse to help an artist, and she wouldn't worry about how she'd eat dinner. She was generous to a fault. I keep my moments with her in a little treasure box inside my heart. I really didn't know that she would have a tragic demise, but I knew that she was special and unique.
How are you celebrating your 20th anniversary?
I looked back and tried to digest how to address my past, which is so varied. I touched upon my way of twisting American sportswear from the white T-shirt, which really launched my career internationally, to my more conceptual work. I tried to bridge these different parts of me, and put them together in a collection. But it's new, and it's today—I don't know how much the naked eye can see the hints at former collections, but I know they're there. You can do a cheat sheet if you want! [Laughs]
What's your secret to longevity?
Longevity is definitely a wonderful gift. I've built everything from the bottom up. I'm also probably one of the only 100 percent, independently owned fashion companies today. People are practically graduating from college trying to sell their name and their label. I've always been very independent and done things on my own terms, and I'm very proud of that. Maybe that's why I've taken longer to rise. Who knows? I've had so many different lives. Fashion people have known about me since the beginning; streetwear people loved my collaborations with Adidas and other brands. Today, the kids are discovering me through their favorite music stars, because I have strong alliances and long, dedicated friendships with some of them. I'm a lot of different things to different people, while still remaining true. I feel very thankful and blessed, and I look forward to 20 more years…and beyond!
After working so hard for so long, do you feel like you're able to sit back and enjoy your success?
[Laughs] Wait, there's a time to sit back and ride? I've always grown up with the theory that you're only as good as your last collection. Honestly, you know as well as I do that fashion has a very short attention span and memory. I always need to improve myself and show up. Laurels, resting, waiting, riding by? None of it. None of it!