Jason Kanner, Soul Artist Management honcho, has climbed to the top in the male mod world by repping some of the top men in the biz. With superstar male mods Simon Nessman, Chad White, Cory Bond, and Tyson Beckford on their roster, let's meet the man who put Channing Tatum on the map. Got soul? He does! Find out why…
BY EDDIE ROCHE 
Let's start at the very beginning…
I was born in Brooklyn, but raised in southern Florida. My first jobs were in retail like every other good gay boy. I worked at a hair salon named Hair Sensations as a host and cashier. I went to college for a year at International Fine Arts College in Miami. That's where I segued into model booking.
How?
I had a fashion illustration teacher who had us draw pictures of models in magazines. I was always duplicating the Michael Hoban North Beach Leather ads that Phillip Dixon used to shoot of Tatjana Patitz, Christy Turlington, and Cindy Crawford. He always thought that I was about the super girls. I never looked at anything outside of American Vogue and Cosmo covers at the time, but once I saw there were international editions of magazines I loved, I was hooked. I had a job at a night club in Miami called Club Nu. There I met the director of an agency, Irene Marie, who offered me a job at New Faces, which turned into my career. This is when their office was in Fort Lauderdale and Ocean Drive in South Beach was one lane.
Was this the Versace era?
Pre-Versace. It was the beginning of the supermodel era. Versace didn't live there then. It was called Amsterdam Palace and I lived there when I was in college. I paid $160 a month for the bottom floor apartment I shared with someone. I think it was 1990. It used to be decrepit. It was always gorgeous when you walked in, but it was a decrepit old building that old people and students lived in.
Are people fascinated when you tell them that?
People are like, "Oh my God, it was something before the Versace mansion?" I explain what everything on Ocean Drive was. People are more interested in if I ever went back. I went to the New Year's party the year before Gianni Versace died, and Donatella showed me where my apartment was. It was food storage. It was surreal being there years later as a guest.  I can't even walk down street since he got murdered. I always cross the street and walk down Ocean Drive by the beach.
When did you depart Miami?
I moved to New York in 1991. I was head hunted by an agency that's now called Women Management. It was called Men/Women back then. That was my introduction to New York. I then went to Boss Models which was the men's agency of the '90s. That was the supermodel agency to go to. On top of that, we represented Amber Valletta, Sarah O' Hare, Angie Harmon, and some really big girls who were on par with the guys.
You spent most of the '90s working with men and women, right?
When they hired me at Major after 9/11, they made me the men's director. They had a women's board that was sustaining themselves. They needed a mens' division, and at that point, I had men to give. The nine years I was at Major, I did men. So I got branded as only a men's agent. Starting my own company, I want to change and go back to what I originally did, which was both, but we want to do it correctly.
When did you start your own agency, Soul?
I started my own corporation [Soul] around 2003, which was a name I came up with when I represented Channing Tatum.  He was starting to become an actor. [Soul Artists opened its doors in 2010]
Did you manage Channing Tatum under the Soul umbrella?
He was at Major. He came with me from a previous agency. I booked him on some of his first films and placed him with the agent he has now. I was his manager and worked with him until, of course, he moved on. I was his only model agent in New York. I couldn't get him a talent agent because he was dyslexic. I finally placed him with a friend of mine who he still works with.
Are you guys on good terms?
Absolutely. Though I haven't seen him in years.
Did you know that he had the "it" quality?
Absolutely. Without a doubt.
Do you think that Chad White has the quality to be that big?
Chad has the physical quality. I think if he applied himself the way Channing did, why not? He's gorgeous. Same with Cory Bond. Everybody wants somebody beautiful on the screen.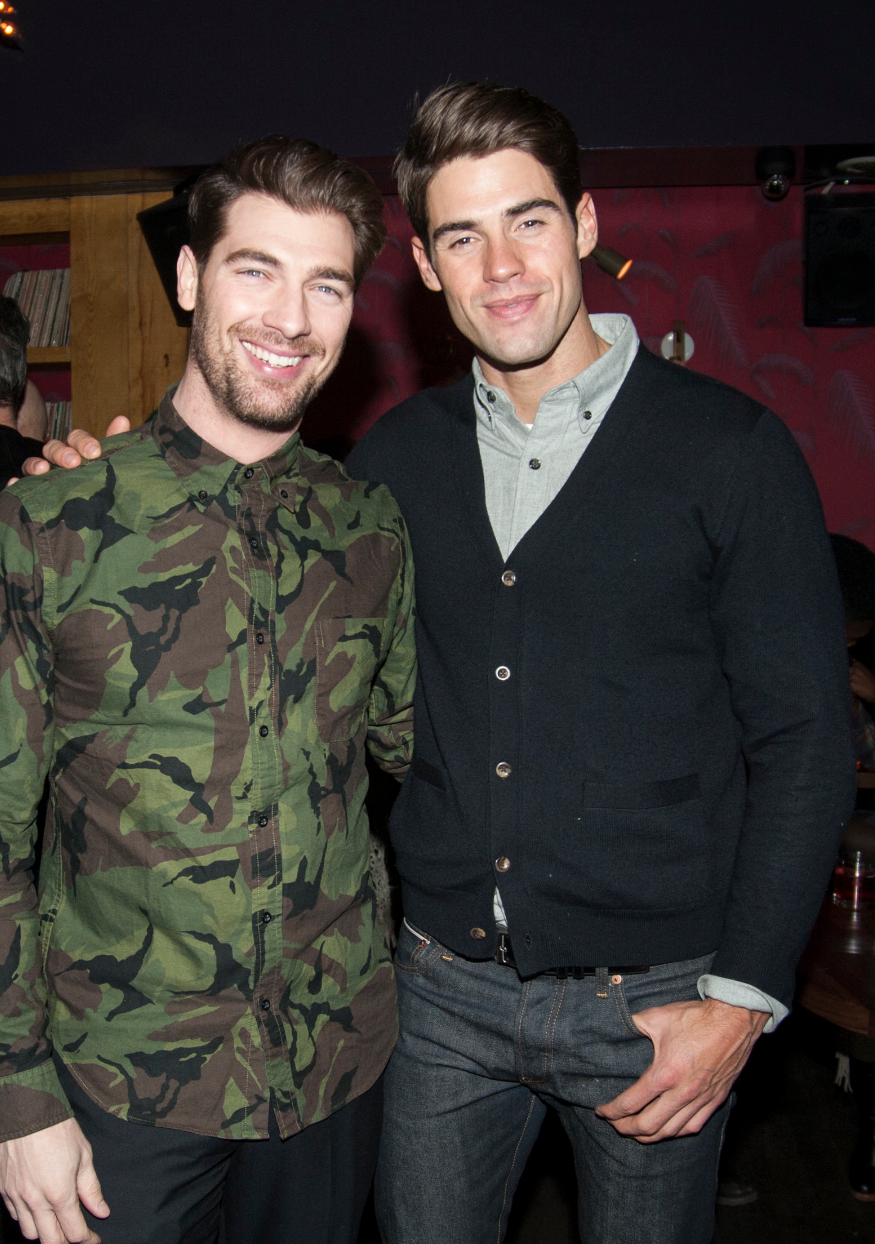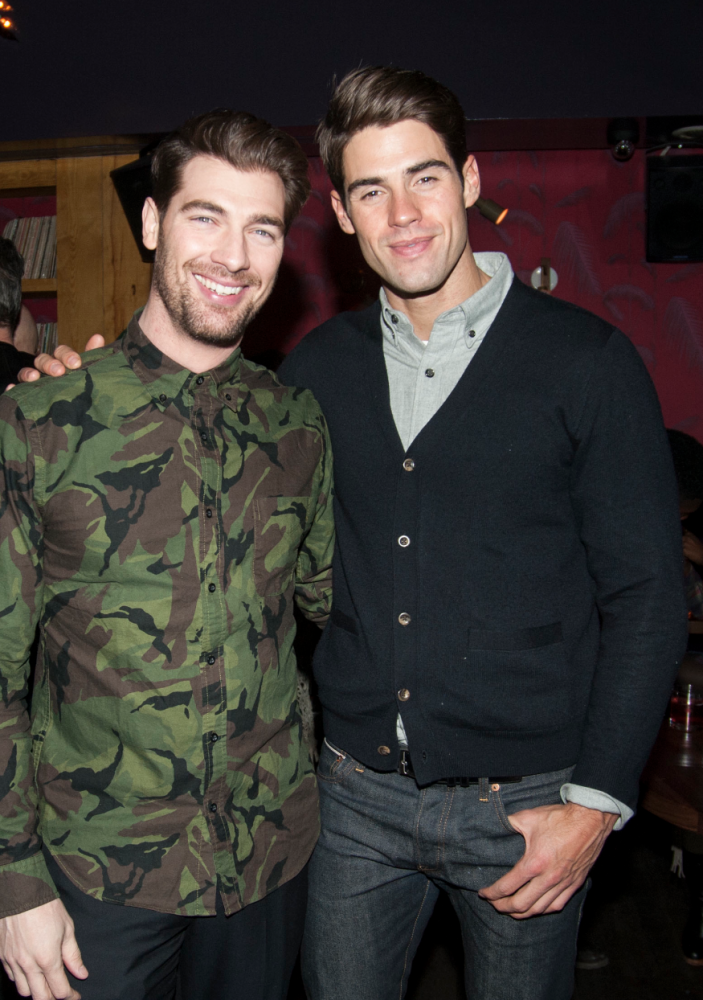 Cory Bond and Chad White/Patrick McMullan
Why did you name the agency Soul?
My favorite book is Seat of the Soul by Gary Zukav. It was very transformative for me, that book. I also love soul and R&B music. We always have music blaring. I like music that moves me. It was also a play on words because it was my solo project. It's management with passion. I really give a shit about what we do here.  When I first named my LLC a lot of people were like "Is it an R&B thing? Is it going to be a hip-hop agency?" I thought that was a really one dimensional way to see the word "soul." The funny thing is between SoulCycle and Oprah's Super Soul Sundays, everything is soul now! It's an inward journey, not that we need to get so deep about a model management company.
What are your challenges running the show?
So far I've been really lucky that I haven't had anything insurmountable. I think that one recurring issue that agencies have is how to deal with how our models are treated.
We follow you on Instagram and you often hashtag  #ReturnoftheMaleSupermodel. What does that mean?
When I first came up in the industry, the female supermodel was really having its moment. Without trying to pat myself on the back, I had the first male supermodel, Marcus Schenkenberg. Arguably it could have been Tyson Beckford, or it could have been Mark Vanderloo, but in that moment it was Marcus. Since my previous work was with women, why not market Marcus like a supermodel? I've kind of taken that same sensibility to Soul. I see it happening. I see it happening with the guys I represent, I see it happening with guys at other agencies. There's a real interest in the male model. I don't think that's going to change anytime soon.
What's the Soul guy?
We have variety, but what we're known for is a classic, sexy, fit man. When you see him in person, he lives up to his pictures if not surpassing them. When you see him you're like, 'Damn! He is beautiful!'
What do you think the industry is looking for?
I say it every year: The return of the male supermodel is a fit, tall, muscular man. I'm pushing the chest hair big time. I've got this guy Walter Savage who's 23, built like a brick sh*t house, hairy, beard. He looks like a seventies model. I think a natural, un-waxed, unshaved guy would be nice to see. We're pushing that. A little real.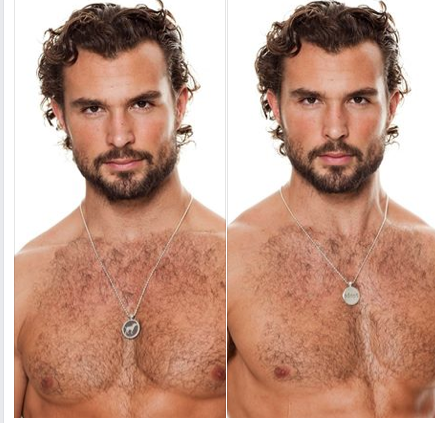 Walter Savage [Pictured]
How many mods did you have when you started the agency?
I started the company with 68 models. Now we're at 120 or maybe 150. A lot of the people we represent are in development so we don't consider them active. I would say as far as active goes, 120.
What about your team?
We have eight agents, four people in accounting and three in our art department.
Do you want it to be bigger?
No.
Why not?
I have no dream of that at all. I want it to remain authentic to my vision. I've only worked at smaller agencies, and that's my heart. I represented a lot of guys who come from those bigger companies, and they're so grateful for having an agent that will return their emails, or make eye contact with them, or remember what they just shot yesterday. I don't want to lose hold of that.
Do you feel like you're a father figure to the kids?
It depends. When I started I was younger than everybody, so I was the kid brother that nobody took seriously. Then I was their peer. Now I feel like for the most part I'm their cool gay dad. There are some models, like Marcus, who are older than I am, or Tyson, who's my age, or a couple guys in their 30s like Cory. I feel like I'm actually their friend.
Do you have to be a disciplinarian to some of the younger boys?
We have a lot of moms on the table that can handle the tough love. If something goes down that's serious, unless the person's of age, we usually involve the family in it immediately. For the most part our guys are pretty disciplined and very fit. They're former athletes. We don't have to deal with too much craziness. At the same time, boys will be boys and there are times where you have to assert some authority. I do it when I have to.
What makes for a good model?
Physically? Great skin. You can gain or lose weight, but great skin, good hair and beautiful eyes are key.
How about bad model material?
Someone who hasn't been a business person or doesn't have that sense of time management or able to engage with people in a room. Cory Bond walks into a room and sells it every time. He does an audition and he books it. That's a rare breed. You can't be taught that. It's education, it's breeding. Cory's spot on; he will get the booking every time. It's also confidence. There are guys who have that sweet quality, like Chad, who's so beautiful, it kind of freaks you out that he's so nice. That's what endears you to him.
We hear you're a walking fashion encyclopedia. True?
I've been told that. I grew up on this. I can look at a magazine and tell by looking at a picture who the photographer was, who did the hair and makeup, who the stylist was, who the model is, who their mother agent was, and what their first cover was. I enjoy it. It's kind of like how straight guys are with sports stats.
How has Instagram changed the modeling business?
I like it. I use it all the time. It's a way to advertise your models. To clients specifically you're not looking at a bunch of emails. I've gotten a lot of work because a certain photographer will go, "Who's this boy you posted on Instagram?" I don't even have to knock on their door, or send them an email. On the other hand, models will say to me, 'if I don't post a shirtless picture, the likes will be cut in half.' When it's an underwear shot it's like 5,000 likes.
Are the guys competitive with each other?
Because a lot of them are former athletes, there's healthy competition. A lot of them feel like they're on a team. There really isn't any 'I cannot be in a room with this motherf*cker' sort of thing. Most of the guys come into it with a relatively healthy perspective. There's a lot of camaraderie. Like when Brian Shimansky got the Eros Versace fragrance campaign, every single guy was excited for him. They felt that he really deserved it. He'd worked hard. There was a deep respect that he earned it.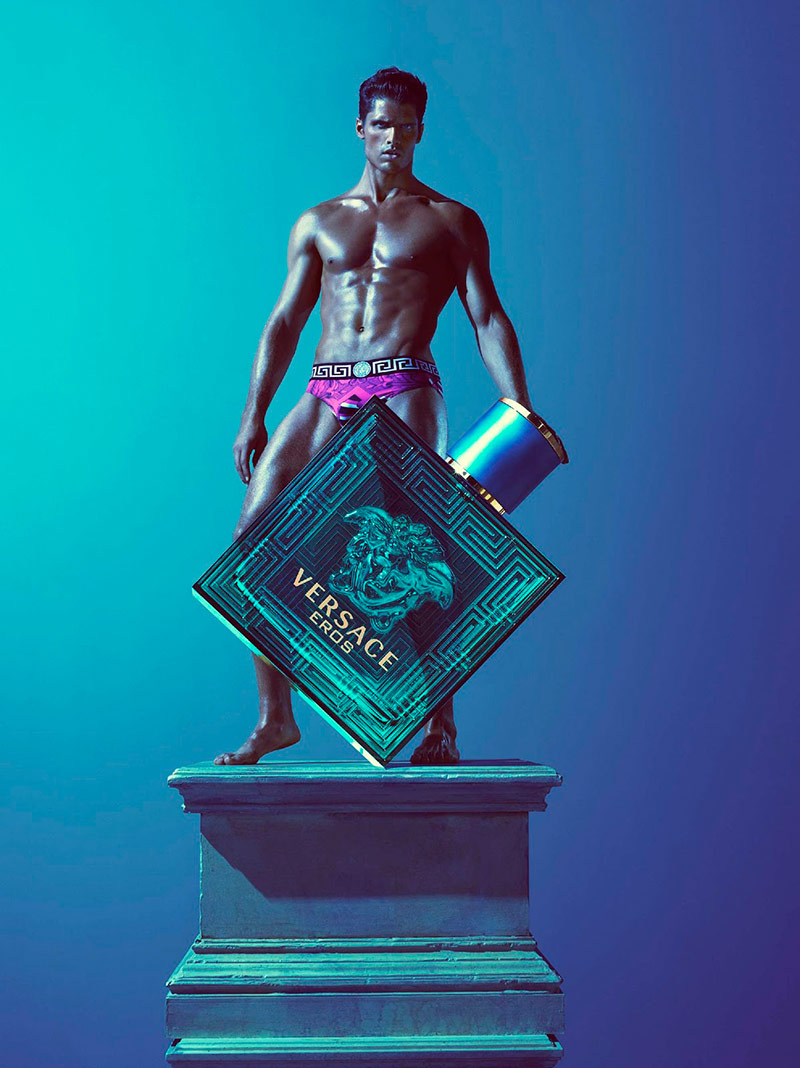 How's diversity in the men's modeling world?
It has a long way to go, to be honest. I get comments from clients that will say to me, you represent a lot of black men. I don't monitor how many brunettes I take on or how many blondes or how many guys with blue eyes. To me, beauty is beauty; I represent many men of color.
What's your motto?
"Can't stop, won't stop." I kind of live by this Maya Angelou quote where if you know better, you do better. Knowledge is power. When you know something well, it says it all. I try to be an expert in my field in order to do my job in the best way possible.
I know you love Oprah, so as Ms. Winfrey would ask…What do you know for sure?
What I know for sure is that I'm one of the best agents in town. For sure. Period. The end. In bold and an exclamation point! As a man, I'm a good one. I'm worthy of what's happening in my life. That's taken a long time to get to. Losing 113 lbs. has helped me realize that outside of all that, there was so much more to me than just being the Wizard of Oz. When you're a gay man and you're 333 lbs., there's a lot of hatred in how you treat yourself, and how the gay community treats you. It's taken a long time to get to this point, but I feel good about myself.

Pictured: Chad White, Justin Hopwood, Cory Bond, Jason Kanner, Oraine B, Dorian Reeves, and Jae Yoo