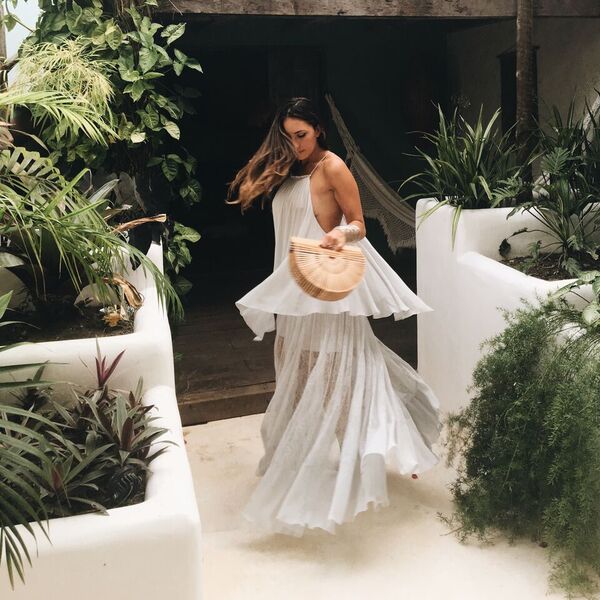 Whether you follow celebrities like Jessica Alba or influencers like Chriselle Lim, chances are you've seen Jasmin Larian's Ark bag—the bamboo, Japanese picnic carry-all that got lots of Insta-love last summer. Jasmin, designer and founder of Cult Gaia, has plans to churn out more It items, be it accessories or ready-to-wear. We talked to the Cali-based FIT alum on how growing up in a family of designers and toymakers influenced her entrepreneurial spirit and how her brand maintains its cult following.
What sparked the idea to launch your own brand?
I've always collected beautiful things, especially textiles and fabrics—my mom was a fashion designer and my dad started the Bratz dolls, so I had a lot of exposure to brand-building. I was making flower crowns for friends' birthdays, which was new at the time, and people started taking notice. It became this cult-like thing. I was also trying to make my own couture clothing line, but my friend asked why I was doing that when everyone was trying to buy the crowns. So I made a website; I think the flower crowns are what founded our design ethos, which is to make things stand out and turn heads. It's evolved into us making [the Gaia ark], these amazing architectural Japanese picnic bags. We'll have clothing and more fun accessories to come.
Are there parallels between the toy and fashion businesses?
I think the toy business is crazier—if you can believe it—than the fashion industry. If you think that you're in a trend business in fashion, you have no idea—kids are so much more fickle. There are so many barriers to marketing to children—they like something one day, and the next day they're sick of it. So there's a lot of innovation. I also grew up with seamstresses and designers making pieces that are so crazy, because it [was] for dolls!
Do you have a massive Bratz collection?
[Laughs] I have my favorite pieces. I don't have, like, a room of them. I interned [at the company] and helped the design team come up with new themes. This was back in the day—the fashion doll business doesn't exist this way anymore, because now kids just want things that light up all the time. But it was a huge influence for me.
The Gaia Ark has become an It bag. What do you attribute to its popularity?
I debuted [the bag] a year and a half ago—it didn't take off immediately, but then it became a crazy sensation. I really believed in it. So many things we make aren't necessarily things people think that they can pull off immediately because they stand out so much. It really started off by showing people how to wear it and then a few different influencers started buying the bag—I think because it's so uniquely different and everyone on social media wants to stand out. We just launched it in the acrylic mother of pearl and we're also launching a whole range of acrylic bags in marble and different colors for evening.
Who were some of your first market shares?
Claire [Distenfeld] from Five Story bought the bag and merchandised it with $1,000 bags. It made this beautiful piece of art a little more attainable but aspirational. I'm not interested in making anything basic, and I think radical self-expression is the future of design. We're also in Moda Operandi, Shopbop, Rare Market in Korea, and other aspirational stores.
And now you have fans like Jessica Alba!
She emailed us because she wanted, like, 100 of the Ark bags to gift for the Honest Company. It was a huge compliment, [because] it's rare for celebrities to not be hawkin' around a $1,000 designer bag that they're probably getting paid to wear.
How do you see Cult Gaia expanding into more of a lifestyle brand?
We're going to expand into ready-to-wear and add some more beautiful pieces. I treat everything like a piece of art, [even] my Bratz collection. I have a few of them in a lucite box on my bookshelf, and that's kind of how I see my brand. I don't want so much waste. We're going to be doing handbags, possibly swimwear, and some more accessories, too!