For six years, Rent the Runway has been arming the commitment-shy yet fashion-savvy woman with designer formalwear for every occasion. Now, the company takes the concept to ready-to-wear with Unlimited, which officially launched this month. Subscribers can "rent" three items of designer RTW at a time, suitable for work, weekends, parties, travel, and everything in between, and rotate those items as often as they want (read: unlimited) for $139 a month. Jennifer Hyman, CEO, explains how RTR's latest subscription service is planning to win over consumers' H&M allowance, eventually extinguishing fast fashion as we know it.
Where did the idea come from?
Since starting Rent the Runway, I believe that every woman in this country should have a subscription to fashion, that our closet should be in the Cloud, and we should have a constant rotation of designer clothing every single day. When we started the business, we enabled women to access and experiment with designer fashion for special occasions. Our customers have been clamoring for an everyday subscription for years now. We thought that a subscription app format was the most convenient way. You don't have as much intention behind a weekday as you do behind an important event. If you have a gala or a wedding coming up you might visit the site weeks in advance to pick the perfect dress for that occasion. When it comes to what you wear every day, you want constant newness and variety without having to spend 15 or 20 minutes on a site. Our customers' lives are diverse—they're going from work to an event with their kids to dinner with their husband to cocktails with a client to a business trip all in one week. They need rapid variety in their wardrobe at a price point they can afford. The only way for her to achieve that prior to this would have been through fast fashion.
Who are some of the designers available right now?
We've added about 100 new brands over the last year, like Jason Wu, Derek Lam, Tory Burch, Giambattista Valli, Suno, Vince, Kaufman Franco, Proenza Schouler, and Prabal Gurung is coming soon. With the other brands we've had for years, we used to only buy dresses, jewelry, and handbags—now we're registering the whole assortment, from tops to coats to pants to blazers.
How often will the inventory be refreshed?
We have new arrivals every week. We go to market as many times a year as our designers show. For designers it tends to be four times a year. We have a new inventory floating into our Dream Fulfillment Center. This is really the modern day Clueless closet.
Is Cher Horowitz's closet part of the inspiration?
I saw Clueless on my 16th birthday and since coming up with Rent the Runway, the vision was always to bring that to life for a woman in 2016. You could be watching TV while on the app and in 15 seconds determine what you want to wear the next day, and have those items arrive at your doorstep, ready to put your closet on steroids. We know that our 5 million customers' closets are filled with lots of basics, like jeans and leather jackets and black pants and black blazers. If you have this subscription to fashion it gives you the ability to multiply all of those basics in your closet and create hundreds of different outfits.
How long can we hold on to something if we really love it?
You're never forced to return it, as long as you are paying the monthly subscription fee. If you truly fall in love with something and want to own it, you have the ability to purchase it.
What are the prices to purchase like?
If it's at the beginning of the season, it'll be full retail price, but if it's later on, it will follow the traditional markdowns of every other retailer.
Why was now a good time to launch this service?
The market is ready to have a portion of what they wear every day be comprised of things that are rented. Given the proliferation of services like Uber and Blue Apron and Spotify and Netflix and Class Pass, I think we all love having access to everything that we want and being the determinant of how we use that access. Certainly the customer has changed and our technology has changed—most of our transactions on Rent the Runway are happening on mobile. Subscription is a perfect product for mobile.
What did you learn from when it was in beta?
Initially we launched it as a subscription to accessories, and that didn't really work because customers view that as a nice to have and not a need to have. The customer often starts with a piece of apparel and builds her outfit around that. It was only when we added apparel to the program that she saw this as something that could change her relationship with her wardrobe. The customer views her subscription as providing her with fashion freedom—that term is something that was sent to us from hundreds of women as we were going around the country doing ethnographies. They feel freedom to experiment with new brands and trends, be more playful with fashion, and showcase different parts of their personality. They can wear the hot pink dress, they can try the army vest, they can try the leather pants that they might not have purchased because it might have been considered irrational. We found that when a lot of customers buy things, they settle for the product they think will be high utility. If they really want the canary yellow top they settle for the black one because they think it will withstand the test of time.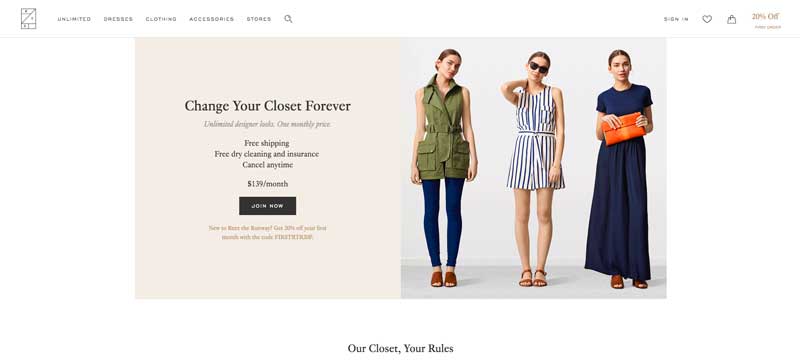 What are you saying to customers who are unsure about the cost of subscription?
Our program includes free shipping and free dry cleaning, and the average American woman spends an average of $100 a month on dry cleaning alone. Would you rather spend your money at a dry cleaner or have a subscription to designer fashion? That's one way to think about it. Also, buying one designer handbag a year costs double to triple the amount of a full year's subscription. Instead of having one handbag that you might get tired of, you can have a designer handbag every day in addition to a dress, a coat, a whatever. If you look at it mathematically, the average American woman spends about $3,000 a year on apparel, not including accessories and shoes. The average working woman in the U.S. spends $6,000 a year. With this program netting out to $1,600 a year, it still gives the average American woman room to buy things, and for the professional woman, it gives them lots of room.
How are you spreading the word?
Our strategy is similar to one we've always taken with Rent the Runway—really strong word of mouth and customer service. Unlimited has gone even more viral than our core business because women are using the subscription to get dressed for work every day. They walk into the same office with the same people, but now they're wearing something fabulous, and it's a conversation starter. In our beta, we had over 20 women from Birchbox sign up because members of our Unlimited beta had signed up and it spread like wildfire through the office. Same thing with the office of Facebook New York. There are dozens of women there who are subscribers because they saw their colleagues do it.
Is it truly unlimited?
It is! We know that this sounds too good to be true, but it is real. This is the best thing we've ever launched. We want everyone in the country to have a subscription to fashion, so that's our big goal right now. That's going to take a lot of work over the next few years to transform how we get dressed every single day. And we're going to stay laser focused on this vision and making it as big as we know it can be.
What impact will the service have on the fashion industry ?
Hopefully it will kill fast fashion over time and encourage people to spend the budgets they were formerly spending at H&M and Zara on designer fashion instead, because they'll fall in love with high-quality, beautiful designer pieces and be able to access them in the most tech-friendly, mobile way. If shopping were created today, wouldn't you live in a world where designer clothing was constantly showing up at your doorstep, and some of that stuff you would fall in love with and buy, and some of that stuff you would wear for a few days or a few weeks and return, and some of that stuff you'd return back immediately?
Have you received feedback from designers?
Our designers love this—they love that we're registering their full collection so our 5 million primarily Millennial women are seeing and educating themselves about all aspects of the brand.