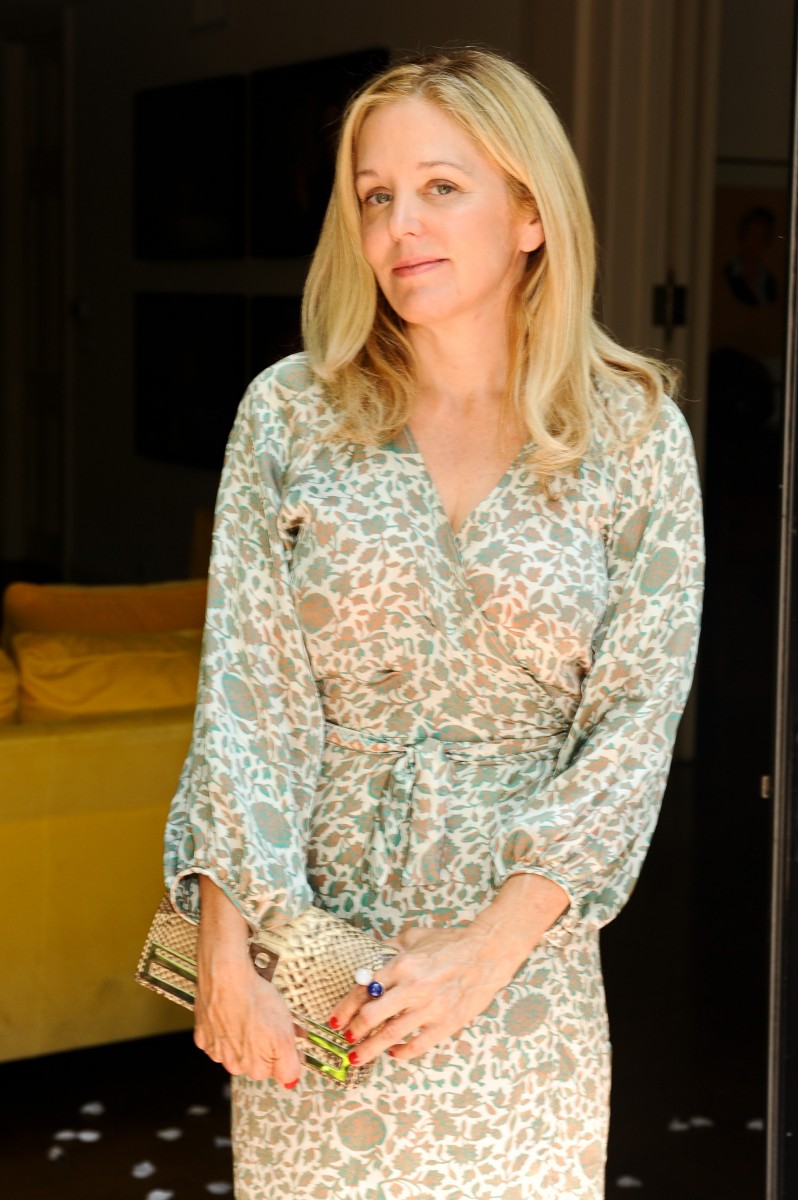 Marin Hopper's line of ultra-luxe handbags, Hayward, culls from her very chic, pretty complex family history, from the distinctive zipper pulls to the slew of styles named after her relatives. Inspired by and named for her grandfather Leland Hayward, the illustrious Hollywood producer, aviator, and founder of Southwest Airlines, Hopper's line took shape half a dozen years ago as a small custom business. Now, the ELLE and Harper's Bazaar alum (who's also consulted for the likes of Tod's) and daughter of Dennis Hopper is growing the biz and opening her own Hayward boutique in a lavish, history-steeped UES manse. We got the full scoop on the line's evolution, plus that rich family tree (included below for easy reference!) and some memories from Hollywood's golden era, and intel on what to expect next…
Why did you start designing your own bags six years ago?
I'd designed and consulted for other brands, and a friend of mine in L.A. wanted to give an alligator bag to a dear friend, so I came up with a design. There's a handbag factory next door [to Hayward's now-HQ] that makes bags for many different clients. I felt like I was going to see the Wizard from The Wizard Of Oz—either they'd like me, or spit me out. They liked me! The line—and its name—was inspired by my grandfather, Leland Hayward. He was an interesting fellow! He was a movie producer, and he was also an aviator—he started Southwest Airlines. Now, we own the factory, which still produces bags for other designers, in addition to our own. It's great to be producing locally.
How did your designs progress from there?
I got very into this idea of doing matte alligator, lizard, and python; it felt like it was from another time period. Everyone does python now, of course, but at that time it felt new. We've explored all sorts of flourishes, like hand-painted exotics. We've since introduced lots of leather into the collection, and nowadays, we use everything from linen to lizard.
Which designs were inspired by your family?
There are all these heroines in my family story! Slim Keith [one of Leland Hayward's wives] loved box clutches so I made this slim box clutch for her. And there's a style named after my daughter, Violet. The Maggie is named after my grandmother, Margaret Sullavan—she was very glamorous on stage, and off-stage she flew planes and was very sporty. She always wore menswear—crazy brogues and chic tailored suits. She was married to Henry Fonda, and then to Leland Hayward.
Were you close to your grandfather, Hayward's namesake?
I was sort of intimidated by him! He was a big businessman and always busy, but he taught me to play chess and I thought he was very cool. He was Kate Hepburn's agent but also her boyfriend. I only met her a couple times, but I heard she had a marvelous personality and was quite supportive and open minded.
You've got a lot of aviary-loving lasses in your lineage! Do you fly?
No, but I love airplanes. I love going to airports, too! Retailers are saying that airports are the new shopping malls, that they'll become absolute destinations, to spend money, hang out, get your hair done, whatever. I'm all for it.
What's the story behind the hardware?
A jewelry designer helped me make the hardware, which was inspired by my grandfather. He loved to make his cufflinks in his own font at Cartier, which you could do back in the day. The letters look kind of Viennese. In the beginning, the hardware was really heavy—I even had it made in platinum. People thought I was crazy. Since then, we've cut the weight in half, luckily.
How did your designs become big in Dallas?
I went to visit my brother there, and his fiancée really loved my bags, so I set up a little trunk show there. I kept being invited back by different people for different trunk shows. I went back a lot over the course of four or so years—we did very well there. Then, we had trunk shows in L.A., N.Y., and Chicago. That's just kind of how the business built up.
What happened next?
Last year, we put together a little pop-up shop in Napa. I friends there and thought it would be fun. A very dear friend was very generous; she gave us her beautiful space and we put all these photographs up that my father and my mother's godfather took, these great, behind the scenes Hollywood shots. The pop-up store is still there.
What kinds of retailers are you carried in currently?
We're in some specialty stores, but none in New York—we've been very small and organic, working with people we knew very well who came to us. I haven't called Barney's. Once our store is open, it will be a platform from which to grow.
Why did you decide to open your own NYC store?
There are so many talented designers making bags; the market is quite full of lovely choices. We have such an incredible story to tell, we thought that having our own store would let people really experience the world we're sharing and celebrating through this line. The store is going to be very beautiful!  It's in the old [Grosvenor] Atterbury Mansion on 70th Street between Park and Lexington—it's an unusual space. It's got a fabulous dramatic staircase when you first walk in, and we left the big, beautiful living room and dining room with big fireplaces, basically untouched. You can have a coffee or little snack down there, and there will be art books for sale. There will be a bit of color, too, to bring my Hopper roots, my California roots, into that room. There's Tiffany stained glass throughout, because Atterbury was very close friends with [Louis] Tiffany. The store is basically on the second floor.
Let's discuss those Cali roots—tell us about your father, Dennis Hopper!
He was the greatest guy. He had such a sense of humor, and great vision. He was a melting pot of creativity: he was a really good actor, he was a good photographer, he loved music, he was an art collector, and he was friends with lots of musicians. He taught me a lot about art; he'd say, "Buy what you love and have a relationship to, don't buy what you think is going to bring back money to you."
Did you ever work with your father?
When I was at ELLE, we got him to photograph some stories, which was really fun. He shot one of Alexander McQueen's first collections for ELLE, actually. The story was just crazy and beautiful—and a big creative adventure for my father, to do a fashion shoot. He was not frightened to take on things and explore new avenues.
What were your younger years like?
I went to Westlake School, which makes me seem very, very old because it was way before it became Harvard-Westlake. My best friend growing up was Michelle Walker, the daughter of Robert Walker, Jr., who was a very, very close friend of both my father and mother. Michelle's grandmother was Jennifer Jones, who was the most divine person. Growing up, I spent my summers with Michelle out in Malibu with her grandmother. When I was little, I once told Jennifer, 'I'm adopting you officially as my godmother. You smell really good!'
Ha! So, how did your decade-long stint in the fashion department at ELLE inform Hayward's evolution?
I've really been very careful. I haven't made a big push with retailers or with the press. I've tried to move slow and steady. We've just recently got the collection together, beyond the brand's custom roots.
What did you get out of your time at ELLE?
I started as a fashion editor covering the Italian market; I later became fashion director. I was very young, and ELLE gave young people opportunities to  move up.
What was your time like at Vogue, where you got your start in the glossy realm?
You had to work hard and it was very old-school—I was an assistant for a while, which was fine, and I learned how to pack trunks perfectly, do the sitting sheets, and everything. It was like an education. I got to work for Carlyne Cerf de Dudzeele for two days—I thought she was extraordinary and beyond talented.
What's up next for Hayward?
I'd like to make some luggage and some very fine duffels, because I'm obsessed with travel. Then, I want to bring some very simple clothes to the mix. There are also plans for small goods, like gloves, and jewelry as well. Also, we have cashmere connections to make scarfs and other affordable items.
PLUS! Check out some chic styles from Hayward's Fall 2015 collection…