How did a duo of former lawyers end up launching bkr, a sleek, superchic line of water bottles that are sold amid Neiman Marcus' toniest beauty brands and are on offer at editor-adored mani haven Tenoverten? Their colorful silicone-enveloped glass sippers retail for $30 to $42 and will make you rethink that mangled Poland Spring bottle or rugged but unsexy Nalgene situation. We caught up with bkr's founders, Tal Winter and Kate Cutler, for the hydrating scoop. Plus: Check out the gallery for a bkr's gorgeous Spring campaign…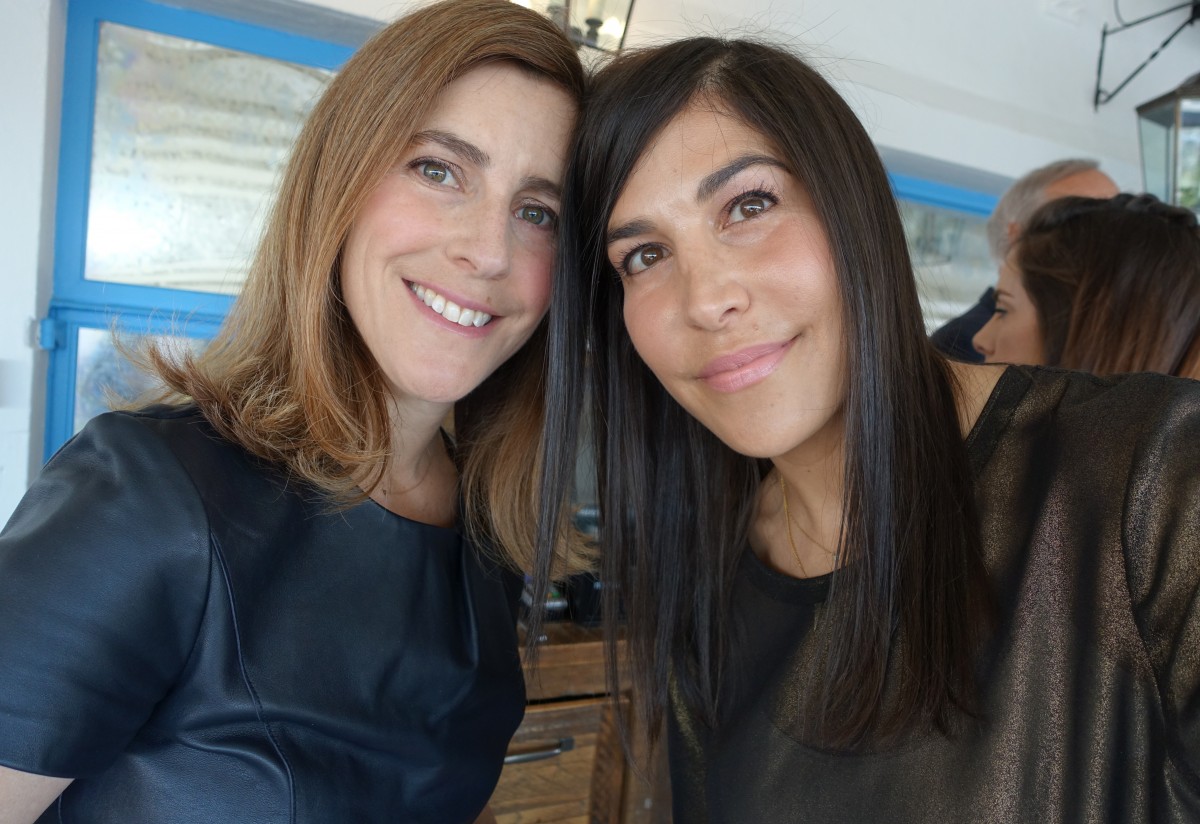 What's your backstory pre-bkr?
Tal Winter: Kate and I met in law school in San Francisco and we've been friends ever since.
Kate Cutler: We were young lawyers who were both successful in our own different areas of law, but always felt there was something else out there for us.
Tal: I was always the girl who wore dresses to court. I remember one day when I was wearing a purple Diane Von Furstenberg animal print dress with red sparkly heels. I was in trial, looking out at a sea of drab brown suits that were all fighting with each other, and thought, 'Maybe I'm done'.
Kate: We both thought there had to be something more fabulous in our future.
How did you come up with the concept for bkr?
Kate: We're self-made, and we worked really hard to become lawyers. When we got our first jobs out of law school, we finally had some money in our pockets.  We started living the 'good life'. We decided we never wanted another cheap ugly thing in our lives.
Tal: We went to spas in Palm Springs, art openings in S.F., and joined the most gorgeous gym in the city.
Kate: But everywhere we went they were handing us plastic water bottles.
Tal: We realized we were intelligent, fashionable, cultured women who wanted everything in our lives to be glowing and glamorous but we were constantly drinking out of trash; it didn't compute.
Kate: And we didn't want to drink out of camping equipment either.  We wanted something that matched our couture and wasn't designed to hike Kilimanjaro.
You've got a very interesting retail approach for bkr. Why did you want to be sold alongside luxe beauty products instead of, say, sports bras?
Tal: Water is a fundamental element of our beauty regimen – every beauty expert and anyone whose job depends on being beautiful will tell you the key to flawless skin is hydration.
Kate: We listened to our customers and they were telling us they were finally drinking enough water and their skin was glowing—we heard over and over that their addiction to bkr was a skincare game changer. It just made sense that beauty was where bkr belonged.
How did you come up with the name?
Tal: bkr is a throwback to high school chemistry class when we all used glass beakers. In keeping with our minimalist aesthetic, we spelled it with the least amount of letters possible.
Kate: We even left out a piece of the k (in the logo), it wasn't necessary.
How long have you been obsessed with drinking enough water?
Tal: For as long as I can remember. My mom has perfect skin and almost exclusively drinks water.
Kate: I've been a magazine addict since I was a teenager and I can't tell you how many articles I've read about the benefits of drinking water. I really do notice a difference in my skin when I don't have enough.
The colors are gorgeous! How did you pick your palette?
Tal: We base our colors on runway trends in New York, Paris, London, Milan, and also pay attention to what's happening around us in the art world and on the street. We release seasonal collections twice a year that reflect our take on what's current and beautiful.
Is bkr specially aimed at women?
Tal: This really comes back to paying attention to our customers, who they are, and what's important to them. Like most beauty brands, the majority of our customers are women and so we do try to speak to women. That said, we have die-hard male fans.
Kate: We get emails every day from men who are obsessed with their bkrs. We met a tattoo artist in San Francisco who drinks out of a big pink bkr and we love that. We've seen everyone from the lead singer of Incubus to professional male athletes drinking from a bkr. We also hear lots of stories about boyfriends stealing their girlfriends' bkrs.
Any celeb fans of the brand?
Tal: Only all of them! [Laughs] We've had a tremendous response from celebs. We've seen everyone from Gisele to Dakota Fanning to Martha Stewart toting around bkrs.
Are there additional products on the docket?
Tal: We do have some exciting things up our sleeves, but we don't want to ruin the surprise.
Kate: I love a good surprise… 
Have you thought about collaborating with designers on limited-edition bkrs?
Tal: If an amazing opportunity came along, we're open—but in the meantime, we've got enough on our plates.