'Tis the season to check in with the legendary Patricia Field, whose namesake store on Bowery is the only game in town for serious Halloween fans in New York City. If you haven't figured out what you're going to be on Saturday (gasp!), Pat has a few suggestions for how to put your look together and all the ways that her team can assist in your tricks and treats game.
What's your advice for people looking for costumes?
Before I would give them advice, I would try to get some basic idea from them about what direction they want to go. Do you want to be a glamorous girl? Do you want to be a funny guy? Something basic to start off with. The main thing is you have to look fabulous, but you've got to be comfortable because you're out partying and having fun. The last thing you want is for your costume to impede your night. At the same time, it has to be over the top and gorgeous. If something is too tight or if you can't walk, let it go. There's always a substitute. You can't have fun if you're miserable in your clothing.
Your windows have a costume couture theme this year. Tell us more.
The reason we decided to go this route is that I'm finding in my business a big elevation in the want for one-of-a-kind pieces. Maybe it's a reaction against volumes of mass-produced merchandise that you see and everybody kind of looking the same. It started with the stylists coming to us, because where else are they going to go? All of the unique stores are gone.
Except for you!
I'm still hanging in there. Our customers come to us to be unique and not to be Katy Perry or the ninjas or whatever trendy thing is going on. We noticed our business for one-of-a-kind clothing was increasing. The people aren't going to come to us for packaged Halloween costumes.
We're assuming you don't have Donald Trump costumes…
We don't. I don't know if anybody is looking for them.
How do you help your customers get the right look?
My stylists on the floor are great. They are creative, artists, and imaginative. They help people. Yesterday a customer pulled a silver and metallic catsuit. He said he was thinking 'futuristic.' I happened to be on the floor at the time and he caught my attention, and I showed him different ways to do it. Today my staff are dressed up as witches. When you see somebody and they look fabulous, like my staff, you have confidence that they know what they're doing. It encourages our clients to approach them.
What's in the window this season?
We have a sexy nun costume in one of them! I heard there was a priest standing in the front of the window recently, and he was blessing the windows because the nun is scandalous. He was exorcising the nun.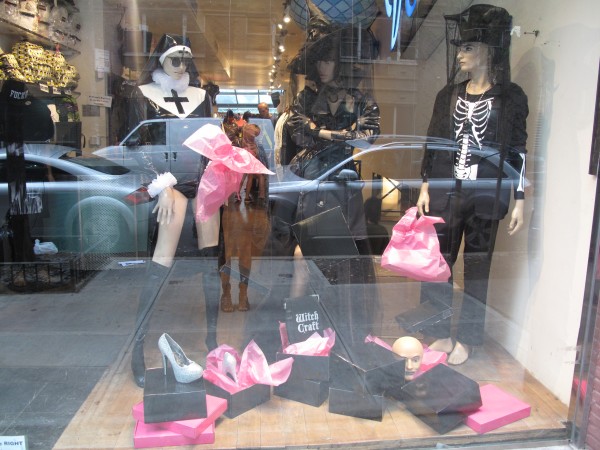 What do you think of that?
I didn't know what to think of it. We come from such different worlds, but I kind of found it humorous.
What are you going to be for Halloween?
I knew you were going to ask me that! I haven't figured it out yet. I've been so busy. I'll come up with something! There's no problem coming up with something creative.
Do you have any costumes that you regret wearing yourself?
Not really. My birthday is February 12, which is the birthday of Abe Lincoln, and one year I went as him. I look for a piece of inspiration and it helps me build the whole idea.
In other news…What's going on with your reality show? Is that happening?
I don't have a plan for one. I've been approached many times, and maybe I'm just particular. These reality shows have these formulas and they want to fit you in their formula box. I never found one that I was comfortable with. It's often centered around four girls coming to New York and you restyle them. I did that already in real life. I don't wanna go there again. I need to enjoy what I do and not just do it because I can do it. I want to get up in the morning and be excited about the day that's coming.
What are you excited about lately?
I just completed a big project in Italy with a lingerie company, Intimissimi, where I did the costumes. It's a show on ice, and kind of like the Victoria's Secret of Europe and beyond. It's a huge show with Olympic skaters, opera singers. It's fabulous. It was very successful. My client wants to hire me for next year so that's in my future. I'm currently doing the costumes for a TV show, Younger, on TV Land. I did the first season and people responded so we're creating the second season right now. Debi Mazar is in it and I've known her since she was 14 years old from my 8th Street store. She was a New York kid. She used to do my hair! This is the first time we've ever had the chance to work together, which I'm so happy about!