Hailey Baldwin has had quite a busy year. Global modeling gigs, the announcement of an upcoming makeup line, and now a celebration of her Ugg campaign for the brand's new classic street collection, which debuts five styles, are just some of what this mod has been up to. The It girl gives us the dish on her buzzy year, plus what industry she would be in if she wasn't one of the hottest mods out there today. 
How did your collaboration with Ugg come about?
It happened very organically and I was excited when it was brought to me. The team that was put together were people who I work with normally, from the hair to my stylist, so it felt very much me. Mike Rosenthal, the photographer, was was awesome—he made it easy for me—so it was just a fun day. If you can get along with the crew and make it fun, it doesn't even feel like work.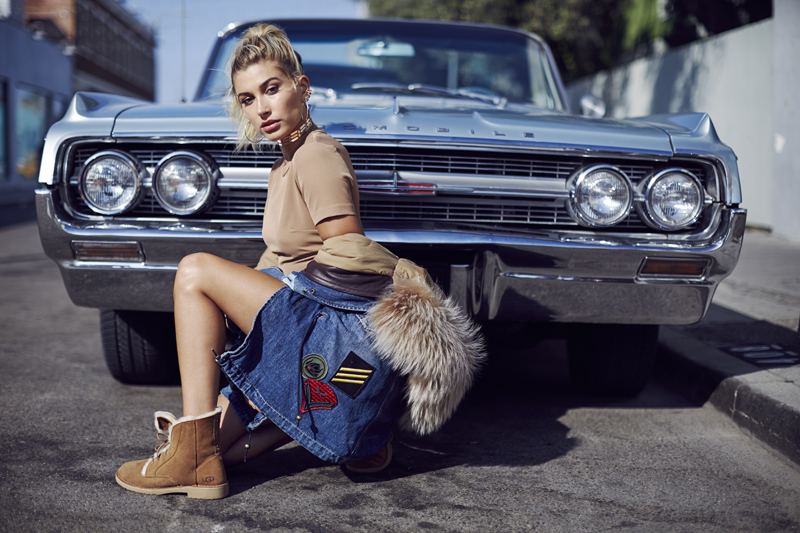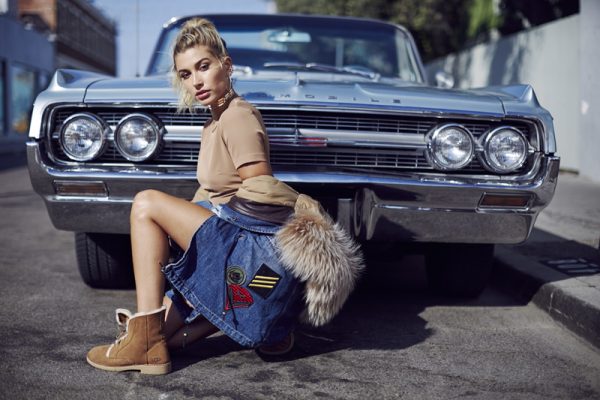 Did you grow up wearing Uggs?
Of course! I grew up outside of New York City, so they were very popular amongst me and my friends, and still are today. From this [classic street] collection I really love the Quincy boots, which I'm wearing. They're kind of like a combat-style boot, which I love, because I wear a lot of them!
You've had quite the busy year. How are you juggling it all?
I try to find some down time, and I've had some good portions of it this summer where I've just chilled, traveled, and hung out with my friends. When I'm on the road and bouncing all over the place, I make sure that I get my sleep and chill and watch movies instead of going out. It can be tough because if I travel overseas there's jet lag and a lot of other things to factor in, but a good book never hurt anybody!
Are you an avid reader?
I'm not a huge reader, but right now I'm reading The Interpretation of Dreams by Freud.
New York Fashion Week is coming up…will you be here for it?
I think so!
What's your relationship with your IMG agent like?
You create a relationship with the people you work with. Everyone on my team becomes like family. I love working with IMG and the team I have behind me. They work really hard for me, which I appreciate.
What designers are you loving these days?
Some of my favorite designers that I buy personally are Chanel, Saint Laurent—it's one of my favorite brands of all time—Vetements, and Fear of God.
How do you describe your style?
It's simple but chic—hopefully!—at the same time. I think I stay true to my age in terms of my style, too. It depends on my mood. Sometimes I just want to be a tomboy and other times I want to look like a mom.
Who's your style icon?
I look up to Rosie Huntington-Whiteley, Rihanna, Margot Robbie, and Victoria Beckham—she's a big one.
Is there a photographer you haven't worked with yet who's on your bucket list?
I haven't worked with Mert & Marcus or Mario Testino yet. They would be awesome!
You have over 7M Instagram followers. What do you think of Instagram Stories?
I like it. I'm not mad at it, but it didn't take me away from Snapchat. I like the dog filter, like every other basic girl, and the one with the little yellow butterfly crown. I don't know what it is, but it just makes you look so pretty!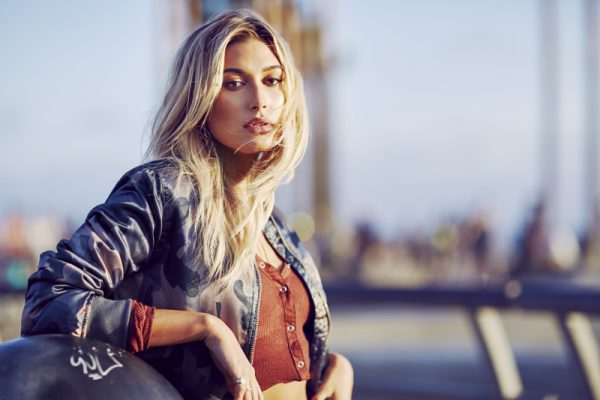 Do you read your Instagram comments?
I shut my comments off for the most part. I don't want to hear it anymore…I just can't deal with it. But the people who are kind and do support me, which recently has been overflowing amounts, are super awesome and I really appreciate it. If I can just X-out the temptation to sit there and read them, I would rather do that.
You just announced a makeup line. 
Makeup is such a big part of my world and my job, so going that direction makes a lot of sense. I think ModelCo. is the perfect brand to collaborate with.
If you weren't in this industry, what could you see yourself doing?
I wanted to be a doctor, but I obviously am not doing that. I'm very interested in medicine and the medical field. I grew up in a family of actors, which is also something that will probably happen [for me] in the future.
Campaign images are courtesy of Ugg