You've met them before—Elise Loehnen, Laurie Trott, and Jean Godfrey-June—but allow us to reintroduce them as the directorial trio at Goop, Gwyneth Paltrow's digital start-up that's grown from weekly newsletter to figure of speech to thriving e-comm destination. Behold the digisphere's latest sensation.
ELISE LOEHNEN, editorial director
What brought you to Goop?
I moved to L.A. to work for this unglamorous shopping engine with all engineers, because I wanted to learn about the Internet from a completely different perspective, but I missed working on something that drives a lot of value. I met Gwyneth through a co-worker. Having grown up at service-oriented Lucky, Goop resonated with me. She offered me the job, and it was a no-brainer. I started in February 2014.
A bunch of the team comes from Lucky.
Yes, Jean, Laurie, and [VP of brand partnerships and sales] Kim Kreuzberger all come from Lucky. I landed at Lucky after college, and I was like, What is this place? I need to work at The New Yorker! Very quickly, I realized that making shopping content smart, revelatory, and fun was harder than writing a long-form essay. To write 40 bag captions and make each one stand out was the best training around.
What's it like working with Gwyneth?
She's a total visionary. She has respect for the reader, which is what I was brought up in. It's not about throwing a bunch of noodles at the wall, and that's reflected in the content. She looks at every story, often writes the subject lines [of newsletters] herself, and is in the office daily. As much as Goop was born out of her, it's become bigger than her in many ways.
What does "editorial director" mean at Goop?
It's almost a misnomer, because we don't have silos, and the whole team is doing so much more than that. I shepherd the newsletter and the content on the site, from conception to publication.
What's Goop's content strategy?
We have our Thursday newsletter, which is our in-box staple. Sometimes we do a special issue, like our recent issue on kids and sex. We sort of plan against loose beams—September is back to work, October is about transitions. Gwyneth is always finding experts. A lot of our city content is from our own travels and from Gwyneth's friends, like her best friend from high school or someone whose taste she really trusts. That's how we build out a lot of our content. Instead of making it about creating a certain number of stories per category, we make the decision based on our resources and our readers'. We feel our way. It's Goop! It's an intuitive process.
Who is the target audience?
The reason that Goop is Goop is that we are a targeted reader. It's born from this idea that if Gwyneth is interested in it and her friends are interested in it, then the friends of her friends will be interested in it. That's how we operate. We're thinking of our own questions and issues that are pulsing on the general subconscious. There are things in the ether and then they come down. That's what drives us.
What does it take to be a Gooper?
We're looking for people who are curious, hardworking, diligent…there is a huge trust issue for us. We don't really wing it, which is one of the reasons we hired Jean and Laurie. If our readers want to know who the best dermatologist in New York is, we want to be sure that we are telling them. They also have to be open to collaboration. There's not a lot of time for navigating interpersonal conflicts.
How would you describe Goop's voice?
For the most part, we have one voice, but there are Ask Laurie and Ask Jean columns. We try to write as though we're speaking to our smartest friend, which is exactly how we'd want to be spoken to.
How has Goop changed since you've joined?
When I first joined, it was a newsletter that was all content, and the site was in planning stages. Now it's a fleshed-out website. There's a bit more content, and it's more organized. The audience reflects that. Our traffic has doubled since 2015, and our list is significantly bigger. Our open rate is still 28.5 percent, which I think is double the industry standard. That's really important. If no one opened it, that would be a bummer. [Laughs]
Will you cover NYFW this season?
Taylor Tomasi Hill covered it for us in 2014. There are so many other publications that do it so well, so we don't feel like there's burning white space for our readers. But we'll interpret it, particularly in our shop.
Speaking of, Goop Label launches this month—fill us in!
It's a very tight, well-thought-out collection, and a "buy now, wear now" concept. They're beautifully made, incredibly high-quality, high-value essentials that are Gwynefied. They're things you can turn to again and again.
What's next for the L.A. team?
My creative team and I have always been based in L.A., but our other functions are moving here gradually. It's all coming together.
JEAN GODFREY-JUNE, beauty director
You're coming up on a year at Goop. How's it going?
It's been exhilarating in a lot of ways. I'd been a fan of the site and I've worked with Elise for many years, so it all fell into place. It's fun to be at a media entity where people are excited to work with you. I haven't had that experience in a while—the enthusiasm that the outside world, the ad community, the beauty community has for Goop. We're not focus-grouping every move we make, and we're not chasing after clicks. It's a vision that takes into consideration the people running it and the people reading it and what works.
Is Goop exposing you to a new side of beauty?
I've always been interested in the ingredients in beauty products, but at conventional magazines, I wasn't able to explore it as fully. I thought I was unshockable, but for a story here I learned that the main ingredient in mascara is a product of petroleum combustion. Every time I do a story, I'm like, really? I thought that was okay! It can be frustrating. If it were an industry serving mostly men, there'd be a lot more interest in the ingredients. Gwyneth is working with Dianne Feinstein on legislation, so it's exciting that it's getting more attention.
How is Goop approaching beauty editorial differently?
It's very much like the rest of the site: what we and our readers want to read. The content is a mix of people wanting to know information—like what's in chemical sunscreen, and why you shouldn't use it—and wanting to look pretty, like the rest of us! And there are some amazing clean beauty companies out there, so we profile them.
Are you involved in developing Goop beauty products?
When I started, Goop was finishing the products for the first launch. It's all up my alley, especially the face oil and the night cream. Blair Lawson is our head merchant and she leads that team. I submit ideas to her, and they'll ask what I think of products. I'm involved but not the decision-maker.
Where are you based?
In New York. We were at a WeWork space, then we moved to lovely Times Square, and in April we moved to Union Square. We have a big, beautiful open office. The dream where people can walk over and talk to one another? We put that in action—customer service will walk over to ask me things, like, "What should this customer wear with this red lip?''
How often are you speaking to the West Coast?
We're less hierarchical than a typical magazine, and I interact with a lot of people every day—merchandising, the e-comm team, editorial, Gwyneth, the tech team. Not one product goes on the site that we don't all love. It's almost an extension of what I did at Lucky, where we were talking about products to make them as accessible as possible. This is next level. We're very, very, very interactive. [Laughs]
Tell us about your fan-fave column, Ask Jean!
I'd had some very successful columns, and I wrote a book in the same voice called Free Gift With Purchase. It was always a first-person column, and there's certainly a lot of that out there now, so we've made it interactive. My true concern is helping readers look better right now, not discussing runway trends. Ask Jean incorporates all the questions from the audience, and it keeps me in touch with what everyone is thinking when looking in the mirror or at the back of an ingredients panel wondering what the hell things mean.
How do you decide which questions to cover?
The ones that I have a really good answer for come first, but I get to everything eventually. At one point, I got a lot of, "What do I do about my teenager's skin?" [Laughs] So we did a full story on that. It gives me ideas beyond the column.
What brands in the Goop Shop do you love?
Our standards go beyond just about anybody's, so we have a limited pool to play in. Juice Beauty does an incredible job with lip color that's made with plants. I love de Mamiel—they blend the products by hand and chant to the oils. I don't know if that's why it's so good, but it's friggin' fantastic.
What's the best part of working at Goop?
This is going to sound so corny, and I totally drank the Kool-Aid, but I love working for a company that's making a difference in things that really affect women's lives. For a long time, the industry just painted green leaves on its bottles. But women aren't going to stand for that. Gwyneth is part of changing that industry, and I like being part of that.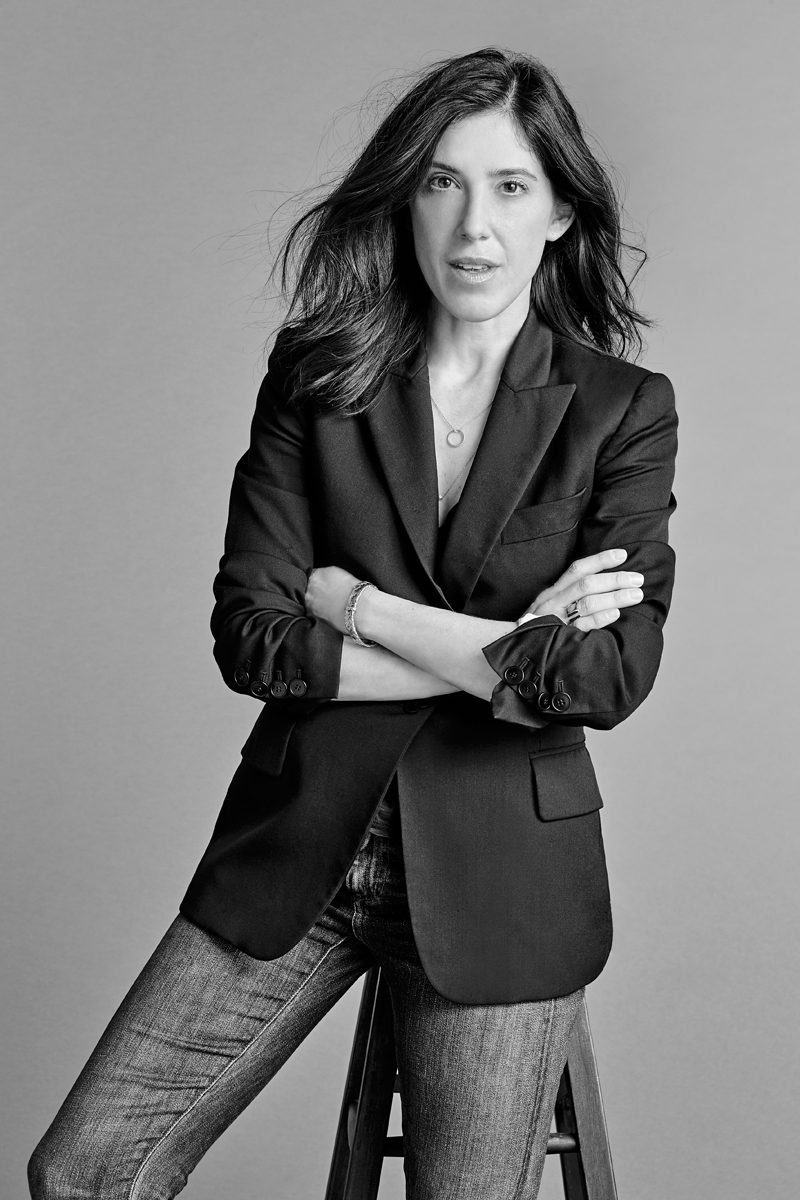 LAURIE TROTT, fashion director
What's your role at Goop?
I work closely with our editorial team and our fashion buying team to make sure that the content and commerce are a seamless experience—that what we offer from a fashion and accessories point of view coincides with what we're covering in editorial.
How do you curate the shop?
It's a tight edit, the best of the best. We work very closely with Gwyneth to make sure we're finding the best assortment. They're investment pieces in all senses, not necessarily just price. Sometimes it is a designer item, but sometimes it's a discovery item, a cheap and cheerful find.
What Goop Shop brands are you loving right now?
We have Stella McCartney, Phillip Lim, and I really love what Suno has done. And we have Goop Label coming out!
Tell us more.
It launches September 12, and it'll have up to five pieces each month. These are pieces that you can mix and match, and they were inspired by what Gwyneth loved and has in her closet. It's something that's been on her mind for a long time. She knew which pieces were missing, and which ones she was going back to. A lot were items she couldn't get anymore, different cuts or silhouettes. She's extremely hands-on and involved in the best possible way.
What's your personal sense of style, and what are you excited about in the line?
Goop Label is very much my own style. Something I always look forward to is fall and the idea of layers, finding the perfect accessory or cashmere coat. This extends to the editorial that we cover, in which we're curating classics and timeless pieces, and we're offering different price points in editorial. It's a Goop sensibility!
How is Goop different from your previous jobs in fashion?
One of my frustrations at magazines was that things sell out, and this is instant. Goop is truly contextual commerce. It's great to create a seamless experience to transfer the readers to a shop where they can actually buy it.
Will you be in New York for Fashion Week?
Yes! I go to New York Fashion Week, and I also work with our buyers. I usually go back every six weeks to two months. I was there for a long time, so it's still in my heart. This is a perfect example of living Goop: I travel everywhere with my Lauren Roxburgh foam roller. That will be coming to New York!


NEW YORK, NY – DECEMBER 02: Gwyneth Paltrow attends the goop mrkt grand opening event at The Shops at Columbus Circle on December 2, 2015 in New York City. (Photo by Matthew Eisman/Getty Images)
Read the issue HERE.