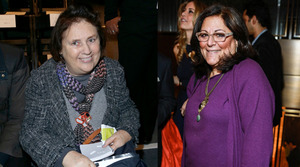 Fern Mallis Fills Us In On What She's Going To Ask Suzy Menkes
Fern Mallis is back May 7th with another one of her already legendary 'Fashion Icons' chats with Suzy Menkes in the hot seat next. What does one ask a legend like Suzy? "I'll ask her all about her life, and how she came to be a 'critic' of fashion," Mallis tells us. "But I love learning about families and how she found her style surrounded by so much of it in the industry. Most people here have had a chance to read Suzy but have never really 'heard' her voice. It will also be nice to get her fresh take on the Met exhibit from the night before." And her famous do'? "I will surely ask her when she discovered her iconic hairdo…and if she's ever thought of changing it." Get tickets now! These conversations never fail to entertain.
The Daily Front Row
Seating you front row, taking you backstage & catapulting you into the world of fashion. Stalk us on twitter @DailyFrontRow, follow us at FashionWeekDaily.com and always be seated front row.