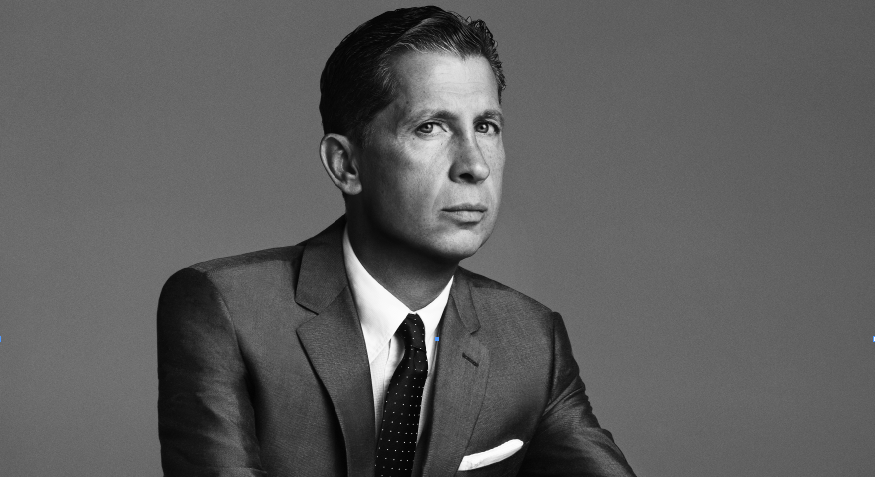 After four years at the helm of W, Stefano Tonchi's editorial prowess and influence is larger than ever. Dominating the competition in the realm of fearless fashion photography, and infusing the magazine's worldview with a tantalizing take on Hollywood and the art world, Tonchi's crown jewel has never shined brighter.
BY ALEXANDRA ILYASHOV
What does it mean for W to nab the Magazine of the Year title?
I'm pleased! W has been around for more than 40 years, and that deserves attention. It's a magazine that takes risks and presents celebrities before people have even discovered them. Our photographers push the envelope—that's not the norm in our industry. W has been connecting the dots of contemporary culture—celebrities, art, cinema, and fashion—in a logical context. That's always been the mission of my career.
What was the maglike when you arrived?
I think W was suffering. It had become so fashion-obsessed, it was even difficult for fashion-obsessed people. Somebody once said to me that it had become so snobby that even a snob did not want to pick it up. It was so extreme, they had lost their audience. There was a need for an enlarged point of view.
Why do you think you got the gig?
From my first interview with Si Newhouse, who was really the person who hired me, it was always about bringing my vision that I showed at the Times—giving fashion a larger context. The mission was to reach more people—to be more inclusive and open to what was happening in culture at large.
How did you move beyond that extreme, snobby era of W?
My big contribution has been making W much more relevant in the art world and in the movie industry We've successfully created three pillars: fashion and fashion photography, which is W's core; contemporary art, as a form of entertainment and as a form of social currency; and a really strong presence in the cinema culture.
Are there artists you were surprised to nab?
Someone like Urs Fischer? Not easy. It was so incredible to work with Ai Weiwei, because he was under house arrest. He couldn't leave China. I thought, "How are we going to do this thing?"
And how did you?
We were going to shoot in China, and then were told we couldn't. We ended up shooting on Rikers Island, with Ai Weiwei on Skype, so we had to shoot at night. He only had Internet access from 9 a.m. to 5 p.m. Beijing time. He directed the shoot, he approved it; it was historic. He narrated through a model how he was arrested, interrogated, put in the shower naked, all of that. Each picture was a really big process.
Incredible. Did these artist relationships kick off at W?
All of these collaborations started at T. In fact, there is a big painting in Jeff Koons' current exhibit —Gretchen Mol as Bettie Page on a dolphin—that was created after a project commissioned by me.
Who's helped you most on the Hollywood front?
My relationship with Lynn Hirschberg, one of the most respected film industry journalists, has been important. She knows all the players—the talent agents and managers, producers, directors. She's one of the best writers, if not the best. Everyone thinks we're married! It is a true work marriage. I trust her completely.
What kinds of stars have had a real moment in W?
We were the first to put Jennifer Lawrence and Rooney Mara on the cover; we discovered them. We also transform people, like that cover with Kristen Stewart. That picture completely sold her to the fashion world; it was transformational. Miley Cyrus, too.
What's the feedback been like?
Very positive. We kept getting letters from people, saying they liked that we were doing more culture. I tried not to take away anything that was already there. I was reminded that our mission is fashion—we couldn't be confused with Vanity Fair, The New Yorker, or New York. You must know your space in the market, but that doesn't mean you can't build around it.
What's the riskiest cover you've ever done?
Kim Kardashian. But at the time, I didn't really think about it as risky, because everybody was aware of her role as a pop icon. Our cover was not about endorsement; it was actually a critical approach. I didn't put her on the cover in a beautiful dress to glamorize her, and I didn't try to normalize her, either. We pushed her to the extreme of being naked, and then collaborated with artist Barbara Kruger and put a really strong, critical message on her body: "It's all about me, it's all about you, it's all about me." I thought it was almost predictable, but it wasn't.
That was quite the cover. Any others that felt particularly ballsy at the time?
In a certain way, the "Good Kate, Bad Kate" cover was so dark and different from anything else out there on the newsstand. I would say that my covers are a little bit different from what W used to do. The previous administration had very provocative pictures inside, but the covers were quite commercial and classic.
Any underrated covers you'd like to bring to our attention?
People don't remember the black Marie Antoinette cover of Nicki Minaj as much. It was with Francesco Vezzoli; we didn't have to convince him. He's one of my best friends.
How about that sublime polka dot–festooned Clooney cover?
It was a collaboration with Yayoi Kusama, who did the background and clothes. We aim very high, and then you have to go from there. Kusama was so high that we thought she would never do it! She lives in Tokyo, has a studio and a mental-health-assisted living-care center she goes back and forth between. George only wears Armani, so we had to get a custom Armani suit for him. We mailed it to her and she hand-painted everything and then mailed it back. Including the shoes and the bow tie and everything.
Is it challenging to do edgy covers at a mag owned by Condé?
Before my time the magazine was more independent because it was part of Fairchild. But in my time here, I haven't had any kind of [corporate] critiques about the cover. Also we're mostly subscription-based—our numbers at the newsstand indicate how people react to one cover versus another, but they really don't determine anything.
Must be nice to not have to constantly stress over newsstand stats.
Absolutely! I've always been very lucky with that. At T, I didn't have to deal with the pressure of the newsstand. I never accuse colleagues of mine who are putting out very commercial covers of not doing a good job, because it depends on where you're working, who your audience is, and what your market is.
Visuals reign supreme in W's pages.
Photography is our trademark. It's in the DNA of the magazine. It's what we're constantly known for, awarded for, recognized for. Mr. [John] Fairchild was obsessive about fashion—it was that part of the DNA of the magazine. Then, in 1994, when they went to the large format, they decided to re-push photography. Steven Klein, Juergen Teller, Craig McDean, and Mert & Marcus were all discovered in W.
Who are your own favorite photographers of the moment?
I love the work of Juergen and Craig, Steven Klein and Steven Meisel, Paolo Roversi, as well as Inez and Vinoodh—they just shot the cover and most of the October issue. I'm also very happy to carry on that tradition with a new generation, bringing people like Tim Walker, Willy Vanderperre, and Alasdair McLellan to a wider audience.
What's your relationship with Tim like?
Tim Walker had very little presence in the American market. I really believe in him. I think he's done his best work for W in the past three or four years—we've won most of our ASME awards with his work. We've been very important in his career, by giving him a stronger point of view, the freedom to express it, and a place to publish it. We've helped make him better known to a larger community. Even his commercial work has gotten a lot better.
Who else has been key on the photog front?
I've developed great relationships with Mert & Marcus and Steven Klein. They're really part of W's DNA. Getting Steven back was very important; it took two years. Steven took time off, then he did our 40th-anniversary issue cover, that Kate cover…some very memorable covers I've done have been his! I've been very happy to have Steven Meisel, too. We've given him a space that's very different from other Condé Nast publications.
Is it essential to be really strong visually to be a great EIC today?
Yes, you need a strong visual point of view. That was very important in T, too. Besides, we live in a very visual culture; we communicate much more with images than with words at this point. Nobody's sending any more text messages, it's all about Instagram. I'm a big fan of telling it with a picture!
Let's go back a bit. How did you know it was the right time to leave T?
It was an opportunity. I had other opportunities before, different conversations. I felt I'd done a lot with T in my years there. I'd reached a certain plateau. I actually wanted to go further in the company, and I don't think they understood that. And I didn't agree with two or three of their choices in particular.
What kinds of choices?
One was when they decided to eliminate the style pages from the weekly magazine—that was a mistake. Two, when they decided to cut the size of the magazine. I fought for that, but I lost the battle, and I was not happy about that. I mean, clearly I was right about that one, because they brought the original size back! I never saw T as its own brand. I always saw T as part of The New York Times brand. The real opportunity with W was to create a monthly with a lot of style and energy. T didn't believe in that. Also, the separation between the Sunday Magazine and T—that was not right. Now, it's clear that one is killing the other.
How about some highlights from your time at T?
I was very proud to be part of The New York Times. It was an incredible opportunity—I hadn't worked at a company that has better business power. Truly, you can show up anywhere with a Times business card, and people know who you are, what you do, and what you stand for. One of the best things about those days is the people I worked with. I found some of the most talented and undervalued people at The New York Times. They were geniuses, and they were totally undervalued. It was very sad.
How did you end up at the Gray Lady?
I was recruited by Adam Moss. When I was at Esquire, I met him socially. The fashion critic at the Times was Amy Spindler, and she'd talked to Adam about me. I don't know how he hired me, but he believed in me. Then he left. We overlapped less than six months.
Why do you think you got the gig?
It was Adam's vision—I didn't apply for the job, they just asked me to interview. I made a plan, presented it, and I must have been impressive. They were interviewing many fashion writers, who often don't know what happens on set, or how to deal with photographers. They think you can order something and you're going to get it—it doesn't work that way. I sent a box instead of a résumé, filled with a bunch of magazines and books, and I think that's what got me the job.I was brought in as the Sunday Times Magazine's fashion editor. I was reworking what fashion was at the Times.

Quite a lot changed in your six years helming T.
It could have been a disaster. Nobody ever looked at it—until it started making millions. Then suddenly, we were heroes. We went from six to eight issues, then to 12, then to 15…we were a machine. We went from one room to a whole floor.
What did you get out of Esquire?
Esquire was a great experience, though when I took the job, I had to take a really big pay cut because I was coming from J.Crew, but I believed in working for the most prestigious men's magazine. There was very strong drinking culture there. When I was there, this female assistant's specific job was to provide the cocktail hour every day: fresh olives, lime juice, orange juice. She was an excellent editor, by the way.
What did you bring to the table?
I always said that Esquire's enemy was its past, because its tradition was so incredible. One of my big jobs there was to make it more memorable for the images. I did a lot of research into the history of the magazine. Few people remember that GQ was a supplement of Esquire!
How did you make Esquire a spiffier read?
The idea was to sell readers fashion, while they thought they were looking at pictures. David [Granger] was very receptive to that—my biggest idea there was to create something called "Men Across America." It became this platform, and we carried it on for a couple of years. Every month, we visited a different U.S. state and created a visual essay—lobstermen in Maine, cowboys in New Mexico, farmers in Ohio, the Cuban community in Miami. I brought unconventional photographers, too, like Bob Richardson, the father of Terry!
How did that conceit come about?
Men don't relate to fashion in the same way that women do—they're much more literal. If you put clothes in the right context, they'll understand it.
Any other memorable Esquire moments?
We dressed some representatives at the Democratic National Convention when it was in L.A., at the Staples Center; the election Gore lost. Steven Sebring photographed the reps while they were interacting on the floor with the vice president's entourage. It was really special. We took risks.
Sounds like you didn't regret taking a pay cut to go from J.Crew to Esquire.
You have to decide what you want to be in your life, and not be seduced by money. It's very important to understand that choices have consequences. When I was at J.Crew, we were doing 20 or so catalogs a year, with fun shoots, very good photography. I was recruited to work for Victoria's Secret as creative director. It was more money, but it was Limited Brands, and I would've had to move to Columbus, Ohio. Did I really want to do that? I had to think twice. I mean, one or two years out of editorial can be fun, but I don't believe in going back and forth.
What brought you to J.Crew?
I met Emily Woods, the daughter of the owner of J.Crew, and we really clicked. She said, "Why don't you come work with me? My father is retiring, and Texas Pacific Group just bought the company. We want to expand into retail, use real models, and create a completely different way of doing catalogs, with an Italian point of view." Emily really believed in it like I did; I worked there for a couple years. Things didn't turn out the way we dreamed them, but the catalog was so beautiful.
How did you end up as creative director at Self?
This profession is all about personal relationships. I went to Self because of Alexandra Penney, one of the magazine's founders. It was really her creation and her vision. I'm still honored to be a friend of hers. I always call her my mentor—she was the person who really taught me everything about American magazines. I needed a job in the U.S. that would pay me in dollars, and I had already moved here as an editor-at-large for the Italian Condé Nast titles, particularly for L'Uomo Vogue.
What was that stint like?
It was really strange. I got to know the American woman! I discovered the world of focus groups and market research. Doing Self was not so different from doing J.Crew in that sense. At J.Crew, it was just more direct: If they liked it, they bought it; if they didn't like it, they wouldn't buy it.
What did you get out of your Self stint?
Alexandra taught me so much: strategies on how to put together magazines, covers and coverlines, deks, writing, and American journalism. She's a great teacher and person. She's still a very close friend; we have dinner every other month. She was so ahead of her time. I remember one issue was all about the web—and this was in the mid '90s. It was her idea of social media: "Call me, write me, e-mail me." We brought talent that was unknown to Self. I hired a design director from Holland. We had great writing, and I tried to book photographers who were of the moment and less predictable. We were the first magazine to publish Inez and Vinoodh's pictures in the U.S. It was not the most commercial choice!
Did you get in shape during your time at Self?
I have to say, yes. I like fitness in general; I'm not obsessed, but I had much more attention from the fitness community when I was there! I was working out more, but nothing crazy. I'm very interested in food, but I never read about food. I go to the gym every day, but I'm not a gym fanatic.
What lured you stateside in the first place?
I just wanted to move ahead. I was not happy in Milan. I was doing very well in my career, but my goal was never to become the editor in chief of Italian something. I wanted to travel, and to be where things happen. Somehow, they happen in New York first. I wanted to be at the center of the empire, not the provinces. Also, I was kind of already with [now-husband] David Maupin, and though he lived in Italy and had jobs there, his career was much more secure in New York.
How did you bid adieu to Self?
I was at Self for four or five years with Alexandra, and when she left, I worked with the new editor, Rochelle Udell. But she didn't choose me, and I didn't choose her. We were working together, but it wasn't what we wanted.
But L'Uomo Vogue first lured you here.
I was the fashion editor and the design director at Westuff, my first magazine, though it was never a one-man show. I finished university and I didn't really know what to do. I was stopped on the street by the fashion director of L'Uomo Vogue, who asked to take a picture of me. They took me to the studio and Mario Testino was there—he took the picture of me. I still have it somewhere!
How did that become a job?
L'Uomo Vogue wanted to hire me, but I still had my magazine, though I did want to write for them. They called me once and asked if I could do a story in London. I said, "Oh, yes, I am in London." I was not! I interviewed with the editor in chief. I started as an assistant and a few months later they sent me to Nepal for two weeks for a shoot. I carried the bags and dressed the monks, and interviewed the king and local celebrities. It was a very homey thing! You have to make your own opportunities. I've been incredibly lucky through all my life, but luck is about being ready when opportunity shows up.
You created a mag in your twenties. Why was it called Westuff?
It was a typical Italian mis-use of the English language. "West Stuff": stuff from the West. It was this idea of looking at Western culture, trying to connect the dots and show its complexity and relationships. In one issue, you could find John Galliano, Pier Paolo Pasolini, and Willem Dafoe.
Since you were still in school, how did you juggle class and running a mag?
Italian university is different. You don't live on campus; there is no campus. You don't really need to go take lessons if you don't want to. You can just show up for your test and pass it.
Got any artistic side endeavors these days?
I'm working on a big project that I'm very proud of! It's an exhibit opening in Rome on November 29, the first big fashion exhibition at the MAXXI Museum. The exhibit is titled Bellissima: Italy and Alta Moda 1945-1968 and looks at the work of Italian designers like Schuberth, Sorelle Fontana, Mila Schön, Roberto Capucci, and Valentino in the context of Italian cinema—Antonioni, Fellini, Visconti—and Italian contemporary art, like Fontana, Capogrossi, and Alviani.