Olympic gold medalist Ryan Lochte has pretty much gone viral at this year's Rio Olympics. Besides the fact that he's been killing it on the competition front—seriously, look at the scores—his new icy blue blonde hair, which he first announced on Instagram (he's gotten almost 50,000 likes!), has arguably garnered just as much (or maybe more!) attention. Naturally, we had to track down the woman responsible for his new look: Jennifer Jones, an Atlanta and New York-based hair colorist who was introduced to the swimmer by a Hollywood actress. Dive on in! 
Hi Jennifer! Did you think Ryan's hair was going to go this viral?
I can't even believe it. It's kind of crazy! I knew people would talk about it, but I didn't think they would care that much.
How did you two meet?
There's another swimmer who got his hair dyed named James Feigen. They were all here training in Atlanta at Georgia Tech before the Olympics for three weeks. Jimmy [James] and I have a mutual friend who's an actress who lives in L.A. but used to live here [Nina Dobrev]. He mentioned to her that a few of them wanted to get their hair dyed, so she recommended me. It was supposed to be three of them, but it ended up just being him and Ryan. They came in on the Saturday for a consult, and then they came in on Sunday in between swimming for a few hours to get it done. It was pretty fast!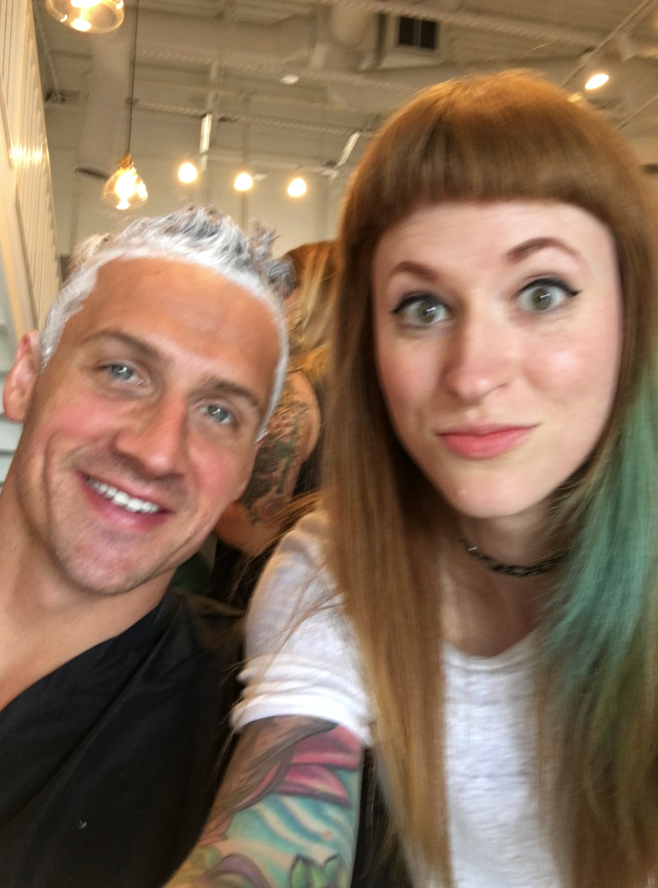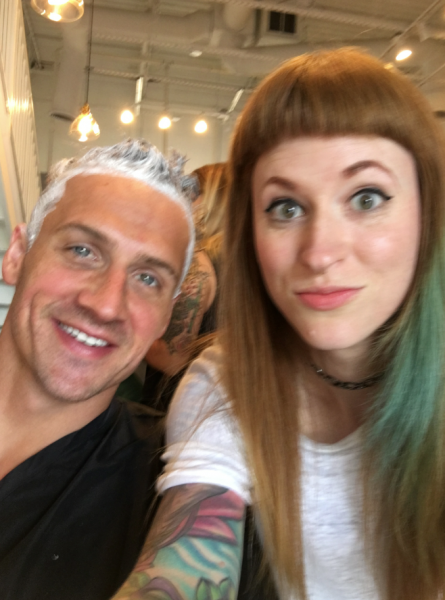 Who chose Ryan's color?
The jury is still out on who pulled the trigger first! We didn't talk about it that much, but I think they both were just looking at photos and had the idea to go bleached out.  It's kind of amazing how much his blue eyes pop with it; he's so good looking that he can rock anything!
Were they excited?
Totally! It was like I'd known them forever. We just hung out and laughed while I was doing his hair and other swimmers dropped by too. Ryan's super easy going and very down to earth—a very lighthearted, fun guy.
What was your reaction when he gave you an Instagram shout-out?
He uploaded some photos on Instagram and Snapchated during the process before it was even done, and even then people were already writing about it. That's when I was like, 'Oh my god, this is crazy!'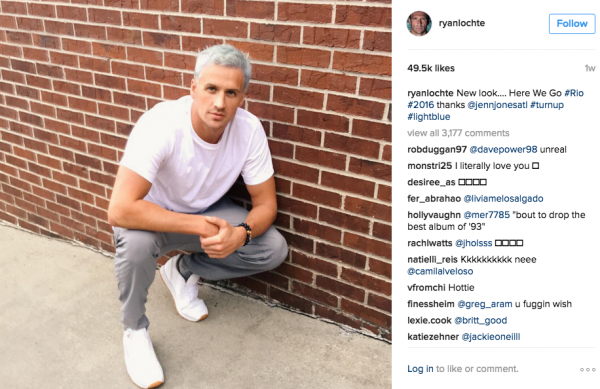 Has the buzz given you traction?
I've had a lot of new client inquires and have done some little interviews. I was on a local radio show here [in Atlanta] earlier in the week, so it's been really fun. I'm sure people won't talk about it as soon as the Olympics are over, so I'll enjoy the week that they are!
Do you work with other high-profile clients?
Ryan's probably the most well-known. I have some other local actors like Zach Roerig and Michael Malarkey–I cut their hair regularly.
Do you think he'll keep the blonde hair post-Olympics?
I don't know, we'll see! It's hard to maintain with what he does, being that he's in a pool all the time. It's a lot of work. But he talked about coming back, so we'll figure it out!
What's been the most exciting part of this for you?
I was watching the Olympics a couple of days ago and that Instagram photo he posted came up on the screen with my handle on it. Everyone was so excited—I was getting a ton of text messages. I mean, it was national TV! It's crazy to think this all happened from dying some guy's hair!