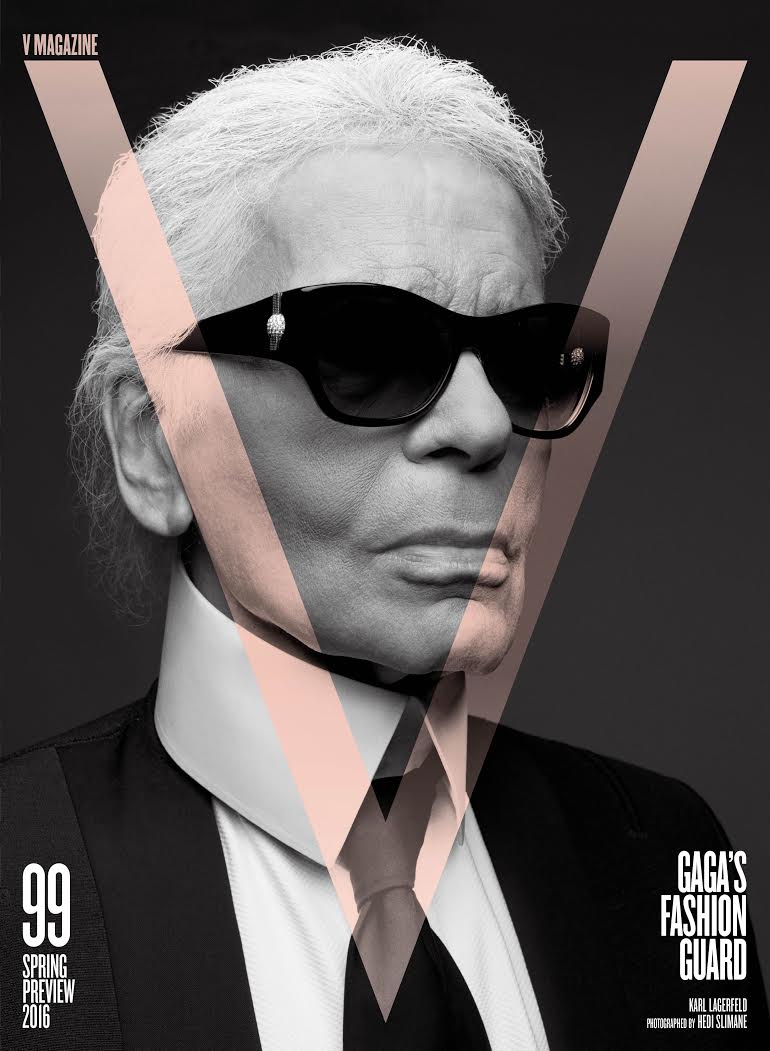 The folks at V Magazine are ringing in 2016 with a little help from two fashion powerhouses and a pop icon. Lady Gaga guest edits issue 99, and Karl Lagerfeld and Hedi Slimane front the two covers, for which each designer photographed the other.
"Karl and I had not taken photographs together for more than 10 years," Slimane explains. "The last time I photographed him was on his property in Biarritz when I was working at Dior Homme. We used to live one building apart on the Rive Gauche and, before I moved to California in 2008, we used to have really fun dinners all the time. I love Karl's wit, his sincerity and curiosity for emerging cultures, and his intuitive perception for what is about to happen."
The admiration is mutual, with Slimane acting as a diet of sorts for the Kaiser. "I met Hedi 20 years ago when he visited my studio," Lagerfeld says. "I liked him instantly, without knowing what he did. Then Stephen [Gan] asked me to photograph his clothes for Dior [Homme] backstage at his first show, for V. I saw that in order to wear his clothes, one had to be skinny, so I went on a diet. From then on, I felt good in his clothes, as I do again today. Gaga had a good idea for us to photograph each other. In a way, not seeing each other for all those years felt like five minutes when we saw each other again. That happens with true friends. My photographic style of no style is very different from his. I loved the mood on the street that night. I like Hedi's mystery and that's what I had hoped to capture here."
Pick up the new issue of V at newsstands on January 14 or pre-order a copy here.