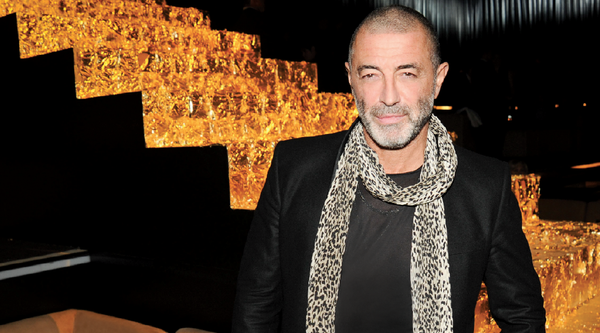 Etienne Russo, Son et Lumière
|
(NEW YORK) From a catwalk made of grass for Dries Van Noten to his stunning staging for Moncler Saturday, Belgium-based show producer Etienne Russo's bag of tricks appears bottomless. We caught up with the sleep-deprived maestro on a snowy morning at The Mercer.
BY PAIGE REDDINGER
What were you doing before you became a producer?
I was modeling for Dries Van Noten at the time, and I was art directing at a club, putting on parties and fashion shows. During the mid '80s there were a lot of young designers, and I was organizing contests with the designers and doing events at the club. At the time people were dressing crazy to go out and all of that stuff.
When did you produce your first show?
Dries and I were out for dinner one night and we were dreaming about what we would do if we did a show. So in 1991, when the day came for his first show in Paris, he asked me if I wanted to produce it and that's how it started. We ended up in the basement of the St. James Albany hotel, and it was a little théâtre a l'italienne, a little crooked, and the catwalk was made of grass, but since we were in the basement there wasn't natural light and the grass would turn brownish. The day of the show we had to spray-paint it so it wouldn't show!
You were close with the Antwerp Six. Do you have any favorite memories?
We were young and there was something happening and we were going for it. We were traveling to go to Florence in an RV for 18 to 20 hours and sleeping for three days in it and sharing it. I remember Dirk Bikkembergs sleeping in a tent, and he was so tall his feet hung outside of the tent! We were going out all the time and there was an energy. I'm happy I was a part of that.
What do you think about Ann Demeulemeester departing her label?
I think it's sad. She has a very strong and powerful style, but I understand that at some point you want to have a life, and I'm sure that's what she's doing. I think she's going to do something that's less invading. She's really courageous to make such a decision for herself.
How do you source venues?
It's become hard everywhere. Paris always offered more possibilities than New York and Milan because it's a bigger city and there are a lot of industrial buildings on the outskirts of Paris. I remember for Dries, I used to be in Paris for three or four days and I would visit 80 venues, and I would present him with 20 venues. Today, we're lucky if we present two. The calendar in Paris has over 120 shows in a week and I'm only talking about the ones on the calendar. The press doesn't want to travel to the 13th arrondissement and then go all the way to the 16th. It's exhausting. We still do remote shows sometimes, but then you have to make sure you're delivering a good collection and a good show. Otherwise they'll kill you in the press!
Ha! Tell that to Alexander Wang. How do you know when a venue is right?
When I go to see a venue with a collection in mind, sometimes I have a feeling that the walls can talk. I feel that there is a soul there. There's a feeling I get when I know it's right, but I can't always explain it.
How many of your shows involve your full creative direction?
I have as many wheels working as I have customers. There's not one standardized way of working. We adapt to the needs of our customers. There are shows where I have full creative and production and others where I do just production. Sometimes it's kind of a Ping-Pong match, where it's a collaboration. At Chanel, Karl [Lagerfeld] decides everything. It's very clear for him. He has his own set designer, so his vision is super clear. We do the production, lighting, sound, and I work with the models.
How hard is it to top your best work?
We don't think in raising expectation; we just go season to season without thinking of the past. For Moncler this season in New York, we had a Swiss a capella group called Pendulum that performs on tilting hydraulic jacks. There were nine leads and then 25 people from the New York University choir. I found them on YouTube and I said, 'My god, this is amazing! We have to do something with them.' It took four months of planning. The thing with Remo [Ruffini] is that he loves enjoying it himself. Sometimes we don't even show the real collection. It's about creating a strong image. I am really proud of what we acheived. There's shows like Lanvin and Dries, where it's really a collaboration. Also, with Kenzo it's very much a cooperation for the creation of the mood and set of the season.
Last season Alber Elbaz said, "I wanted to make the audience part of my runway." Explain, please!
If you look at what we'd done for him until then, the audience was always in the dark. He would always want the focus to be on the runway. He's one of the designers who spends the most time working with us on lighting. We really developed, with him and for him, a certain signature. When you see the lighting you know it's Lanvin. With that show, he wanted the audience to somehow be more a part of it, so we put more lighting in the room. He was in Thailand and went to see a Thai boxing match and the light was on the ring, but also there was a lot of light outside the ring and you could see the people and how they were reacting, so that's what inspired him.
What's the biggest obstacle you've had to overcome at a show?
We had planned to build a village of Moroccan tents next to the Eiffel Tower for Dries Van Noten. We built 12 tents that we had gotten from Marrakech and we did all of the decoration, and the night before the show it started raining. It was years ago, but I'll remember it all my life. The tents were fabric, but that was the beauty of them. They had these black-and-white Moroccan motifs on the outside, and inside there were more decorations. At 5 a.m. security called me and they said, 'Sir, you better come now, because you're going to face problems.' The water was dripping through the seams, and not only that, the floor was made of sand and stone and the water was coming through the floor. I woke up everybody and we had people vacuuming to try and get the water out, but by 8 a.m. I said, 'We'll never make it. Let's try and find another solution before Dries arrives.'
Wow! How did you fix the problem?
Across the road there was a museum that had huge ugly tents up that they use to do fairs. I walked in and said, 'I need to speak with the director of this place. It's a life-or-death question!' I told her I needed the space and that I have a show in eight hours. We didn't even have time to communicate to the guests about the venue change, so people were arriving at the original location and we had ushers to tell everyone that it had moved 200 meters down the road. The photographers had to build their own risers, but we had a show. After the show, it had stopped raining and the sky was very dark and dramatic, and I started crying just from the release of the pressure and also the humility. It's like, 'Who the fuck are you to go against the elements?' So from that day on I learned to never again do a show without a plan B. Now I have an A plan, B plan, C plan, and even a D plan.
How do you deal with the stress?
I used to feel stress like everyone and I'd run around and shout sometimes, but with time I realized that it doesn't pay. As the team got bigger I thought, 'What if they see me stressed? Everyone's going to think, "Oh my God! The boss is stressed!" ' So the bigger the problem, the quieter I become. My job is really to try to understand the problem, solve it, and then give them confidence again.
How many hours of sleep do you get a night during Fashion Week?
Two to four. Sometimes I'll have six to seven, but when it's Paris it's really busy. You sort of format yourself to that. For me, when I get to that point I don't have to sleep or eat; I just have one objective and that's the show. It's there no matter what.
What would you be doing if you weren't doing this job?
There are three things that I love: lighting, photography, and architecture. So I think maybe I'd be an architect or a light designer or a photographer.
What's the most exciting part of your job?
Doing things that I've never done before. We source, of course. We develop long-term relationships with people who can help us build sets or deliver things for the show very fast. You can call them and say, 'I need 5,000 roses. Can you bring them tomorrow morning?'
What's the hardest lesson you've learned in your career?
You're only as good as your last show.