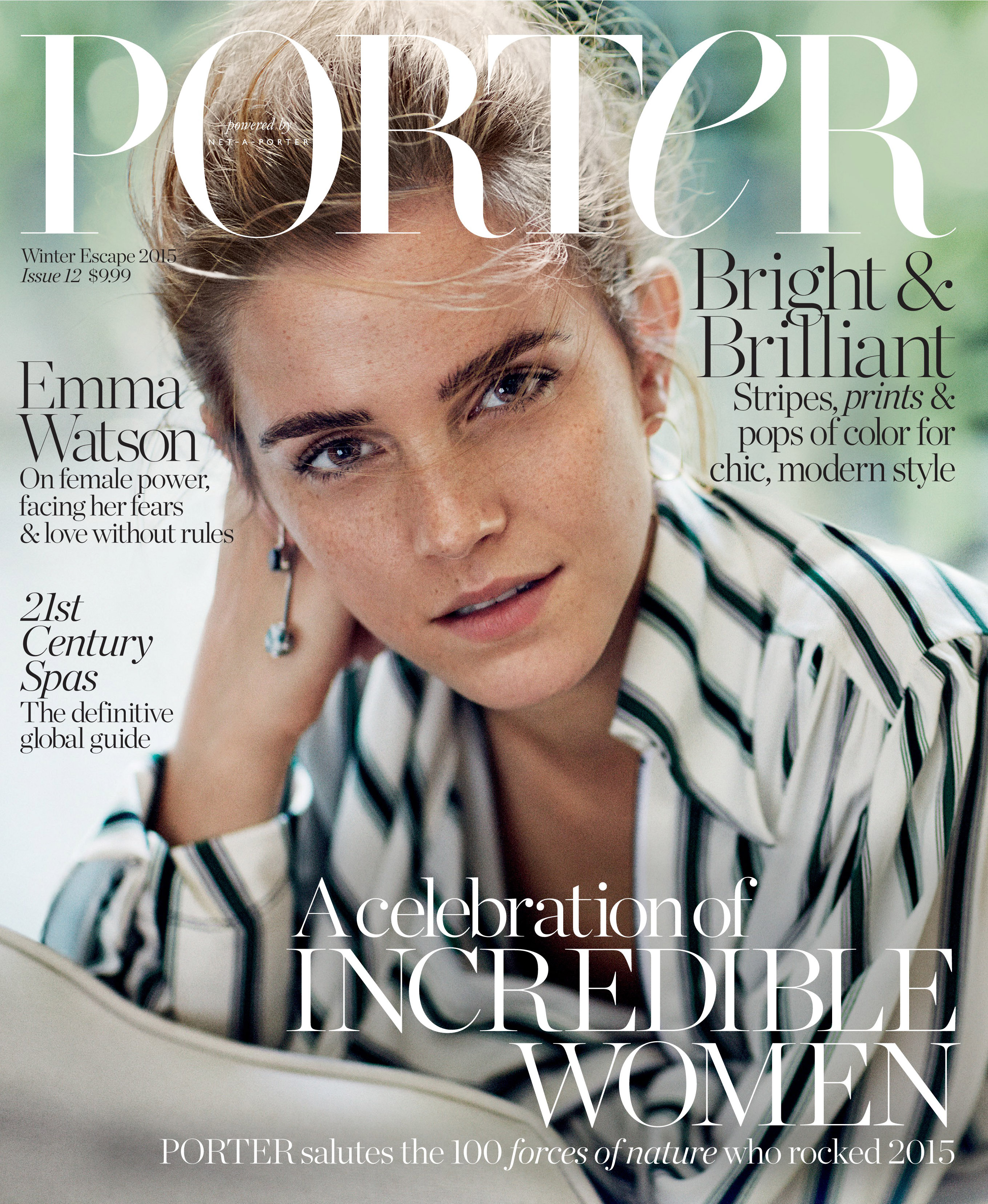 As PORTER magazine teases its inaugural 100 Incredible Women issue (out December 4) with cover star Emma Watson, it's hard to forget the British actress' remarkable year (especially her explosive HeforShe speech before the U.N.). Inside the issue, the 25-year-old—who joins Julianne Moore, Angelina Jolie Pitt, Oprah Winfrey, Christy Turlington Burns, Diane von Furstenburg, and Taylor Swift as a global role model nominee—gets into it with documentary-maker Lucy Walker about why she thinks fashion is a feminist issue, growing up as Hermione Granger, and dressing to feel "awesome."
"Emma Watson is a woman who truly represents the very thing that PORTER stands for – giving women a voice – and we are so proud to feature her in our Incredible Women issue," said EIC Lucy Yeomans. "Emma is someone who has not only had to grow up on the world stage, but also came to dominate it in the most unexpected way with her HeForShe speech at the UN. It was a moment that paved the way for incredible women everywhere." Watson was nominated by historian Amanda Foreman in the How We Connect category for helping to connect men to the fight for gender equality.
Below, bits from the 14-page feature…
On fashion being a feminist issue…
"I think using fashion as a means of expression is brilliant. One of the ways I became a UN Women Goodwill Ambassador was through my interest in fair-trade fashion. Because so many women design and make the clothes we wear, it's primarily the working conditions of women that are affected by the decisions we make, so fashion is a feminist issue."
On prioritizing feeling "awesome" when it comes to fashion…
"When I was younger I remember being told 'no pain no gain', but recently my willingness to wear something that makes me freezing cold or that I can't walk in has changed. I want to feel fabulous and comfortable and sexy and strong and beautiful. And if it's making you uncomfortable, don't do it. It's so sad if you need to go home just because you need to sit down! Moving forward, I'm prioritizing just feeling awesome."
On the word "feminism"…
"I was encouraged when I was writing the speech not to use the word 'feminism' because people felt that it was alienating and separating and the whole idea of the speech was to include as many people as possible. But I thought long and hard and ultimately felt that it was just the right thing to do. If women are terrified to use the word, how on earth are men supposed to start using it?"
On moving to the U.S. to study at Brown…
"I'm so glad I did, it was the best thing I could have done, putting myself in that furnace. It gave me this place of refuge, this space I could negotiate for myself, and time to figure out who I was. I'd spent more than half of my life pretending to be someone else. While my contemporaries were dying their hair and figuring out who they were, I was figuring out who Hermione was and how best to portray her. I learned so many important lessons."
On her advice for young women…
"Sit with the discomfort. Don't run away from it. Lean into it, take your time with it. So many people jump into things just because they can't stand the discomfort of not knowing."
Check net-a-porter.com on December 4 to see the full interview.