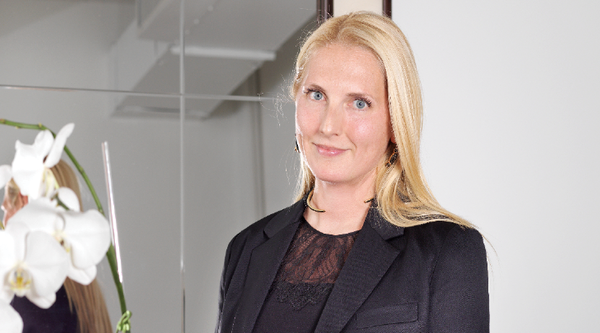 Catherine Bennett, NYFW's Change Artist
|
(NEW YORK) Perhaps you heard that fashion week owner IMG has been acquired by William Morris Endeavor? That's good news for front row celebrity sightings in seasons to come, no doubt, but in the meantime, with gripes about the overcrowded atmosphere at the tents and the Lincoln Center contract set to expire next February, the company has several moves in the works. This season expect big and positive changes at Mercedes-Benz Fashion Week, says Catherine Bennett, IMG Fashion's new SVP.
BY EDDIE ROCHE
Welcome to your first Daily interview, Catherine! Tell us, what changes have you been able to implement for this Fashion Week?
The most visible difference is the completely redesigned venues. The lobby is a lot chicer. The designers have more creative options in showing their collections. We've upgraded The Theater with state of the art lighting and sound equipment. We've extended the backstage area. We've also put in more hospitality services. We've upgraded the fixtures and amenities. We're also excited about The Pavilion, which is a wide open industrial feeling space that can be configured in pretty much any way imaginable. That's attracted a lot of new designers for us. We also have one official off-site venue, The Hub, at the Hudson Hotel.
How did you tackle all this?
When I got here, I spent a lot of time talking to people in the industry, primarily to our designers, who we deeply care about. I also talked to producers and publicists to gather everybody's feedback to address the central issues that kept coming up.
Did you think, 'What have I gotten myself in to?'
[Laughs] A little bit! It's a great opportunity and challenge. We needed to make these changes and people will be pleased with them.
As long as the Diet Coke is cold!
You're not the first person to say that. When I first started having these conversations, I was thinking so macro and everybody would say things like, 'The Diet Coke wasn't cold!' 'There's no wireless!' 'More charging stations!'
And of course, we need wine!
I promise it will be full service!
Would you ever bring the Tents back to Bryant Park?
We've talked about it, but it's not an option. It's pure nostalgia. But we're looking all over the city. We're even looking in Brooklyn…
Really? Could it move to Brooklyn?
It could. We have an agreement to be at Lincoln Center through February 2015 and we're very happy there. We're having conversations with the CFDA and Hudson Yards, but that's a good few years away. That might not be finished until 2018.
Was Michael Kors and DvF leaving a blow?
Not really. They are both still on our schedule and incredibly supportive of us. Diane's expected to come back in September. She needed to do something different this season to celebrate her wrap dress anniversary. It's all cyclical.
What did you think of Eric Wilson's article last September that the move to Lincoln Center was not so good?
It was actually good for me because it gave me a validity to do the things I wanted to do. When I first got to IMG, September was signed, sealed, and, delivered, so I didn't have an opportunity to put my mark on that event. One piece that is left out of the conversation is the value that sponsors bring. We all need them.
Amen to that. Let's talk about you…everyone is dying to know you better. What was your first fashion show?
Chanel in Paris when I was in high school. My mom's friend was the manager of the Chanel boutique in Washington, D.C., and we happened to be in Paris. That was back in the day when Claudia Schiffer and Naomi Campbell were walking. It was at the Louvre. When I started at the CFDA, I was not a fashion person. I loved it. I remember Steven Kolb asked me to look at the schedule and to pick out a few shows to get the lay of the land. I said I wanted to go to the Chanel show, Gucci…All the girls in the office lived and died for fashion and said to me, 'How the hell did you get this job?' I learned a lot very quickly.
What was your first New York show?
Diane von Furstenberg at Bryant Park.
Why did you want this job?
There is so much opportunity for me to make noticeable change. I came from the CFDA and I care about the designers. My work there was all about creating business opportunities for them.
Was it what you expected?
Not at all! But that's added to the challenge. I'm really happy that I'm here.
Are you still in touch with Steven Kolb?
We talk all the time and he still asks me for advice. IMG hiring me was a sign that they were paying attention to the chatter.
We hear you spent some time in the mailroom at William Morris.
I was there for about 10 years as a business affairs executive based here in New York. I recently met with a bunch of the current executives and it was like going to my high school reunion. I'm very excited about it. They are the perfect fit. Patrick Whitesell and are both phenomenal visionaries and entrepreneurs. They have fostered an amazing culture there.
And you went to law school at Georgetown.
I moved to New York and had a lot of jobs in the creative space. I worked for the Arnell Group, and then I worked as the director of marketing for Central Park SummerStage. I had never taken the bar when I graduated from law school, because I never intended to practice, but it kind of bothered me. I took a few months off to take it and I was at a show at SummerStage and meeting with the talent agents that were there backstage and I was really excited. Jim Griffin, one of the old school legends there at the time, asked if I had ever thought about becoming an agent because I had a law degree and he said that most of the great agents had a law degree by training. He asked me to come in and meet with him. I went in and the HR person said to come in the next day with 10 copies of my resume. I went in and they offered me a job in the mailroom, but I didn't take it. I had a real job and it paid something like $10 a week. Then I had a dream two weeks later that I should have taken that job and it was a mistake that I didn't. I woke up the next day thinking it was a sign. I called them and said, 'You're going to think I'm completely bonkers, but I had this dream…' They loved it. They said they didn't have a spot, but I could start tomorrow and I worked my way up.
How long were you in the mailroom for?
It was only a few months. You think it's a figure of speech, but it's in a gross, dirty, rats everywhere mailroom. It's probably changed now because who gets mail anymore?
Who do you report to at IMG?
Chuck Bennett. He's great. He's not afraid to let me make mistakes, which I think is always the most important quality in a boss.