On Saturday, Beyoncé and Jay Z blessed the world once again by dropping their latest album, Everything Is Love, and an epic music video for their song "Apesh*t." Flawless designer outfits abounded in the video, which was shot in the galleries of the Louvre in Paris, including a custom MCM logo bustier-jacket-hat-and-earrings set by stylist and designer Misa Hylton. The Daily Front Row caught up with Hylton to find out how the epic look came together. 
Tell us a little bit about your design background.
My design background is not formal, but I'm like Virgil [Abloh] [laughs] — I've just been in fashion my whole life and it's just my natural talent. I started designing because there was a need. When I started as a fashion stylist, early on, I didn't have a lot of showroom access, so I started to design for Mary J. Blige and Lil' Kim and Missy Elliot and I just kept going from there.
I've had some amazing, iconic moments, and [Beyoncé's custom MCM look] is another one.
How did this particular look come together?
Zerina Akers is one of Beyoncé's stylists, and she reached out to me after seeing a jacket that I designed for Big Daddy Kane for the Puma MCM release.
She loved the jacket, so she reached out and said, "I want you to work for Beyoncé" and I said, "Of course!"
Then I spoke to Rita [Shukhman, MCM's vice president of marketing and communications] about it and she said "of course" and then it just morphed from there and turned into into an opportunity to create a whole look for Beyoncé because she had a video.
Now, as you know, Beyoncé's projects are super confidential, so I didn't ask what it was for. I just created it for her and the rest is history.
Tell me a little bit more about the actual creative process. How much back and forth was there? Did you talk to Beyoncé directly at any point?
I dealt directly with her stylist. As I said, she knew that she wanted the jacket, and she wanted to do a full-on MCM look. She felt like "designers" were sort of overdone and she really was excited about creating MCM for Beyoncé. So I suggested a bustier and a panty because I thought that would be great for Beyoncé. Just looking at her style and the wardrobe that she chooses, I that with the jacket would be really hot. And adding the hat to it and the earrings gave it the hip hop feel they were looking for.
I added a little color to it, the yellow. I thought that would make it exciting and also make nice lines for her and really show off her fantastic shape.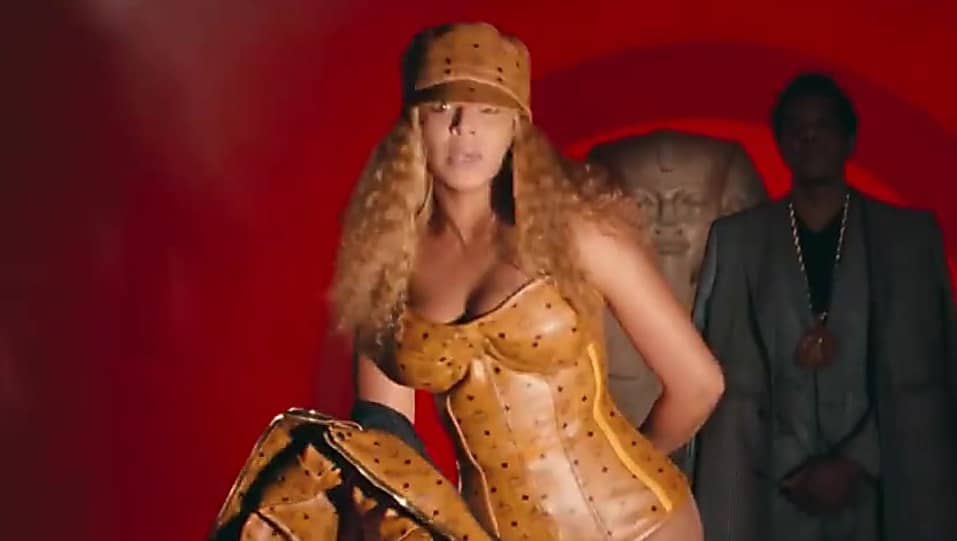 How long did you have to get all of this done?
Three days. Maybe four. When they called, they were ready to rock 'n' roll. When they call, you have to be ready to move quickly, and that's what we did.
How many people did it end up taking to create the look?
There's a team. Probably at least five.
What was the hardest part?
Probably getting it to Paris on Memorial Day. The creative process was really good. It was really easy and pretty seamless. I have a really good team that works with me and we're used to working under these types of [circumstances], so really it was just getting it to Paris in time. But we used Worldnet shipping, which is fabulous, so it arrived ready to rock 'n' roll.
Were there any additional pieces that didn't make it into the final look? 
We also created a pair of skates, which were amazing, but didn't make it into the final look.
Did Beyoncé keep all these pieces after the shoot or did she send them back to you?
She kept them.
What sort of feedback have you received since the video came out? 
Zerina called me the day after they shot, screaming in excitement, saying that Beyoncé wore the look, that she loved it and insisted on wearing it, and how she killed it in her performance. It was amazing. She was super excited. So I knew, whatever the project was, that I made it in. Then, I saw [the video] when the rest of the world did.
Were you at all concerned that it wouldn't make it in?
My looks always make it in.
Subscribe to our newsletter and follow us on Facebook to stay up to date on all the latest fashion news and juicy industry gossip