With a 30-year background in scientific research, three degrees from Harvard, a cult-favorite skincare line, a sought-after private practice on Park Avenue, and a devoted clientele that includes Rosie Huntington–Whiteley and Hannah Bronfman, dermatologist Macrene Alexiades is one busy woman. But she's not too busy to launch a limited-edition skincare kit featuring a portrait of model Erin Wasson, which Alexiades hand-drew herself. We caught up with the genius doctor (who also happens to be derm of record for IMG Models) to find out how she keeps the beautiful looking beautiful.
Your product line, 37 Actives, has a major cult following. Where does its name come from?
My founding of this brand is bigger than just making skincare products. I started as a Harvard scientist and when I became a practicing dermatologist in Manhattan, the skincare "ingredient boom" was just beginning. New ingredients were being introduced to the market at a rapid rate, requiring patients to layer on dozens of products to reap the benefits of them all. I wanted to coordinate the world's best active ingredients in one pot. I trademarked the term "One Step Skincare Solution" because I achieved the never-before feat of delivering 37 active, stable, and toxin-free anti-aging ingredients in one pot with 37 Actives High Performance Anti-Aging Cream, hence the name of the product and my brand. Since then, I have updated the cream each year, so now it delivers 50 of the world's best and healthiest active ingredients to the skin. I've also added several new products to the line.
You just launched a 37 Actives travel kit, which features a hand-drawn portrait of model Erin Wasson. How did you choose the artwork for the kit? Is Erin a patient?
I've been a portrait artist since a very young age. In addition to my medical training, I spent much of my undergraduate work at Harvard studying painting and sculpture, so this kit is an extension of that passion. I had a vision of doing a portrait and embossing it on an eco-conscious yet luxurious travel bag. Erin Wasson's face, one I've known for years as both her dermatologist and friend, immediately came to mind. I actually painted a full portrait and sent it to Erin with my idea; she immediately said yes. I was delighted when Erin suggested a portion of the proceeds go to Alzheimer's research, a cause near and dear to both our hearts.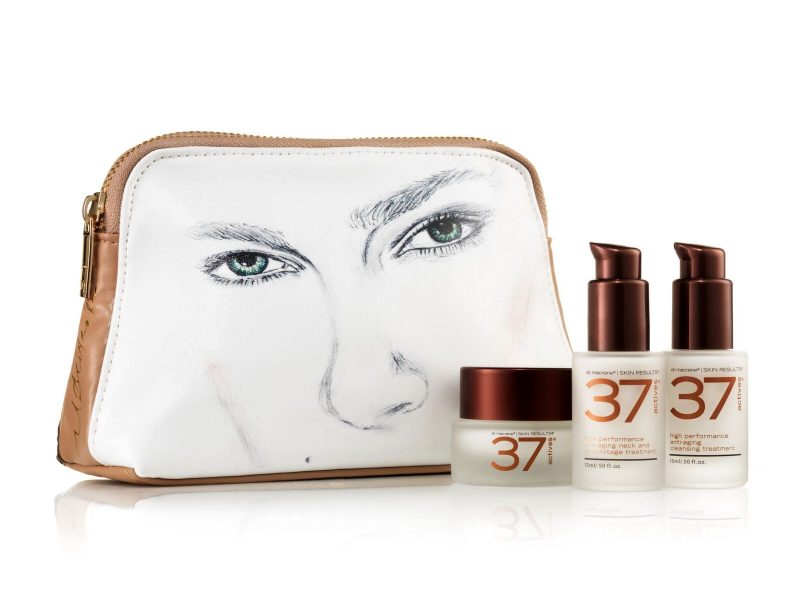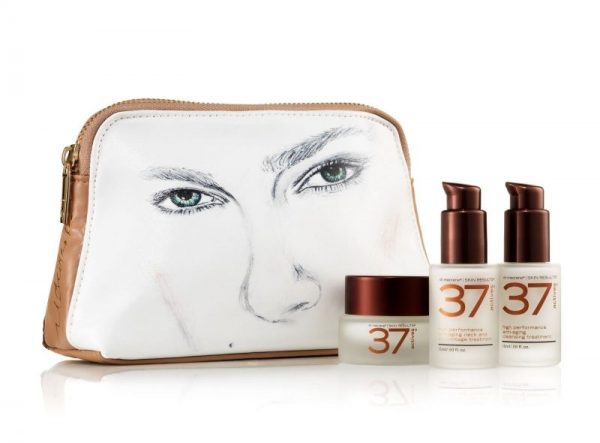 You believe actives will eventually replace procedures. How far are we from that?
My theory and objective is that my actives will replace procedures, and I've made significant headway. A third party lab recently conducted a clinical study on my 37 Actives Serum and it showed a 6% reduction in wrinkles and laxity after twice daily use for two months. What I'm doing is selecting key actives in each category of skin aging and DNA repair so that over time, skin repairs itself and begins to look younger. Therefore, actives will not only replace procedures, they will be superior.
What new ingredient are you most excited about?
I recently bought a farm, which has been my dream for some time, and I've been isolating active fractions from a variety of botanicals. Some of the actives I'm most excited about are from the mint and goldenrod that grow wild on my farm—I will reveal more in future interviews. One of them is for hair growth and acne control.
What's the single greatest anti-aging ingredient right now?
DNA repair ingredients and anti-telomerases are what get your skin to age in reverse, correcting mutations caused by UV exposure, pollution, and the hand of time. The ingredients in the 37 Actives line get at the crux of skin aging so your skin looks better and better over time. It is not a quick fix from the outside in; it's a long-term fix from the inside out.
What's the single greatest anti-aging treatment right now?
I am one of two physicians in the country with the Fractionaed Picogenesis laser. It's basically a fractionated picosecond beam, which rejuvenates skin, making it look better and brighter, without a shiny look (as compared to Fraxel devices).
If a patient had three months to make significant changes in the overall look of their skin, what would you recommend?
First I'd have them institute a great daily regimen of products with active ingredients. Then, I'd recommend a short series of botulinum toxin, fillers and laser rejuvenation, followed by maintenance.
What if they had one month?
I'd recommend a fractional CO2 resurfacing (one week of downtime with redness) with 37 Actives as a post-procedure booster of collagen synthesis for a rapid improvement, plus adjunctive Botox and filler.
One week?
Without the luxury of downtime, you cannot do a resurfacing. I would recommend Botox, filler, and either a peel or Genesis laser. Fresh and quick.
In your experience, can modifications in diet (or the addition of supplements) visibly change skin from the inside out?
I worry about supplements because studies have shown that chronic vitamin intake can decrease absorption. I am a firm believer in the Mediterranean diet, which is high in seasonal fruits and vegetables, olive oil, fresh fish and fresh herbs. Many studies (epidemiologic, clinical and basic science) have shown that this diet is healthy for all organs, including the skin.