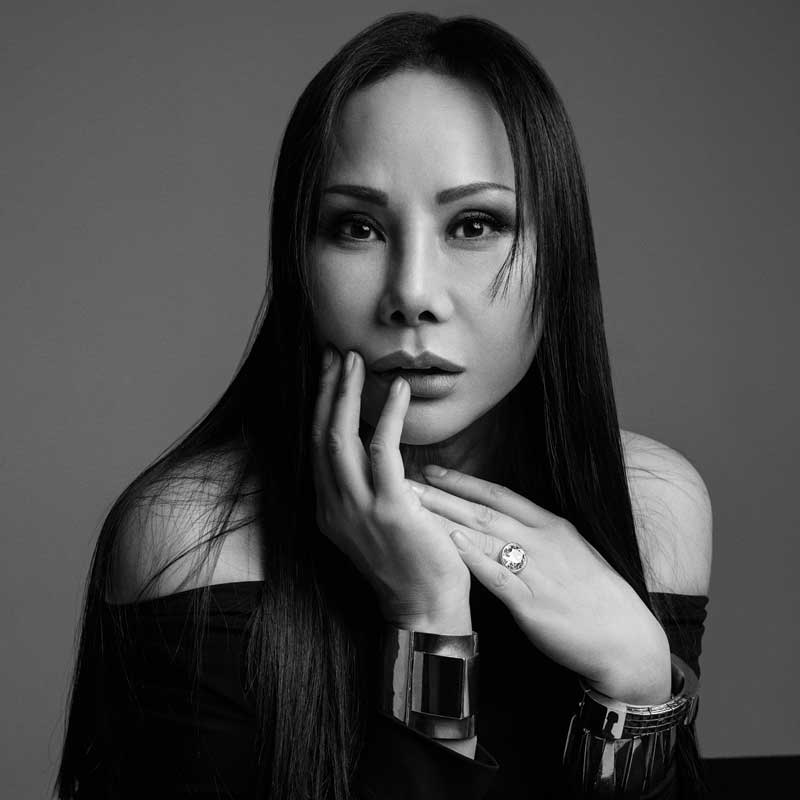 Eva Chow's longtime commitment to the art, fashion, and film worlds has made her one of the most beloved, respected, and fabulous women in town. We recently visited her Los Angeles home for a closer look at this ultra-original tastemaker.
Why is L.A. having a fashion moment?
I've lived here since 1994, so I feel like L.A. has always had its own kind of coolness, but a lot of people didn't quite understand it. I believe every city has its moment, and perhaps it takes a few people to put a spotlight on it. That's what has been happening in Los Angeles. The '50s were all about Rome, the '60s were London, the '80s were New York…and L.A.'s time is right now. It has been brewing for many years. Now, there is a real community of unbelievable artists and musicians. L.A.'s cosmic energy is right, and the stars are aligned.
How have fashion and art become more intertwined?
In the past 10 years or so, artists and fashion designers really started collaborating or inspiring one another. Of course, Saint Laurent did his Mondrian collection way back when. Before, I think art and high fashion were not reachable to certain people. Now, because of the Internet and the informative world we live in, everybody knows about what's going on. Every creative thing is mixing, which is fantastic. On the other hand, I feel sad because there's too much of too much going on.
Meaning…
We live in the world of numbers—everything is seemingly about millions of followers and billions of dollars. Of course, there were computers and everything, but it was prior to social media. Nowadays, designers not only have to do an incredible collection, but they have to deal with all these numbers and followers. I worry about quantity versus quality. I hope designers can really survive and be supported rather than simply being a part of a huge conglomerate that has to produce billions of dollars [of revenue] and have millions of followers behind them. That's a very big stress for people who create. We are going through a period of change. It's a good time for small houses that make clothes; the industry might really welcome that.
Do you feel your friend Alber Elbaz's late embrace of social media had anything to do with him leaving Lanvin?
I cannot speak for Alber. The only thing I can say is he's probably one of the most talented designers out there who really knows clothes. He knows how to drape, how to do patterns, he can sew; he's not a stylist, he's a real fashion designer. We need people like that. Alber is a very talented and special person. His career is just beginning, as far as I'm concerned.
Which other designers do you wear?
Saint Laurent, Givenchy, Lanvin, and Azzedine [Alaïa]. I'm like a dog! I always go to the same things and same people. I know what I like—I'm not that adventurous in some ways. There are so many new artists, and I really don't know too many of them. In some ways, people might think that I'm elitist, but there's nothing wrong with that. I do like Andy Warhol, [Roy] Lichtenstein, and [John] Chamberlain. Do I really have a lot of time to follow 100 other up-and-coming artists? If something comes across that catches my eye, I'm interested, but I'm not that eager to look for the next young one.
Which more contemporary artists do you collect?
Alex Israel and Jeff Elrod. I'm not saying I don't support young artists, because of course I do, but there are so many out there that I don't put 100 percent of my energy looking for them, because I don't have enough time to follow the ones that I already know that I love.
How did your relationship with the Los Angeles County Museum of Art (LACMA) begin?
When Michael Govan moved to be the director at LACMA, I understood his vision of what he wanted to do at the museum, and thought that I may be able to contribute to what he wants to do. That's why I joined the board [of directors]. I'm not one of those people who signs up for something and only turns up every quarter. I want to create something and be active. Six years ago, Michael asked me to do a fund raiser for the film department. I thought that was a great idea, and I went to Leo [DiCaprio]. Not only is he a good actor, he's very conscientious, smart, and committed to the world, whether it's the environment or art. I thought he would be the most incredible partner. He was, and now, we're doing it for the sixth year in a row. Besides the fact that we raise a lot of money for the museum, it exposes the city and the museum. It's been a good endeavor.
You must be thrilled about Leo winning the Oscar.
Beyond! It's so well deserved. He's an amazing actor, and most importantly, his heart and his head are in the right place.
What's a typical day like for you?
It's busy—we just opened Mr. Chow in Vegas. Michael [Chow, Eva's husband] has his solo show at the Andy Warhol Museum in Pittsburgh. So when my husband is working hard doing a show, I help him. We are also working on the construction of the new location of Mr. Chow in Mexico City, which will open in May.
Where do you lunch?
Usually, here at my house, or if I have a lunch meeting, I go to Mr. Chow or Spago. I used to go to Polo Lounge during lunch until the owner said something that wasn't acceptable to me. Too bad, because I really loved Polo Lounge.
What do you order at Mr. Chow?
I leave it up to them, but my must is Peking duck. I think we have the best Peking duck in the world.
Do you travel a lot throughout the year?
I travel a lot for work, friends, and vacation. I love the Ritz in Paris. There's no place like that it the world. I'm very partial to it, but I will say the Peninsula is not bad, either.
Your daughter, Asia, is now modeling.
She's signed with Marilyn in Paris and New York. She did the Givenchy and David Webb campaigns, and she's a Riccardo [Tisci] muse. She goes to Columbia. She's well educated.
Did you have any qualms about her modeling?
The important thing about anybody is to have a core foundation, and she certainly has that. She's very talented and hardworking. Whatever she decides to do, I support it. At the end, she's a musician, and that's what she's going to do when she graduates. The modeling is because she happens to be very beautiful, and it's a good way to record how you look by the eminent photographers.
What makes you happiest?
Happiness is moment to moment for me. Music makes me happy, and flowers.… I'm happiest when I'm with people I love. They know who they are.
Do you consider yourself a queen of culture?
I love culture and everything that is creative and good and gives us energy to go on. I am willing and eager to work on making culture more visible. If there's anything I can do, I will.
Photography: Inez & Vinoodh, BFA.com, Getty Images