Whether you know it or not, Dani Michelle has a hand in what you wear every day. Her work as a stylist to the most influential fashion plates of today—Hailey Bieber, Elsa Hosk, and Kendall Jenner to name but a few—is defining an image of polished personal style that reverberates around the world. Michelle, who the Daily recently honored with Style Curator of the Year at the Fashion Los Angeles Awards, has added another feather to her cap with the launch of MÉGA Jewelry; a thoroughly personal and thoughtful collection of 925 sterling silver and 14k plated gold pieces—the type that she'd reach for to complete an outfit when styling the coolest of the cool. And, get this: it's ultra affordable too, with prices from $20 to $248. That's why we love her! Here's the low-down on the line, which just launched today. 
How long has MÈGA been in the works?
I had the idea to launch MÈGA in May of 2022, so it's been well over a year of design, sampling, adjustments, sourcing, planning, shooting—I cant believe it's here!
Tell us about the backstory to the name!
Well, it was on that one day in May when Vogue wrote a story calling me a "mega-watt stylist." It was in that moment I had realized so many of my dreams had come true, and I wanted to dream even bigger. The name has stuck with me, as I think it represents being bold and individual, a leader, iconic, and strong—which are all of the emotions behind the core of the brand.
What's the oldest or most sentimental piece of jewelry you own? Did it inspire the collection in any way?
What a great questions! This is truly the core of why I wanted to do jewelry. Fashion is forever changing, and the lust of something new quickly fades. With jewelry, there is so much emotion, sentimental value, memory, and significance behind jewelry. It's something we hold onto for years, and something we wear every day and use to personalize our look. It's the most personal part of styling, and I really wanted to share my vision for jewelry.
What has your leaning towards jewelry always been like—are you more is more, or one statement piece only?
I'm completely a more is more girl! Right now I'm wearing 21 rings. I stack between 3-6 rings per finger. And I like to mix fashion jewelry, vintage and fine. Again this being the core of MÈGA, I really wanted to create a line that had the class and timelessness of vintage pieces, the chic look of fine, but the accessible price point of fashion jewelry.
Tell us about what you're launching with—what do we need to know?
This first launch is the core pieces; most of them are inspired by things I've been wearing, or wanted to create from references that have inspired me through the years. For me, this is the most well-rounded collection of everything you need. It has a little bit of everything!
Where did you get inspiration for various pieces? Do they reflect what you already own or could not find?
This collection is inspired from vintage pieces I've seen and interpreted to make more current. Pieces my mom would wear, my grandma would wear, things I've wanted and haven't seen, and things that I just sketched up and created. Everything here I would wear…I can't wait to get my own set!
Talk us through the pricing and the reasoning behind it.
I really wanted the brand to be accessible. I didn't feel like there was a chic and timeless brand that was cohesively committed to this direction for a cool girl, with a reasonable price point. There was a lot of fine jewelry brand with this aesthetic, but not demi-fine. I wanted it to be possible for a customer to say, 'I want this whole look…put it all in the cart!'
Any stylist-approved tips for traveling with jewelry so that it stays organized/doesn't get damaged?
I think mini jewelry boxes are so great. What I do if I need to be really careful is take a hand cloth and roll pieces up so they can't tangle.
What's your plan for the future of MÈGA, will there be regular collections or will pieces be evergreen?
I am already dreaming up ways I want to expand the brand, as well as new additions and experiences within the website. As for the collection, yes there will be classics that stay always available, and the collections will be dropped as 'muses,' that let you shop their world.
While we have you, we want your seasonal faves! What are some under-the-radar or micro trends you're loving right now?
Some micro trends I love right now are clutching your oversized purse under your arm, socks with heels, a white shirt always showing, and color pops like red.
What kind of outfits are you dying to wear your MÈGA pieces with this holiday season?
Everything! No outfit is complete without jewelry and I can't wait to wear a black sheer stocking with a great little look, and fresh, chic gold jewelry.
What's your biggest wish for this holiday season?
My biggest wish is that everyone feels loved and appreciated, it was a hard year, and this is the time to reflect and feel accomplished, appreciated, and proud.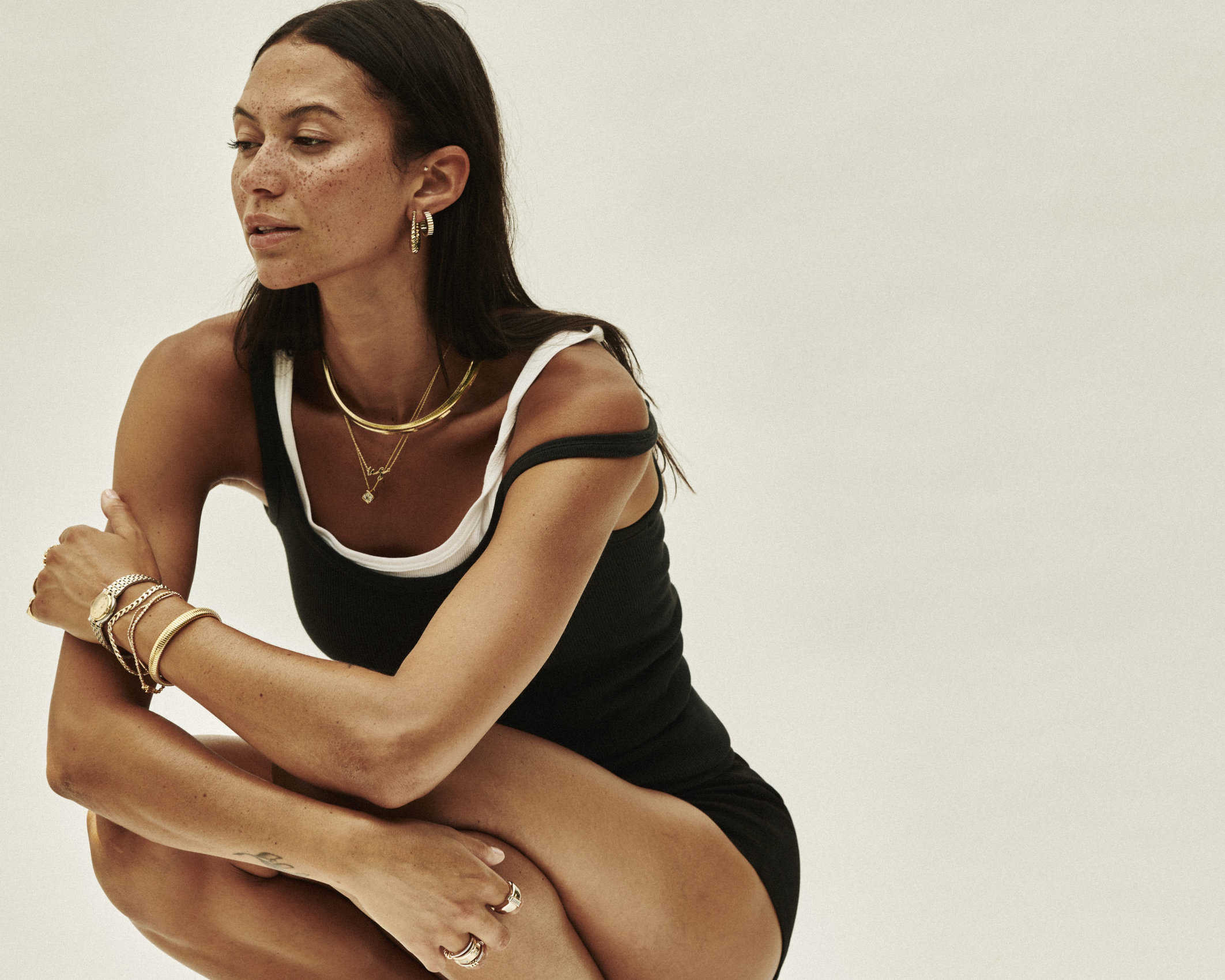 Subscribe to our newsletter and follow us on Facebook and Instagram to stay up to date on all the latest fashion news and juicy industry gossip.