Allure profiled Adwoa Aboah for the cover story of its Skin Guide, which hits newsstands March 27, though skin is hardly the only topic covered. In the story, titled "Age of Aboah," the model talks about her struggles with drug addiction and depression — she attempted suicide in 2015, the same year she landed her first Vogue cover — as well as her female-empowerment nonprofit Gurls Talk and social-media-induced jealousy. Here are the Cliffnotes:
She didn't think she could model:
"There were certain friends of my mom and dad's who said I could model, blah, blah, blah, but I was insecure…. I don't think I was confident enough, and I don't think there was a space within the industry for somebody who looked like me. I worked; I did odd jobs. There were times I had money and times I didn't. It was up and down."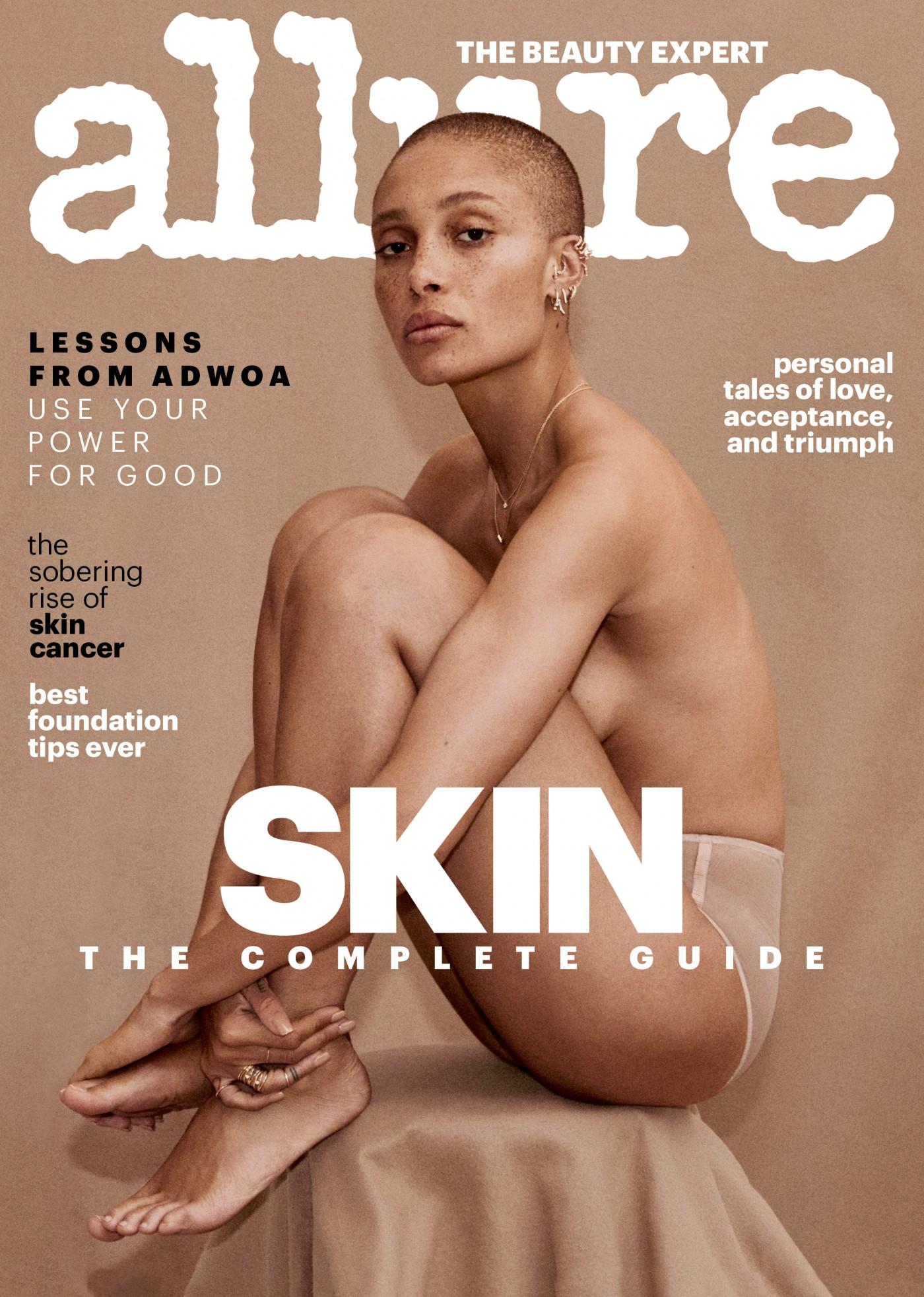 She's very happy #MeToo hit the fashion industry:
"Get [the accused photographers] out. I feel no sympathy. It'll benefit everyone. It'll benefit models; it'll benefit younger designers, younger photographers, less established people within the industry—it'll give them a chance."
She thinks model have an obligation to use their platform for good:
"One hundred percent…. Maybe you're against fur, against animal cruelty; maybe it's breast cancer—the list goes on. It'd be very sad if there wasn't something you felt passionate about. There must be something you want to change…. You have the power. You can use it for good."
She wants Gurls Talk to be open to all so it's all (entry to events, panel discussions, etc.) totally free:
"They have to be free. I don't care if you think £5 isn't a lot — it is to someone. And I want to make sure they have a place to come to… If I had somewhere I felt safe enough to talk about the things going on in my life, whether they be small or big, I don't think I would have bottled up everything so much and had it fall to pieces during 2014."
Even she gets jealous scrolling through Instagram:
"The jealousy it can make me have sometimes… It's mental. It's detrimental to everyone. Who is more successful, or rich, or beautiful — you'll always be able to pick it out. Why didn't I go to that party? You didn't want to go in the first place. I try not to spend a lot of time on it."
She likes Chanel so much, she had a Chanel-logo charm affixed to one of her front teeth:
SaveSaveSaveSave
SaveSave
SaveSave
SaveSave
SaveSave
SaveSave
SaveSave
SaveSave
SaveSave
Subscribe to our newsletter and follow us on Facebook to stay up to date on all the latest fashion news and juicy industry gossip.