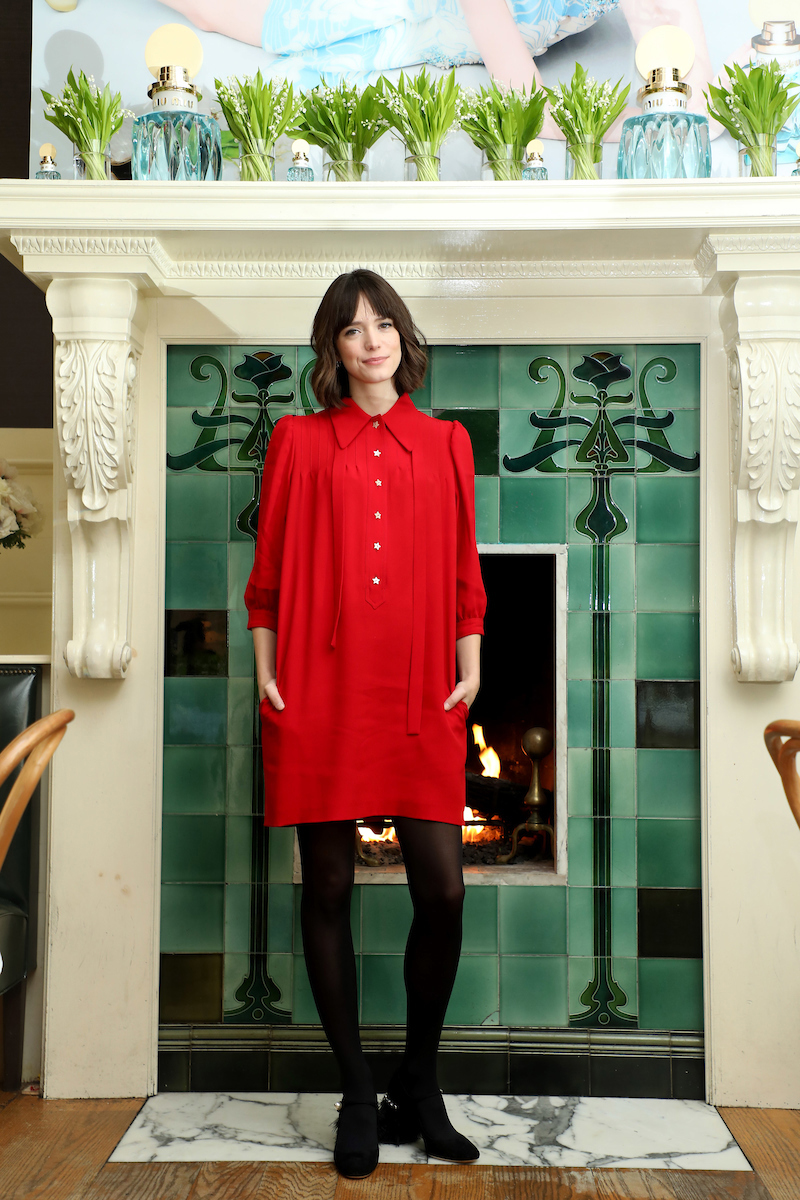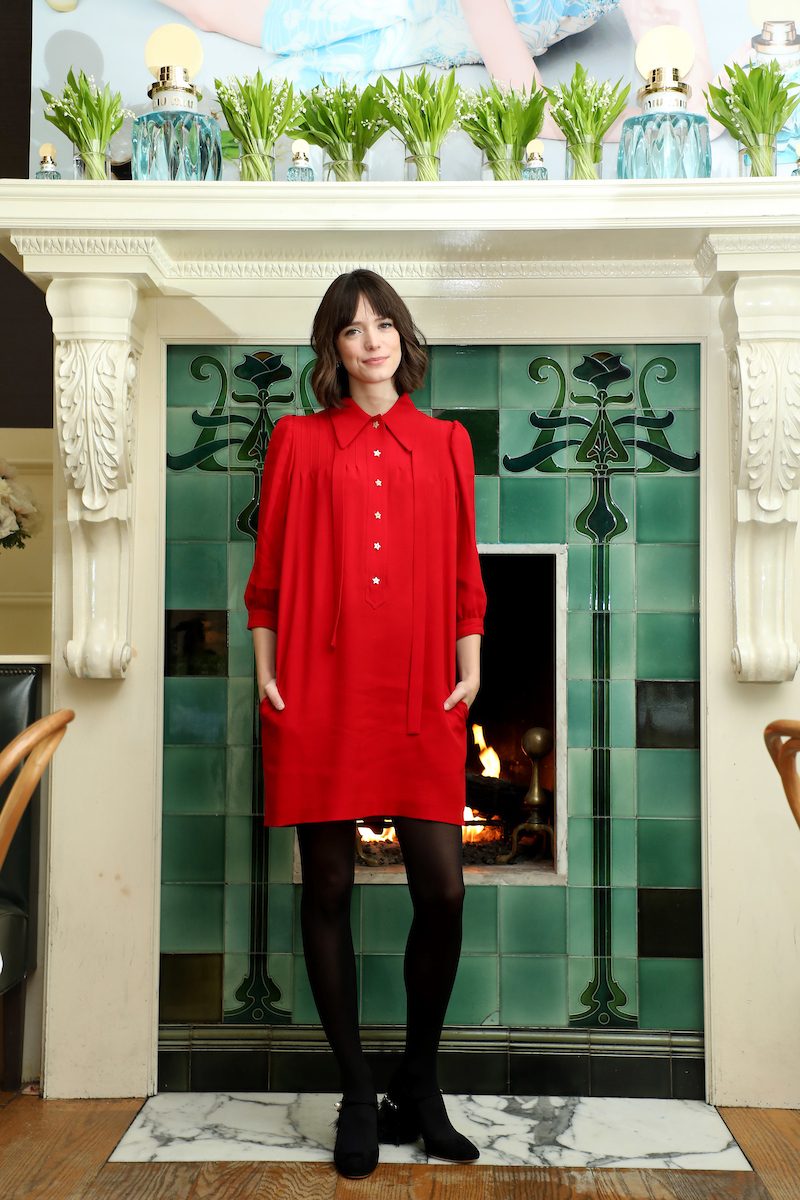 If ever there were a prototype for the Miu Miu girl, it would be Stacy Martin. Shortly after starring in Lars von Trier's Nymphomaniac in 2013, the charming, funny, and naturally beautiful French/British actress caught the eye of Miuccia Prada, and landed her first campaign for Miu Miu in 2014. Just recently, Martin starred in a campaign shot by Steven Meisel for the brand's second fragrance, Miu Miu L'Eau Bleue, alongside adorable co-star, Truman the cat. Ahead of the campaign release, we met Martin at The Beatrice Inn to discuss fashion, the new spring-like scent, her upcoming film with Kirsten Dunst, and having a kitty as a co-star.
How did you find yourself working with Miu Miu?
It all started in 2014, with my first campaign for Fall/Winter 2014. I had just done Nymphomaniac, and Miu Miu wanted me to be a part of their campaign. They are a brand that works with actresses and supports up-and-coming artists, and I thought it was a perfect collaboration. It continued when they asked me to be a part of the fragrance campaign. It's been a real honor to have this long-lasting relationship with a brand. Sometimes, you do one campaign, and then things have such a turnaround in fashion that there's always the new model. There's something about Miu Miu—they really have this strong sense of loyalty, and they support people they believe in. To be part of that is amazing.
What was your impression of Miu Miu before you started working with the brand?
I was more familiar with Prada. I did bit of modeling when I was at uni [university], but the type of modeling I was doing was more e-commerce and low-key than high-end fashion. My first introduction to them was when they got in contact. I started looking into the brand and I was sort of like, Oh, wow. It's an amazing brand, and it has such a big following and a lot of respect, but it also defies anything you expect from a fashion company. And I really liked that.
What was your first meeting with Miuccia Prada like?
I was really nervous, because she said, 'I believe in you, and I want you to be the face of my brand.' And also because everyone still calls her 'Mrs. Prada,' and there's this sense that she's royalty, which is totally legitimate, because she's fantastic. Then I met her and I knew she loved cinema and film, so we started talking about that. We'd be talking about film and I'd go, 'Oh, by the way the show was great!' And she'd be like, 'No, more about that film!'
Why is a brand like Miu Miu a good fit for you?
I'm a very loyal person, in terms of my friends and everything, and Miu Miu is very similar. Their team is always the same. This is now the fourth campaign I've done with this team. There's something I really cherish about it, and it makes it so much easier when you arrive on the day of the shoot. You're like, great, I'm really excited to see everyone and have a great time, because we all know that we work well together…rather than arriving on a set where you don't know the photographer, which can be quite daunting. You wonder whether you'll get along or if you'll like the pictures or if you'll like what you'll wear. It's like the first day of school. But with Miu Miu, I know exactly how it's going to be.
How was shooting the campaign for L'Eau Bleue different from shooting the first one?
It's still the same fragrance, so we didn't want it to suddenly feel like something totally opposite. It's a little stronger, but it's still reminiscent of the first campaign, which is important. It has the same ingredients as the first fragrance with a slight change. To keep that idea with the pictures was important.
Your co-star is a kitten. Do you like cats?
I like kittens, I like cats. But I'm definitely more of a dog person. Cats are too independent for me. But if you ask me if I'd rather be a cat or dog, I'd definitely say cat.
What's it like having a kitten as a co-star?
It was great, and it was weird. It was so constructed—you come to the studio, you get your makeup done, you choose the right outfit—and suddenly this cat arrives. It's a completely other world. You have to adjust to this animal that doesn't really know anything about what we're doing or why we're there. He's like, I don't know! I just want to play! That made it really fun. Work, I think, should be a good time.
Was he a well-behaved cat?
He was a bit mad, but he did very well. It was very fast. For animals, it can be quite difficult sometimes. The animal could do something good but then you look like, meh. So that can be quite tricky. We had two cats, and one was super sleepy, and Truman was very energetic and very playful. That made it very easy, because he was doing lots of funny stuff.
Your hair looks a little different in the campaign than it does today.
It was a wig! But it did make me want to cut my hair, which is why I have short hair now. Guido didn't want me to cut it and neither did Pat [McGrath]. They were like, 'You have beautiful hair, don't cut it! We can just put on a wig!'
What influenced you to get into acting and modeling?
I moved around a lot as a kid, and so that notion—that the world was bigger than where I was—was always present. I always knew I would do something that involved travel. This sense of change and adventure and uprootedness was exciting to me. I didn't know what I wanted to do for quite a long time, and until I started working I didn't know I wanted to be an actress. It was only when Lars cast me in Nymphomaniac that I was given an opportunity to have the confidence to say, 'Oh yes, I do want to do this. I do want to work in the arts, and I can do it in a way that I want at such an early stage.' With fashion, I see it from that side as well. The two are so interlinked these days. It's finding a way of doing it that corresponds to me, and the whole thing about it being long-lasting is something I really appreciate.
How is shooting commercials, like the one for Miu Miu, different from shooting films for you?
It's so different! The process is different, in terms of the construction of an image. When you're constructing a picture, you're constructing something in the hope that it's going to be beautiful, in terms of what the standard of the brand is and what that beauty means and how it's portrayed. With a film, it's totally about the story, and it might not focus on your face. You look into the camera for a campaign. In film, it's a very rare and deliberate choice.
What other projects do you have coming up?
I'm doing two films next year—hopefully more!—but so far, something directed by Brady Corbet that has Rooney Mara and Jude Law in it, and Sia is writing all the songs. Then I'm doing The Bell Jar, which Kirsten Dunst is directing. I'm really looking forward to that. It's a really strong group of women working together. It's not often that you get that opportunity—to find great writing, great directing, great co-workers, and have them all be women. They've built a team that's really incredible.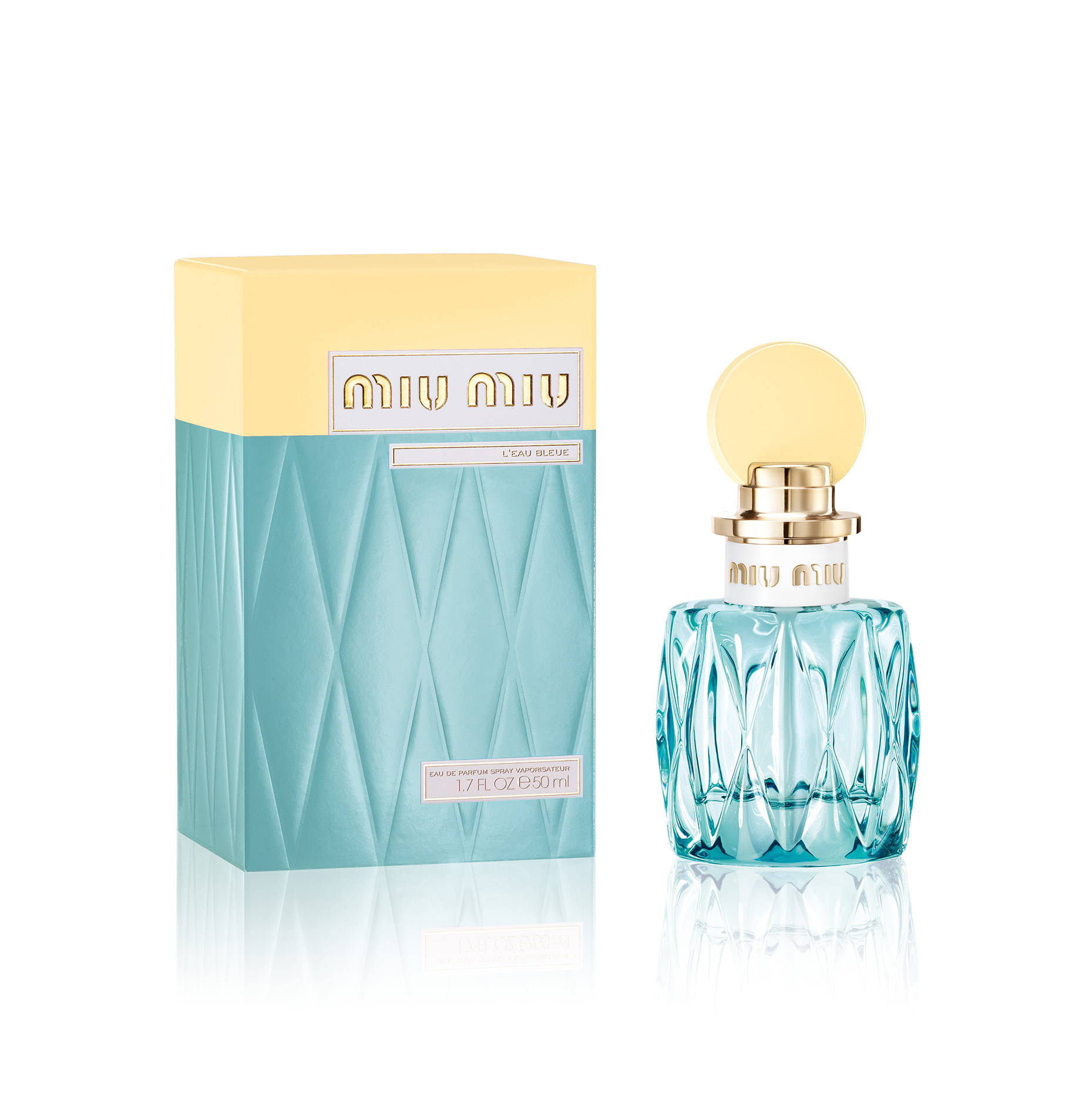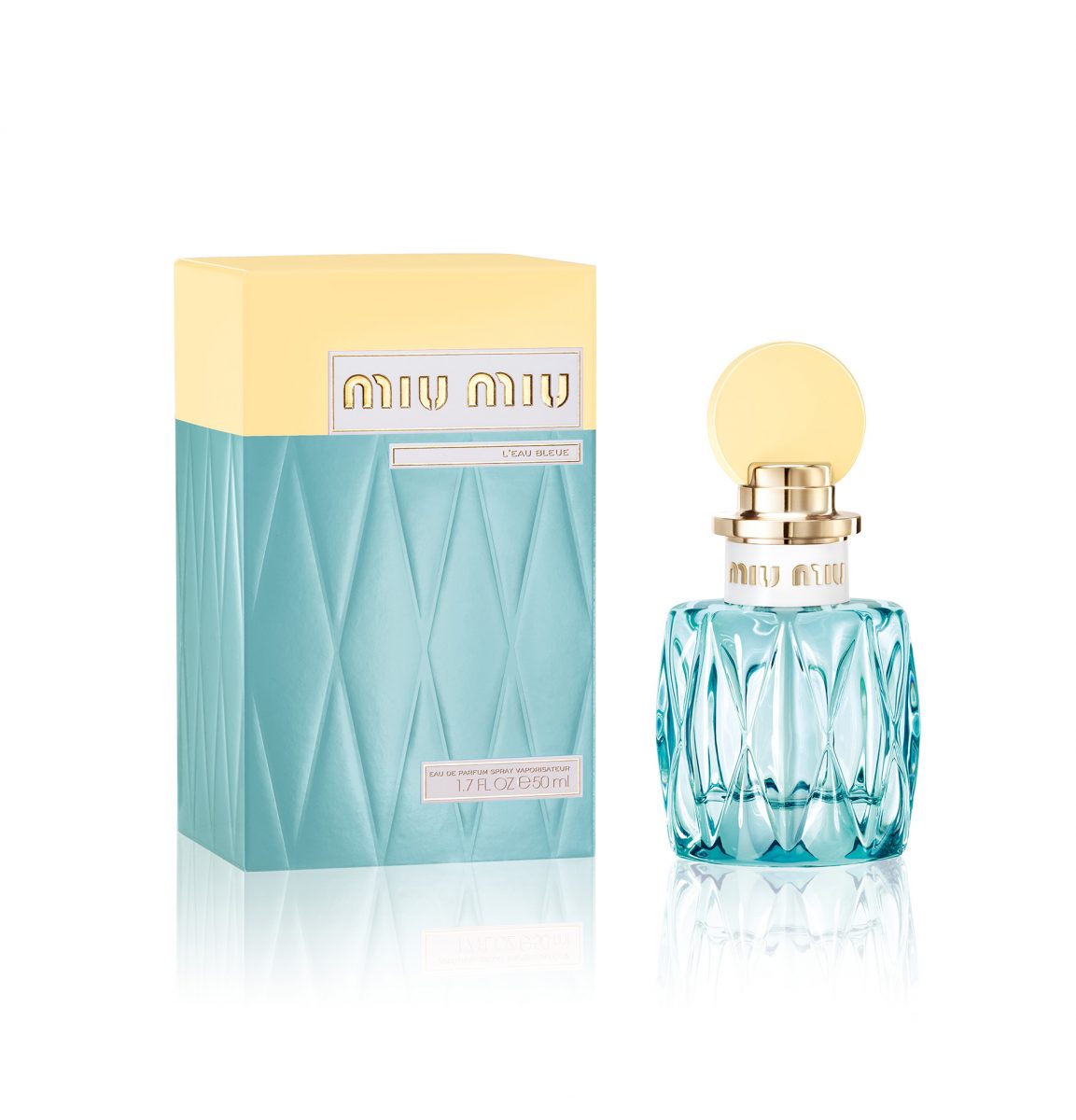 Miu Miu L'Eau Bleue eau de parfum will be available for $90 (1.7oz) at Sephora in February.