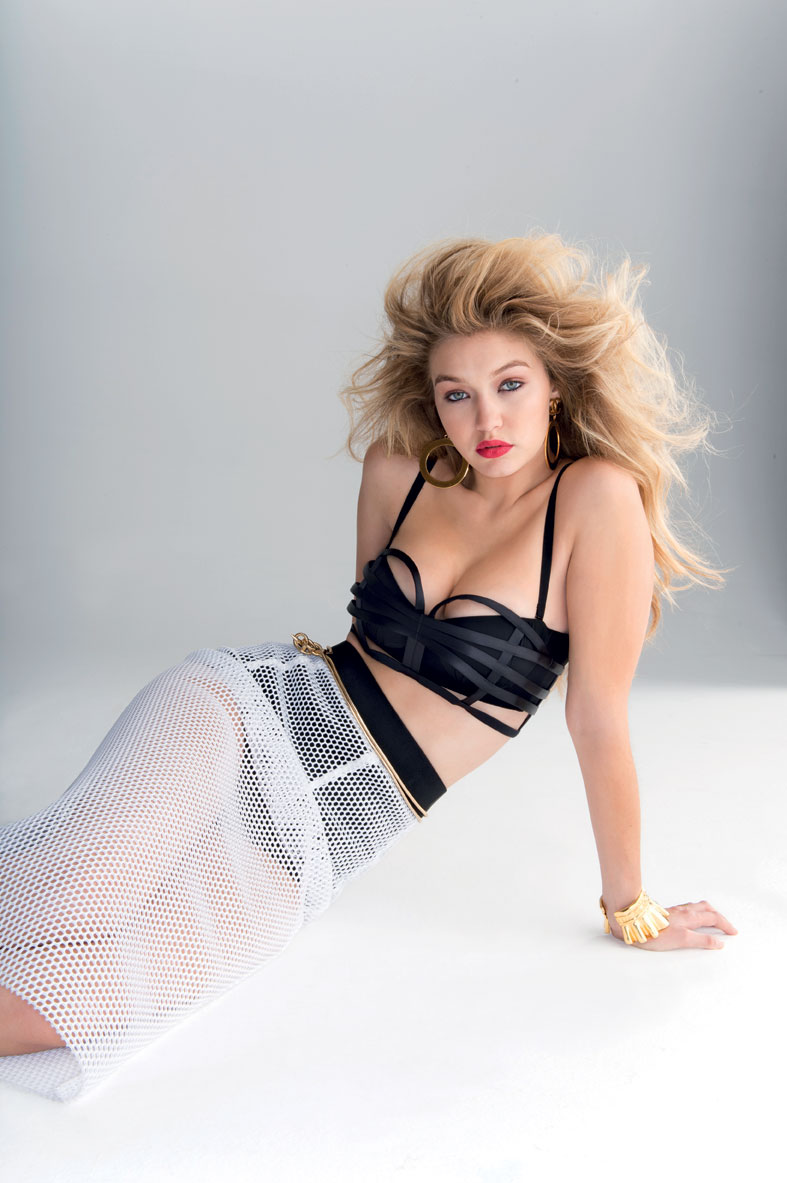 Fresh from the pages of The Daily's special Hollywood issue, and just in time for tonight's inaugural Fashion Los Angeles Awards… In the past year alone, Gigi Hadid was discovered by Carine Roitfeld, has charmed Tom Ford, nabbed a major Guess campaign, graced myriad magazine covers, appeared in countless fashion spreads, and earlier this month became the new face of Maybelline New York. The secret to her success? It's not just about beauty…
Have you ever won anything before?
Victoria's Secret gave me an award for Best Selfie last year. I got a spinning trophy with wings on it. This award is such an honor. I can think of a hundred people that I could give it to instead. I might not be the best model, but hopefully I'm getting this award because people like to work with me. I work really hard on being nice.
Why is that important to you?
I've always respected nice people. It doesn't matter how pretty you are if everybody hates working with you. I like making friends on set, and I make an effort to be nice to everyone, whether they're the biggest photographer in the world or doing the catering. You never know when those people will be back in your life.
What were the highlights of the past year?
That's hard to answer, because every experience has been a new highlight. Walking the Chanel show was definitely a highlight because after the fitting I met Karl [Lagerfeld] and Anna [Wintour], which was a thrill. As a newcomer to the runway world, it was a great first experience.
Do you get nervous?
I get less nervous with every show, which is why the Chanel show was so great. Every runway is different—you don't know what shoes you're walking in, or whether they are going to be painful or too big. Or maybe the floor is slippery!
You've also graced your fair share of magazine covers.
I think it's weird to have them on my own coffee table at home, but I buy them at the airport when I'm on my way home to California to see my family. My mom leaves editorials open around the house, but I close them!
What's it like to be recognized?
It's still new to me. It's always something that will be kind of weird. It's nice to feel like your work is reaching so many people—I love interacting with my fans.
Are you constantly being asked to take selfies?
Yes, but it's fun! It's also a good way to remember all the people I meet.
Why is being engaged in social media so important?
Back in the day, models were only faces. My generation gets to have a voice, along with a face. We have the opportunity to be personalities!
Your sister Bella [Hadid] is modeling as well. Do you give her advice?
For sure! My mom gave me the ground rules of the fashion world and taught me certain things but left room for me to learn on my own. Experience made me grow so much. That said, I'm trying to be the kind of sister who lets Bella do her own thing. Obviously when she needs me, I'm there, but her own experiences will make her the best model she can be, and she's doing a great job.
Where did you vacation over the holidays?
I went to Dubai with some of my best friends, which was a great trip. I'd been working every day up until we left. On January 1st, I went skydiving, which was a really nice way to start the year. It was always on my bucket list. There is a second and a half where you know for sure that you shouldn't be falling out of a plane and you're afraid for your life, but then you realize you're with a professional. It's surreal. We also visited the mosque in Abu Dhabi. My dad is Muslim, so to connect with my background in that way was beautiful.
You're fronting the Guess campaign for Spring!
I think I became the longest-running Guess girl ever, which is kind of cool—I'm going on almost 16 years. It's a family that I always come back to. Paul Marciano has supported me from the very beginning and discovered me and guided me in my career and life. He's my godfather now. I love him so much.
Is L.A. having a moment?
Definitely! Today, I was at a coffee shop, and everyone around looked like a fashion blogger. In New York, everyone is edgy, and I think this town is getting its own style and vibe. It's exciting. I go back and forth between beachy chic when I'm here and a city girl street vibe when I'm in New York.
You've worked with Jeremy Scott.
I'm such a big fan of his work. His shows are ones that I always have an eye on, because I want to see what he's doing next. He's one of the most innovative and creative designers. I opened and closed his show, which was so fun. He's also such a nice person, and he stands with you right when you're about to walk the runway. He's always so warm.
Any acting aspirations?
Definitely, but I'm really picky about the roles I read for. I don't want to go into a movie that I don't fully feel. I want to know what character I'm playing, and read the whole script and go into it wholeheartedly.
Do you take acting lessons?
I did a lot of theater when I was younger. I don't have a lot of time now, but if I do read for a movie, I meet with my acting coach to prepare.
Are you going back to college?
I'm taking a leave of absence due to Fashion Weeks, but I'm working hard to get it done when I can. I don't want to ask for special treatment. They can't give me good grades when I'm absent a lot. It might take me a bit longer, but I'm hoping to get my degree as soon as possible.
PLUS! Fashionettes Share Their Feelings About Gigi:
Katie Grand: "I first worked with Gigi on the Marc Jacobs show—I knew her because she was friends with Kendall [Jenner]—then met her properly at The Daily's Fashion Media Awards. She is a real hoot to work with. On our shoot for LOVE 13 with Sølve [Sundsbø] and Gigi's sister Bella, my iPod was on random and Fergie's song 'Glamorous' came on. The two of them burst into a whole routine, knowing every word and having a move for every line of the song. She's gorgeous, has a very strong work ethic, is generous and very, very sweet—sending notes after shoots and always grateful to be given an opportunity."
Sebastian Faena: "I first met her because [IMG models head] Ivan Bart said, 'There is a girl you will love.' He had made that same call about Kate Upton a year before when nobody knew who she was. When I saw Gigi, I fell in love—it was like we knew each other, like family. She was the most beautiful girl and also warm and smart and hard-working. She looked like a superstar and, most importantly, a supermodel. So I just canceled every girl I was shooting that season to shoot Gigi instead, and we did beautiful pictures together all year long. To see her now becoming the biggest star is no surprise at all. That is how I always saw her. There's something kind and magical about beautiful Gigi that makes you want to stay near her."
Bruce Weber: "I was talking to Carine and Stephen Gan about girls who we all adore. When Carine and Stephen stand up for a girl and feel totally passionate about her, I know it's the right one. Gigi has all that femininity and warmth of the women who lived on the French Riviera in the '50s. I think when a girl first starts, her best education and best chance at working is to do a sitting with Carine. She makes every girl feel she is on top of the world."