Whoopi Goldberg's new clothing line dropped last week and it's about as Whoopi as Whoopi can be. Called Dubgee — you know, like her initials — the collection is full of the kind of comfy, oversized clothes that have become Whoopi's signature over the last couple of decades.  It's a look that has often landed her in hot water with fashion critics, but she's OK with that. In fact, its her dogged commitment to her distinctive personal style that she credits with turning her into the Fashion Week darling she has become, sitting front row at runway shows for everyone from Christian Siriano to Opening Ceremony to Rodarte, in recent years. The Daily hopped on the phone with Whoopi to find out more.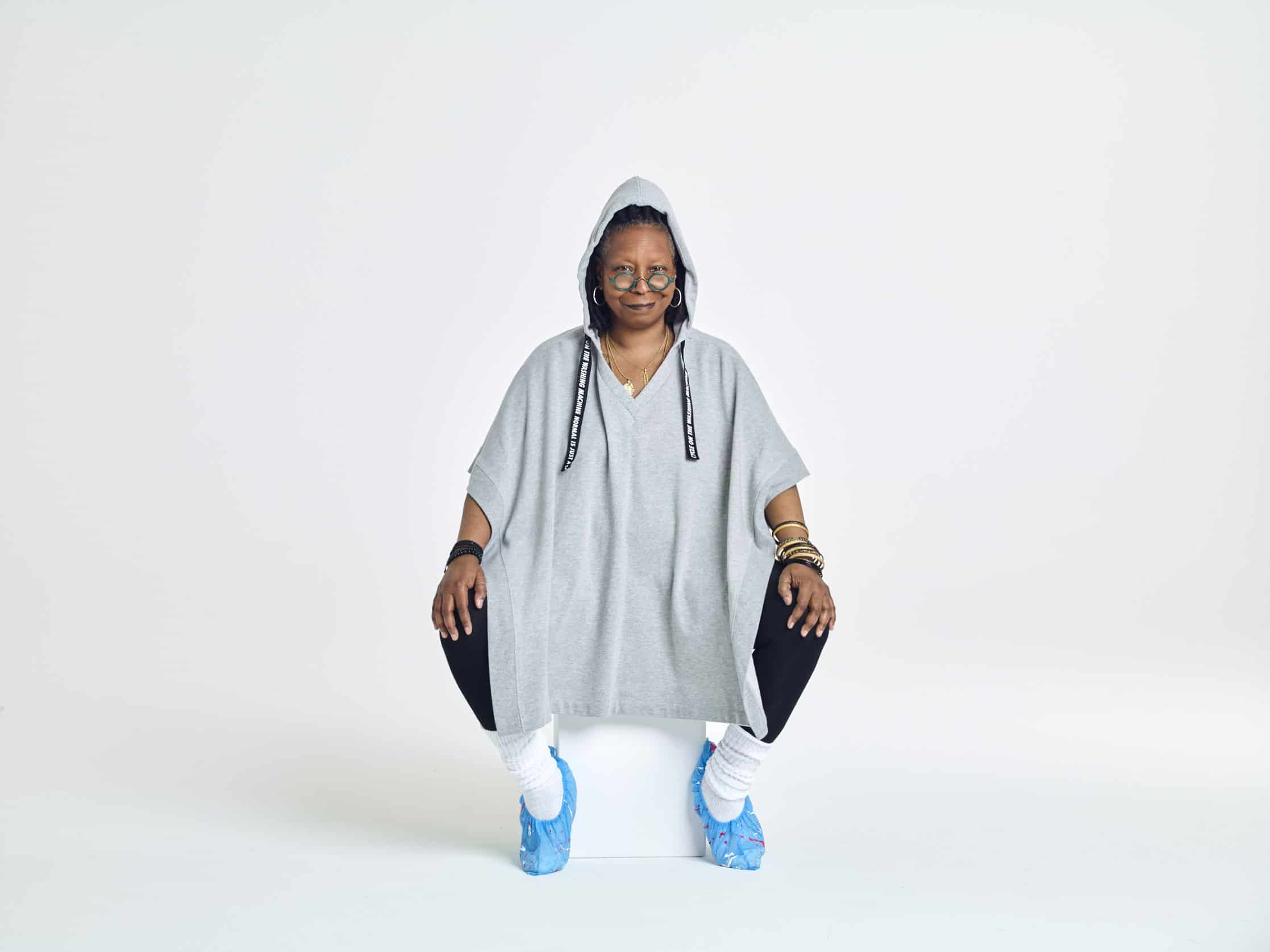 So how long have you been working on the line?
For the last year or so. It's exciting. Scary, but exciting. The concept is that your clothes should be the last thing in the world that upsets you. You know? There's enough stuff to kick your butt in the real world. Your clothes should feel fun.
What is it about these clothes that makes them fun?
Well, I'm wearing them! I mean, if I don't have them on, how can I ask someone else to put them on?
Look, if you're someone who has been told that you have no style, no taste, you start thinking that you don't know what you're doing. But my idea is to make people feel like yeah, you do know. And if you like it, try it, because what's the worst that could happen?
There's no age limit with these clothes. Everyone, whether you're 100 or 21, can wear them. And the same thing with sizes. They look good on just about everybody. My hope is that people will see me wearing them, see that I'm comfortable in them, and think, Well, if she's got it on and her body fluctuates, let me give it a try. Because our bodies go up and down, you know? You eat too many potato chips, you've got water weight, it's a whole thing.
You have a lot of friends in the fashion industry. Did you consult with any of them when you were putting this  together?
Not so much consult, but folks have seen it and said it looks nice.
You know, people used to make fun of me for wearing high heels with socks or wearing oversized shirts and sweatshirts all the time, but now these things are everywhere and I think people are finally catching up. Or maybe I'm just blowing smoke up my own… self. I mean, I know that there are lots of things that I've done, that I love, including a lime green I Love Lucy-type of outfit that I wore to the Academy Awards, that people just raked me over the coals for. "This is the most ridiculous thing I've ever seen! What are you wearing? Who do you think you are?" But I realized a long time ago that nobody is going to make you feel good but you.
Why do you think the fashion world has embraced you the way it has in recent years?
The key is that I'm consistent. I've never let anyone dictate to me what my style is. I wear what I want, when I want, how I want. And it seems like more and more people are starting to realize that a lot more people are like that.
I also think people have caught on to the fact that you can be elegant in whatever you've got on. I mean, I've met some very inelegant people in really elegant clothes. So it's not the clothes that give you that grace. You have to bring that grace [to the clothes].
You sit front row at so many fashion shows every season. What do you like about going to the shows?
I like the fact that, in my mind, I can wear all of it. That's what you want people to feel. Not "oh, I could never do that."
What do you think designers can and need to do better.
I think they are starting to realize that women are as diverse as snowflakes and if you want to capture someone's eye, you've got to make them believe that you actually want them to wear the clothes. Make me believe that you know that I would look dynamic in it, that what you've made has been made for me, with my crooked chest or my crooked backside, because you've thought it out. I think that's important for people, to feel included. You're starting to see it more now on the runways. Christian Siriano does it better than almost anybody. He has all kinds of sizes and heights and colors.
It's all about having empathy for you buyer, I guess. Show empathy for your buyer and your buyer will stay with you.
Whoopi's partner in this new fashion venture is Gary Wassner, CEO of Hilldun Corp, chairman of Interluxe Holdings LLC, and a major investor in fashion brands like Cushnie, ALC, and Jason Wu, just to name a few. The Daily got Wassner on the phone to find out a little more about the partnership and what makes Whoopi and Dubgee so special. 
How did you and Whoopi first meet?
It was at a Jeremy Scott show. We were seated next to one another and we became fast friends. I think Kelly Cutrone put us next to each other on purpose.
And what's your role at Dubgee?
I make sure that everything Whoopi wants — from design to marketing to anything consumer-facing — is executed properly. I really oversee our relationship with our licensee and I troubleshoot and make sure that things are going according to plan.
You worked with Whoopi on another clothing line before this, right?
Whoopi and I had been friends for a while and one day she was talking about the low quality of Christmas sweaters she was able to buy in the market, so we decided to make our own. I brought in a whole team and we made 10,000 sweaters for Lord & Taylor and they sold out. That was Christmas of 2016. It was a great process. Whoopi was amazing. She would text me in the middle of the night with sketches and we would talk in the morning — crazy, outlandish ideas. Her imagination and creativity are beyond belief.
So how did you go from Christmas sweaters to Dubgee?
In the process [of working on the Christmas sweaters], Whoopi and I were going to a lot of fashion shows together. She has a deep-rooted love of style, so I took her to lots and lots of shows.  We would sit together and at first people would ask, "Why are you here?" but after maybe three seasons of going to shows, the press was talking about Whoopi as a fashion icon and we had it in mind that we needed to make clothing.
She went to Greece and came back very upset because she couldn't find anything that made her feel good in any of the cruise or hotel shops. It all made her feel bad. It was too tight or too small or not fitted for her shape. She said, "We've got to make like four dresses that you can roll up and put into a bag and sell to these people so that when they go on their one vacation per year and spend all this money, they don't feel miserable when they get there and don't have anything to put on."
I heard this and I said, "Whoopi, we've got to make a whole collection!"
That's where we all began.
Any reservations about creating a celebrity fashion line?
She's a massive celebrity, but this is not a celebrity brand. Her name is not on the label and that's intentional. At the same time, Whoopi is 100 percent hands-on. Every single item gets approved by her, gets inspired by her, including the creation of prints. She is constantly thinking and innovating. And the first collection was a real hit. We delivered something like 170,000 units.
What do you love about Whoopi's style?
It's so real! She doesn't spend an hour in front of the mirror. When you go to see her at The View, before she goes on stage, she knows exactly what she wants to wear. Two seconds in makeup and she's out there. She has this style that she never breaks. She knows what she wants to look like. She knows what makes her feel like herself and enhances who she is. And she wants other people to be able to buy clothes that they feel comfortable in and feel real in. She's the most real person that I think I've ever met.
Subscribe to our newsletter and follow us on Facebook and Instagram to stay up to date on all the latest fashion news and juicy industry gossip.