With Christmas being just over a week away—can you believe it?—we've tapped some of our favorite bloggers and influencers to customize their very own Lands' End stocking, the parfait and totally appropriate accessory for rocking around the Christmas tree. Plus, our digi stars weighed in on holiday plans, their guides to gifting, and most importantly, whether they think they'll make Santa's naughty or nice list this year…
Grace Atwood, The Stripe
Which song is the background track to your holiday season?
The Love Actually soundtrack, of course!
What's on your holiday wish list?
Is it weird to say that I don't really want anything? I'm very lucky in that I have so much while others need so much. This year I am telling friends and family to make a charitable contribution in my name to either UNICEF, the ASPCA, or Planned Parenthood.
What's your style tip for holiday dressing this year?
Be strategic and have a uniform. The holidays can be rather hectic—I'm often running from meetings, home, and out to events and will only have a few minutes to change. I used to look into my closet and get overwhelmed. Now, I pretty much always wear the same thing: a short dress, black tights, sky-high heels, and a faux fur coat…I will accessorize with a fun lip color, a bold cuff, and a great pair of earrings. It's always festive, it flatters my body type, and it's easy!
Jamal Jackson, Style Society Guy
What are you giving to your friends and family for the holidays this years?
I've been gifting 'The Giving Key." Basically, you purchase a key with a motivational word on it, such as Courage, Faith, Strength. The point is to keep it and cherish it until you feel someone else needs it more than you. It's a really personal gift and the most unique I have come across.
What's on your holiday wish list?
An Apple Watch. I've been looking for the perfect watch/app/software to keep my to-do list on track. I heard the watch has excellent apps for that, and maybe I just want it because i's supposed to be so cool. 
Choose one: naughty or nice?
Always nice, but low-key naughty when it comes to this year's gym membership duration. Whoops! 
Julia Dzafic, Lemon Stripes
What's your style tip for holiday dressing this year?
Go for the unexpected. Ditch the red dress or green sweater and throw on a navy jumpsuit or hot pink frock for your next holiday party. I guarantee everyone will mention it.
What song is the background track to your holiday season?
Spotify's Jazzy Christmas mix is on constantly in our house. I'm also loving the new She & Him holiday album. It's too hard to pick just one song!
What's on your holiday wish list?
Hamilton tickets! I'm still dying to see it and hoping Santa heard my wish.
Christine Cameron, My Style Pill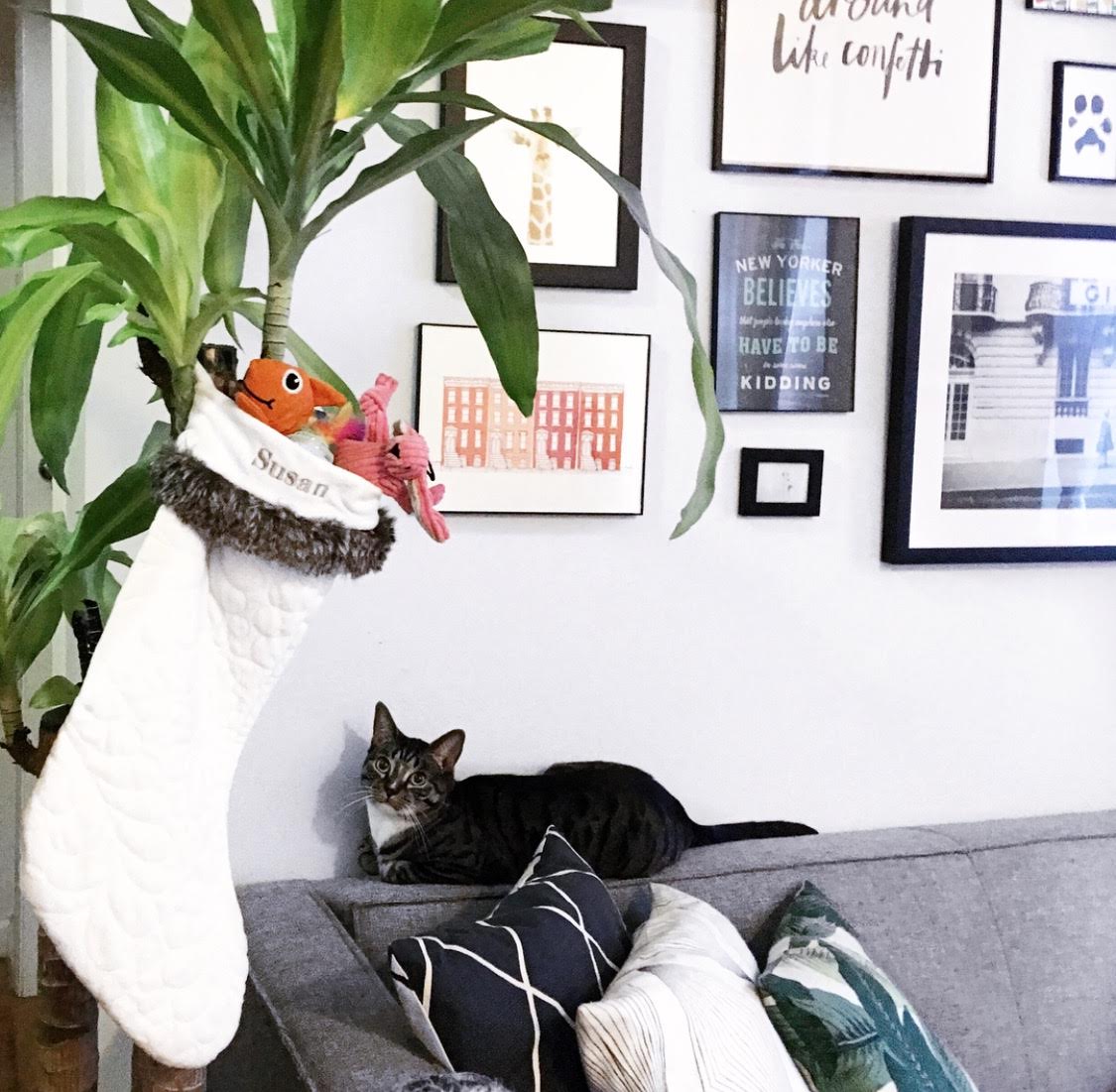 What are you gifting your friends and family this year?
Most of my friends have kids, so I love getting them cute holiday PJs. I got my Dad these great wool and leather gloves and my Mom the coziest slippers. But they are coming to New York this year for the holidays so I plan on treating them to a really nice dinner as a surprise.
Favorite holiday songs?
"Underneath The Tree" by Kelly Clarkson and of course "All I Want For Christmas Is You" by Mariah Carey.
What are you hoping Santa brings you this year?
I love candles and one of my favorites is No. 04 Bois de Balincourt Candle by Maison Louis Marie. I would love to get another one for the apartment—they fill up the whole room with the most amazing scent.
Anthony Urbano, Oh Anthonio
Style tip for holiday dressing?
Have fun and be comfortable! When I was younger my family used to dress up a lot for Christmas and now we've embraced a more casual approach. One year we all wore matching PJs but for the most part it's all about festive sweaters and cozy knits. My one style tip is to just wear what makes you feel comfortable so you spend less time fussing with how you look and more time enjoying the holidays with friends and family.
Choose one: naughty or nice?
Nice because Santa might be reading this!
What's on your wish-list?
All tech! An iPhone 7 Plus, a new camera, and a new laptop.
Caroline Knapp, House of Harper
What's on your holiday wish list?
I would love a personalized necklace for Andrew since I have a K for Knox. 
Choose one: Naughty or Nice?
I have a toddler so hopefully nice! Ha!
Tip for holiday dressing?
I love mixing casual and dressy elements. I will pair a casual plaid shirt with a dressy skirt or statement necklace.