Brian Wolk and Claude Morais of Wolk Morais write in from the West Coast about their recent trip to Shanghai. 
Over the past two centuries, Shanghai has evolved from a sleepy textile port town to a world-class metropolis by virtue of the city being a celebrated international annex for ex-pats, artists, and entrepreneurs. The juxtaposition between old and new Shanghai is both jarring and seductive. From the romantic poplar-lined Art Deco streets of the French Concession to the awe-inspiring space-age skyscrapers of Pudong, Shanghai's many contrasts and frenetic energy make it de riguer for any design aficionado's itinerary, as the city represents an unabridged survey of 20th century architecture and design.
The Silk Road in the Sky
Bridging the gap between East and West has never been a more flawless experience. Delta Air Lines' nonstop flights between LAX and Shanghai Pudong International Airport make this epic journey a seamless ride on a reimagined version of the Silk Road, traversing skies instead of land but arriving in luxury nonetheless. Our eastward escapade began the moment we slipped out of our car and were whisked through Delta One's private entrance at Terminal 5. As we sipped green tea and nibbled on snacks in the VIP waiting area, our dedicated concierge checked us in and escorted us into the beautifully appointed Delta Sky Club. Under the hand-painted rotunda we enjoyed some magical mixology and chatted with our fellow guests.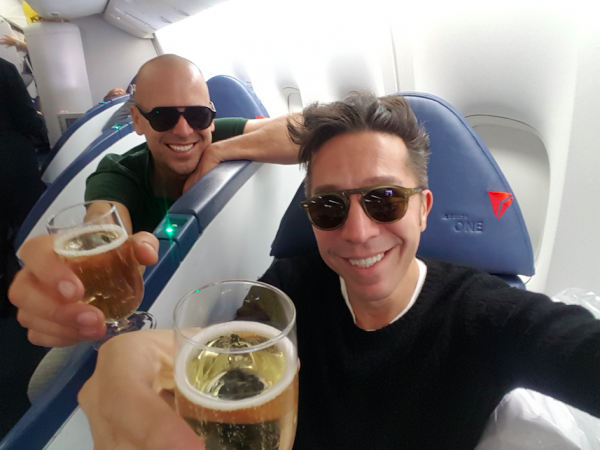 Once onboard we got a taste to what was to come. After settling in, we dined on a special three-course Chinese menu, paired with wines by sommelier Andrea Robinson. Following our delightful dinner and having caught up on some of our favorites series courtesy of Delta Studio, we slipped into our cozy in-flight loungewear, and drifted to sleep in our 180-degree flatbed seats, swaddled by our Westin Heavenly Duvets. There is nothing we look forward to more than disconnecting on a long-haul flight, as it provides the perfect opportunity to reflect on and prepare for the adventure to come. Before we knew it, our 14-hour journey had ended. No detail was overlooked by our in-flight team—our Tumi amenity packs were stocked with fabulous Kiehl's products for our pre-arrival freshening up.
Putting on The Ritz
The Ritz Carlton Shanghai Pudong is an epicenter of luxury perched high above the city in the ultra-modern neighborhood of Pudong. The Ritz clearly had us fashion folk in mind when planning this incredible property as it shares its structure with a bevy of glamorous retail flagships including Dolce & Gabbana, Gucci, Prada, and Valentino.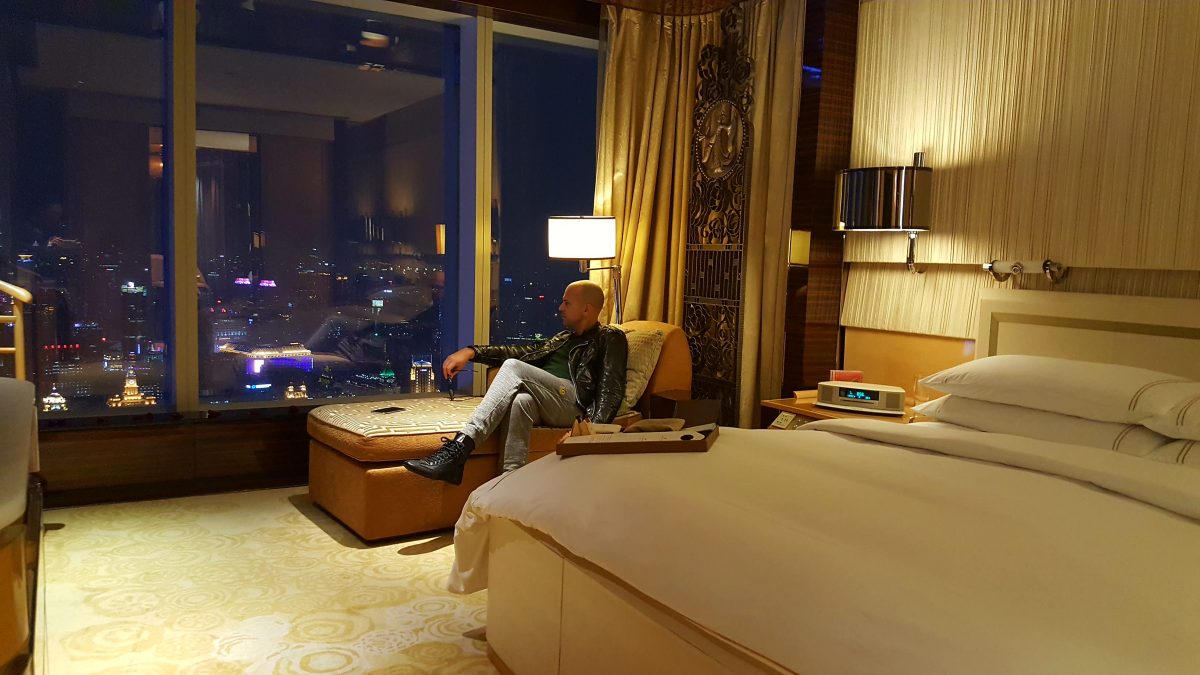 Upon entering the lobby of the hotel, each of our senses was captivated. The air was delicately perfumed with the subtle scent of sandalwood, and our eyes were drawn to the impeccably designed sitting rooms filled with Chinese deco furniture, illustrious carpets, and hand-woven silk wall panels. What better way to say welcome than rose petals spelling it across threshold of your room? Our suite was located on the top floor of the hotel and was fit for an emperor. The grand sitting room, dining room, and sublimely designed bedroom were all flanked with gorgeous glass walls exposing panoramic views of the world's largest city, home to more than 24 million people, including striking views of the Oriental Pearl Tower and Bund waterfront area.
With no time to waste, our butler ushered us to the spa for a signature jet-lag relief massage and body treatment. The spa at the Ritz Carlton is a magnificent visual happening, with an exquisitely sophisticated staff to complement the lush interior surroundings. Through a maze of honeycomb-inspired passages we were led to our treatment rooms for 90 minutes of pure bliss. After a post-massage swim in the glass-enclosed rooftop pool, we headed back to our suite and dressed for dinner at the Michelin starred Jin Xuan restaurant.
Those hankering for traditional Cantonese cuisine need go no further than the 53rd floor of the Ritz. As the elevator doors parted we were transported into the magnificent imagination of chef Daniel Wong. As if we had entered an epic film by Zhang Yimou, a beautiful Chinese maiden struck the chords of a guzheng under the foliage of a cherry tree.  As we ascended the stairs to our table we took note of the uber-chic clientele coming and going, dining and drinking champagne. Like all brilliant chefs, Mr. Wong's true genius is on full display through the preparation and execution of the classics. His crispy chicken, Cantonese fried rice, and braised short ribs were worthy of a standing ovation, but for his encore he truly dazzled us with a warm almond soup, a unique gastronomical treat we have never encountered anywhere else.
Later in the evening we decided to take our nightcaps at Flair, the rooftop bar where all the hip Shanghainese come to commune. It carries the unique distinction of being the highest al fresco dining venue in all of China—the views are simply unparalleled. As we sipped our Manhattans in Shanghai overlooking the Huangpu River, we truly felt the magic of this 1,300-year-old city.
Shang-Art
Shanghai has always been a center for art in China, but over the last 20 years it has become a global center for international museums.  Its impressive roster of contemporary art institutions, galleries, and private collections could keep a visitor to this city occupied for weeks. Our favorites were:
Power Station of Art – Located in an enormous 19th-century power station, this is Shanghai's own Tate. Currently on view is The Shanghai Biennale, comparable to the best in the world, and a must see. Curated by Raks Media Collective this Herculean show asks "Why Not Ask Again?" This question is answered by hundreds of artists including Ivana Franke and Thomas Saraceno.
YUZ Museum – Located in the new West Bund Art District, this private museum was founded by Chinese-Indonesian tycoon Budi Tek. The stunning glass and metal structure was formerly an airport hangar, and now is home to the most impressive collection of contemporary art in Shanghai. Don't miss Andy Warhol's Shadows, which is currently on view, to be followed by a Pablo Picasso exhibit in late 2017.
Long Museum – Located directly across the street from the Yuz, the Long Museum was founded by ex-taxi driver turned billionaire financier Liu Yiqian. The collection comprises predominantly Chinese art and sits on an incredible waterfront wharf.
China Art Museum– Also known as the China Art Palace, this peoples' museum is appropriately the largest red building in China. The goliath-sized institution, housed in the former Chinese pavilion of the 2010 Worlds Expo, offers an intimate glimpse into the daily lives of the people and history of China through a survey of exclusively Chinese artwork, from the 19th-century to today.
M50 – The Williamsburg of Shanghai, this large creative arts district is host to a slew of hip galleries, cafes, and independent art institutions including ShanghART. It is also one of the few areas in Shanghai where you can see graffiti and street art.
Shang Eats
Cha's Restaurant– Close you eyes and imagine the perfect 1950s Cantonese diner, and you will have arrived at Cha's. Under the creative direction of Ang Lee's producer Charlie Hau this traditional cha chaan teng (tea restaurant) is a cinematic feat, and the young hipster clientele are eating it up!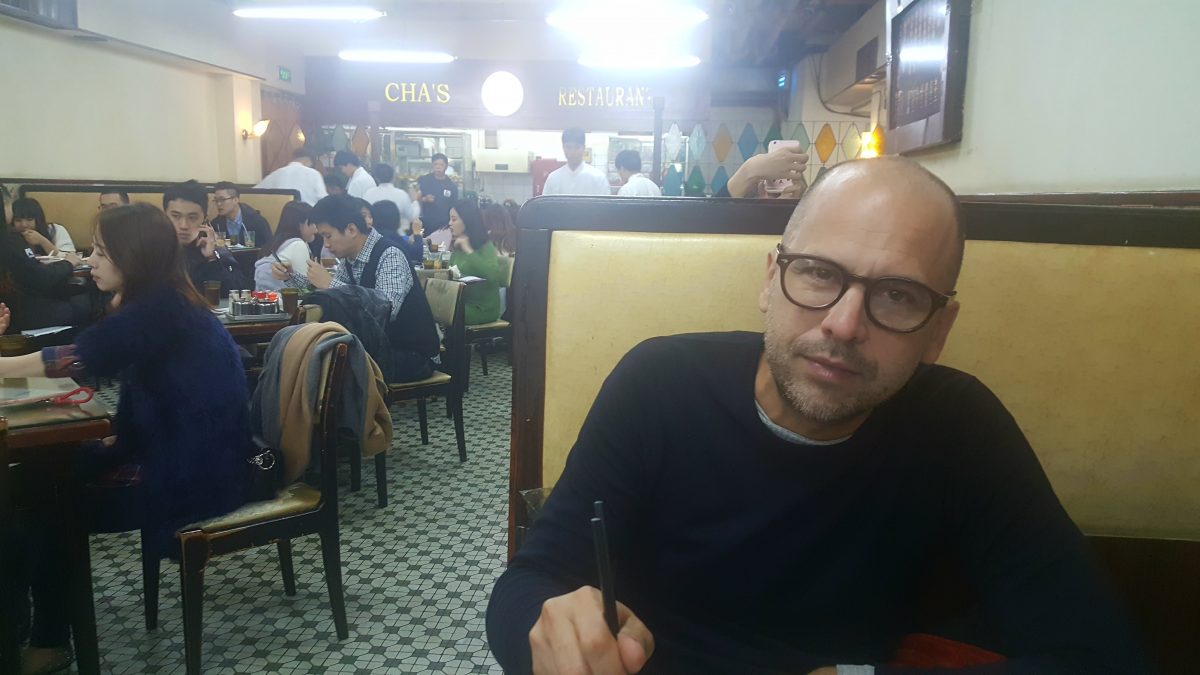 Lost Heaven – With its name inspired by James Hilton's story of an Elysian valley, this romantic candlelit restaurant located in the French Concession offers a mystic dining experience. A delightful blend of Tibetan, Burmese, and Yunnanese cuisines, Lost Heaven manages to create a symphony of flavors on every plate.
Green & Safe – This high-end organic supermarket, bakery, cafe, and restaurant is the center of neighborhood life in the ex-pat filled French Concession. With its diverse range of prepared and made-to-order foods— and early morning to late night hours, Green & Safe quickly became a trusted friend to us.
D.O.C. – Located in the heart of the French Concession, D.O.C. is a quintessential Italian style Trattoria. Here Stefano Paci makes a wood-oven pizza that is truly perfetto. All of the Italian culinary classics and neighborhood eccentrics come to life in this convivial spot on Dongping Lu.
De Xing Guan – The dumpling competition in Shanghai is fierce, and De Xing Guan delivers. For less than $5 a person, you can dine amongst dumpling aficionados in this two-floor eatery that has been open for more than 100 years.
Shintori – Stepping into Shintori is like sitting front row at a Japanese Kabuki performance in outer space. After we managed to locate the restaurant—there is no sign—and stroll down a mysterious bamboo path, large wooden shogun-esque electric doors glided open to reveal an amphitheater-like dining room. The cast of the kitchen literally took center stage performing foodie feats on an open viewing platform betwixt swirls of smoke and energetic flames of ardor. From the first bite of sushi to the last udon noodle, Shintori will always be the star of our Shanghai culinary adventure.
Shang Nights
The Long Bar – The Long bar located in Bund on the ground floor of the Waldorf Astoria earned it distinction for being the longest bar in the world when it was built more than 100 years ago. This glorious 111-foot mahogany masterpiece has played host to Noel Coward, who said while laying upon it cheek-down that he could see the curvature of the earth.
Bar Constellation – The hidden gem of the French Concession, this mixology haven is an institute for exquisitely conceived cocktails. Sit back in your tufted leather lounge chair and enjoy liquid miracles being performed.
Basement 6 – As the name hints, this practically impossible to find spot is in the basement of a residential building complex on the fringes of the French concession. With hints of Bushwick, this international watering hole brings all creeds and cultures together for intense political and creative dialogue, as well as shared group experiences including silent discos.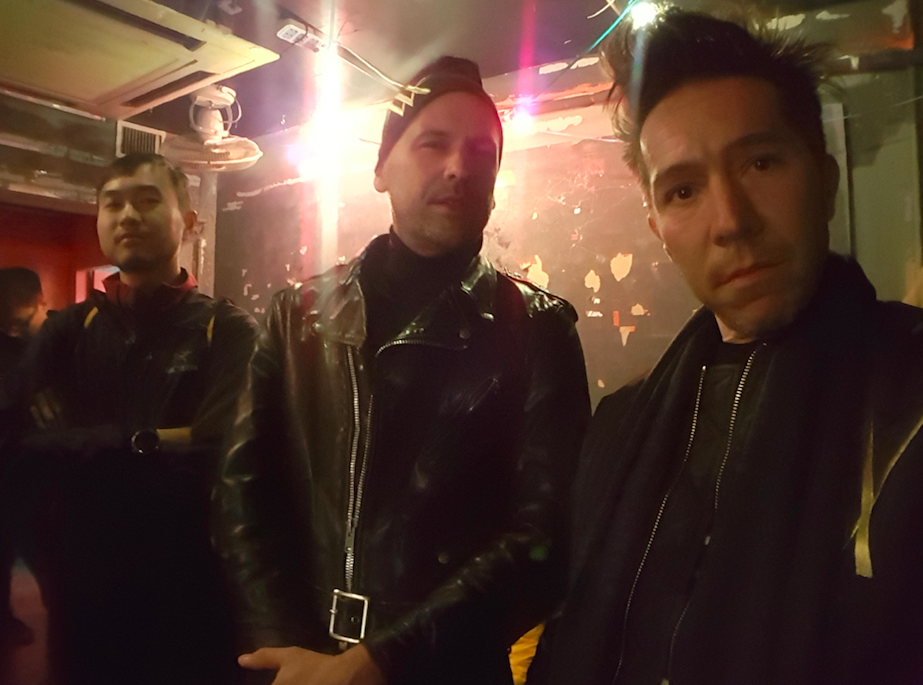 The Bell Bar – Located in the recently  renovated area of historical Tianzifang, this charming English-themed bar has plenty of nooks and crannies to hide in. Grab a beer, climb up a later to a hidden loft space, read a book, and forget you are surrounded by 24 million residents in the world's largest city.