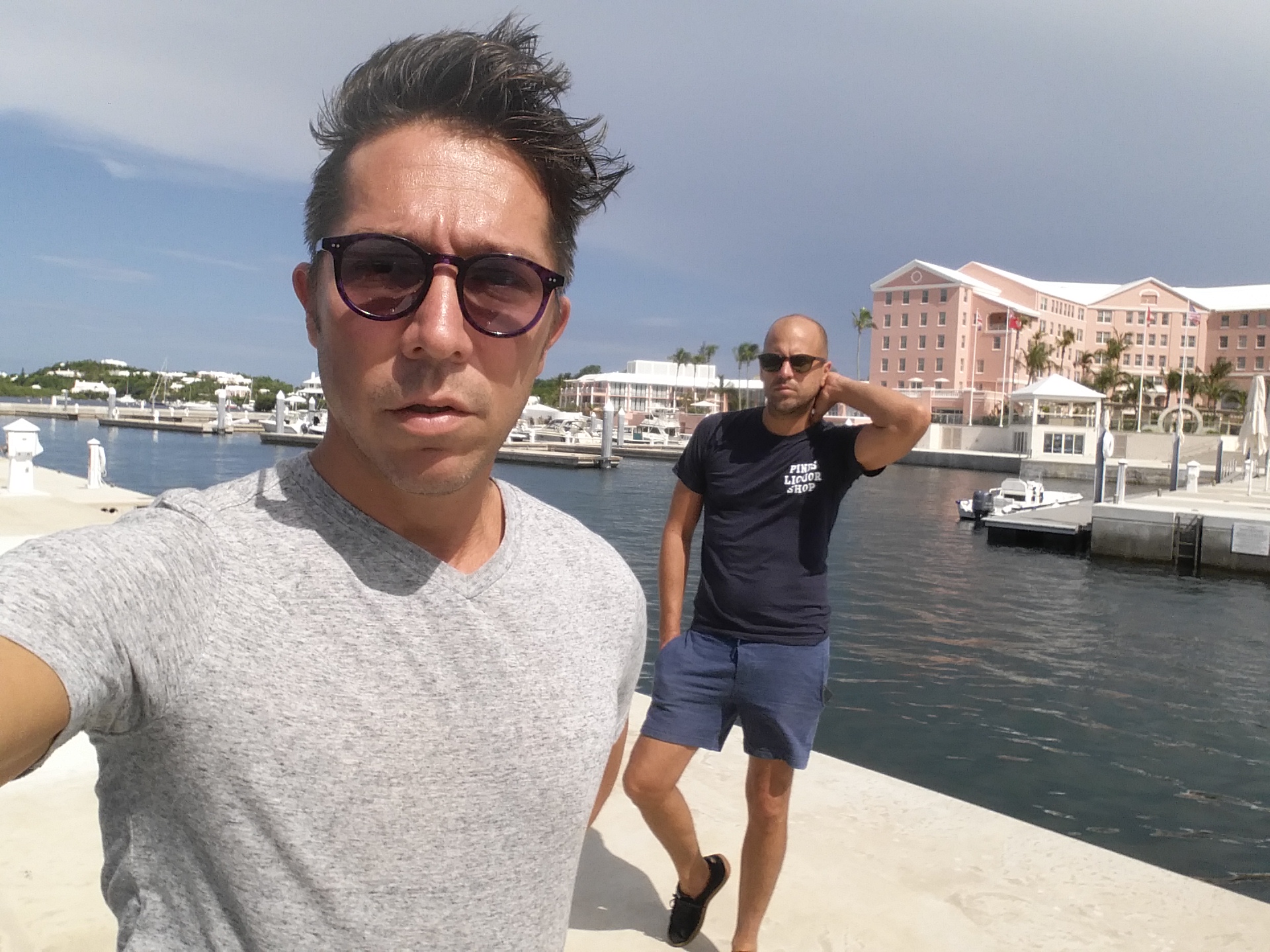 Brian Wolk and Claude Morais of Wolk Morais, who show their Spring 2016 collection on Monday in Los Angeles, write in with another adventure to give you a case of #vacationenvy.
Hear Ye, hear ye! The fashion set have a new destination with all the pomp and provenance to make even those who live the "life of Riley" stand up (or more likely recline) and take notice. Bermuda is the closest British Overseas Territory to the United States, a mere 640 miles from Cape Hatteras, or, in simpler terms, a pleasurable one and a half hour direct flight on Delta Air Lines from New York.
Bermuda has always been a place shrouded in mystical mythos and royal regalia for the jet set, with property owners ranging from Michael Bloomberg to Michael Douglas. Indelible images of the Duke and Duchess of Windsor gracing Government House are something any designer worth their weight in silk has pasted in their mental scrap book. But a new Bermuda is emerging, one that is modern, dynamic, effervescent, and aesthetically forward.
Bermuda's intimate relationship with contemporary art is one of the island's most intriguing new assets. The Green family, best known to us fashion folk as the owners of Top Shop, are also owners of Bermuda's first and premiere resort Hamilton Princess & Beach Club, a Fairmont managed hotel.. Their Midas touch clearly extends beyond the boundaries of High Street. The transformation of this hotel into a venerable cultural institution is making waves and changing the landscape of this tranquil island. Curated with one of the most significant collections of relevant 20th and 21st century artwork we have ever seen, walking into the hotel is the equivalent of entering any great international museum. Before we even checked in we were privy to the masterworks of Andy Warhol, Banksy, Shepard Fairey, and Yayoi Kusama.
After settling into our suite in the newly renovated Poinciana wing with commanding views that extended from our infinity pool to the North Atlantic, we were swept up by the extraordinary Gold Club manager Raj Subramaniam and escorted to lunch at the architecturally ravishing 1609. Cantilevered over the harbor, this open-air restaurant offers the authenticity of Bermudian-crafted cuisine with locally sourced seafood and seasonal ingredients. The wine list is equally as compelling as the fine fare, and the bottle of rosé the sommelier chose for us was the perfect antidote to our international travel fatigue.
That afternoon, we decided to take a passeggiata through the colorful town of Hamilton, the capital. Weaving in and out of the beautiful streets and lanes, we discovered the local culture, kind people, and charming boutiques. A visit to the historical society, original post office, and a stroll through Queen Elizabeth Park revealed the exquisitely English pageantry of this highly civilized British Territory.
The next morning, after posting a de rigueur selfie on Instagram, we serendipitously discovered that our good friend, stylist Elizabeth Stewart, was on the island as well. Via some quick text repartee on each other's account pages, we made an insta-plan to go jet skiing that afternoon at Somerset Bridge, reputedly the smallest working drawbridge in the world. So on a wing and a prayer we suited up in our speedos and life jackets and let loose! The island's natural habitat and clear blue water are truly unparalleled…and experiencing the open seas at terrifying 75 m.p.h. with the Stewart family assuaged any fears we might have had otherwise. Other highlights of our high-speed jaunt included a coastline view of the otherwise hidden estate of David Bowie.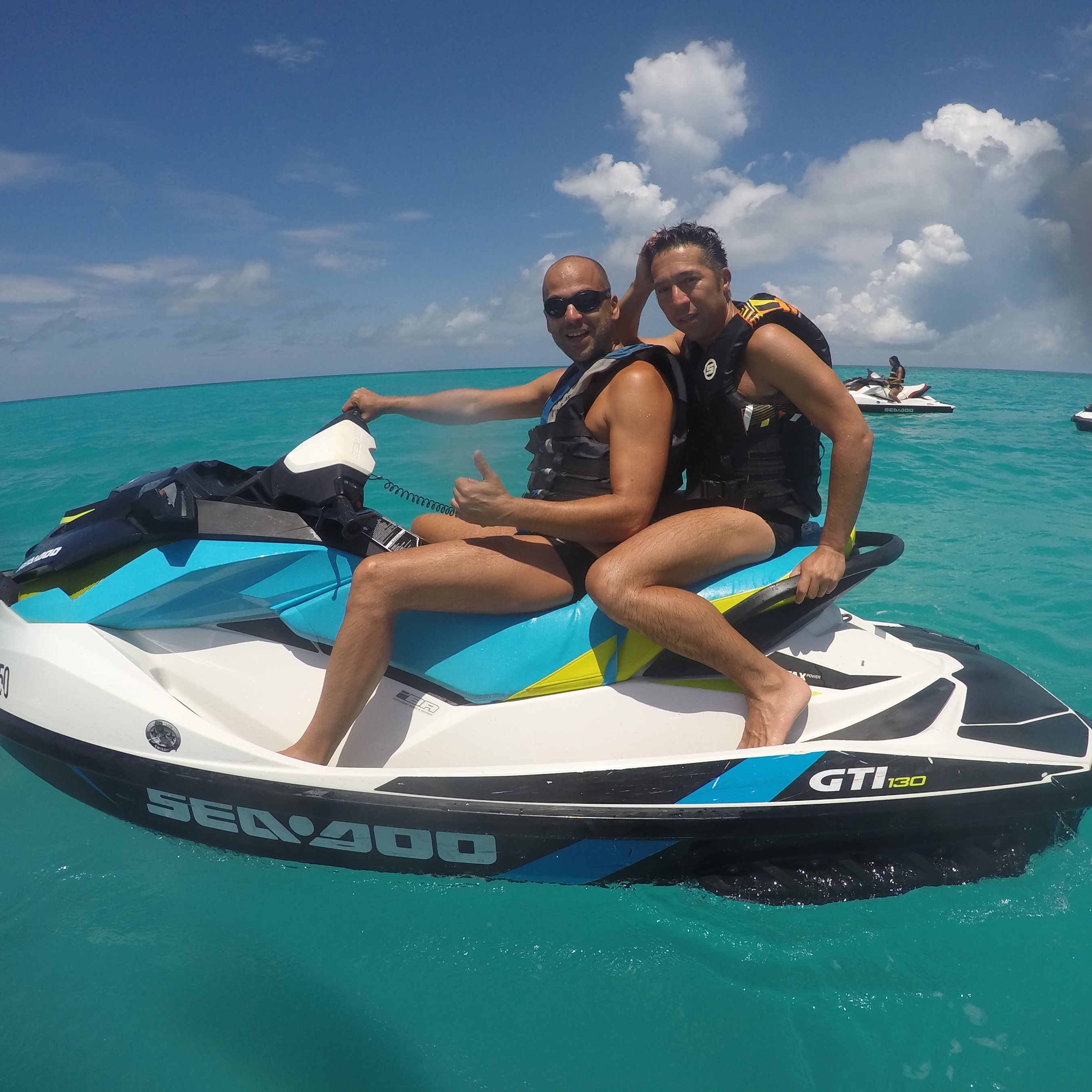 That evening we made use of the island's incredible ferry system, and headed to Saint George, established in 1612, making it the oldest town on the island. Ensconced in history, we roamed through the ancient streets of this UNESCO world heritage site in awe of its extraordinary beauty. No visit to Saint George is complete without stopping by The Bermuda Perfumery, home of Lili Bermuda, the legendary fragrance house, which began in 1928. We were lucky enough to have a tour of the workshop with Isabelle Ramsay-Brackstone, the current owner of the house, who assumed creative directive role at the maison in 2004.
As the sun rose over the pristine North Atlantic, we forced ourselves out of our Egyptian cotton sheets and headed downstairs to The Crown and Anchor for their famed breakfast banquet. A lavish display worthy of a king, this royal affair included a bevy of decadent morning treats. With plenty of fuel to keep our ships afloat, we hopped on the hotel jitney to the private Hamilton Princess Beach Club. Just a quick 20-minute jaunt from the property, the private beach club is exclusively for hotel guests. No less than an elysian promised land, the club is set on an inlet of rose-colored sand and has everything one could possibly desire for a sunny day full of fantasy. As we lackadaisically luxuriated on beach beds with flowing netting above us, we delighted in trying every rum cocktail on the island mixology menu.
As the sun began to set we headed back to our suite to prepare for the final farewell of our weekend jubilee, dinner at Marcus'—the unparalleled epicurean experience on the island. Flanked with walls of glass, this cathedral of fine dining boasted 360 degrees views of the water. We reunited once again with the Stewart clan for our crowning meal. Surrounded by world-class artwork and waited on by a staff whose attention to detail was second to none, we began our feast with breaking bread. But this was no ordinary bread—it was pure joy. Warm buttered Parker-house rolls. So incredibly simple but spot on, a perfect prelude to our honest and delicious meal. Marcus Samuelsson prides himself on his colorful, delicious, and playful menu. The chef managed to artfully prepare an epic meal infusing local flavors into world-class dining. Some of our favorite dishes included oysters with black rum mignonette, lobster cocktail and heart of palm, the 30-day dry-aged 24 oz. bone-in ribeye, the whole fried chicken for two, and the classic grilled Bermuda onion. To finish our meal we had a sweet chorus of desserts including salted caramel rum cake, watermelon and elderflower sorbet, and roasted banana donuts.
Our evening was the perfect fairytale communion to our enchanted weekend. The people of Bermuda were the kindest and most polite hosts we have ever had the pleasure to spend time with on any island we have visited. There is a true sense of community, creativity, and pride in this most precious and beautiful country. We look forward to return to Bermuda—there is so much more we would love to experience!
To follow all of Brian and Claude's West Coast adventures, check out the Wolk Morais Instagram.