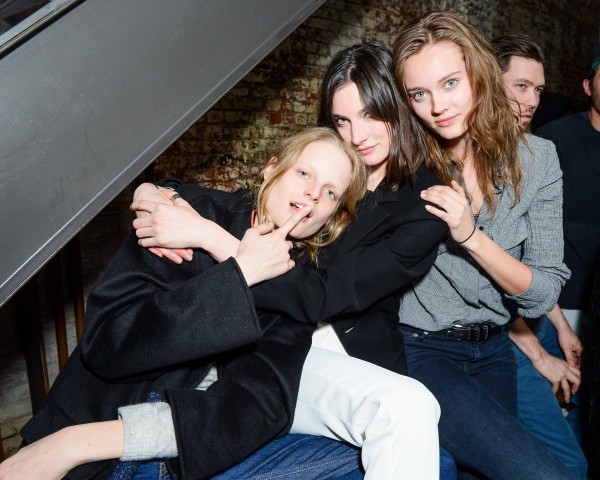 The debut issue of Unemployed magazine, an unbound single document in poster format of sexy, striking visuals (there are no words at all in the issue, save for credits on the back cover), is more collectible work of art than style publication. The party, which took place at 214 Lafayette (an awesome space that boasts a swimming pool on the 2nd floor), featured a screening of Lily Trotters, a film for the new mag by Hans Longo, and the prettiest crowd I've seen since Fashion Week. By the bar, there was a mash of models: Lily Donaldson, Jacquelyn Jablonski, Hanne Gaby Odiele, Jac Jagaciak, and Ruby Aldridge. Elusive celeb-u-tot Ronan Farrow hung out by the entrance. I also saw Charlotte Kidd, Jenne Lombardo, Keegan Singh, Alice + Olivia designer Stacey Bendet, Amirah Kassem of Flour Shop, artist Tali Lennox, Jamie Burke, Cleo Wade, Logan Horne, Interview's handsome publisher Dan Ragone, Alexis Dahan, Noot Seear, Hari Nef, Fiona Byrne, Julia Restoin-Roitfeld, milliner Gigi Burris, Happy Masse, Magnus Berger, Tenzin Wild, Morgan Collett and Ric Pipino, to name a handful.
Before all the cool 'n' cute kids decamped to Happy Ending (my favorite disco right now), I chatted with Unemployed founders Cecile Winckler and Sophie Tabet.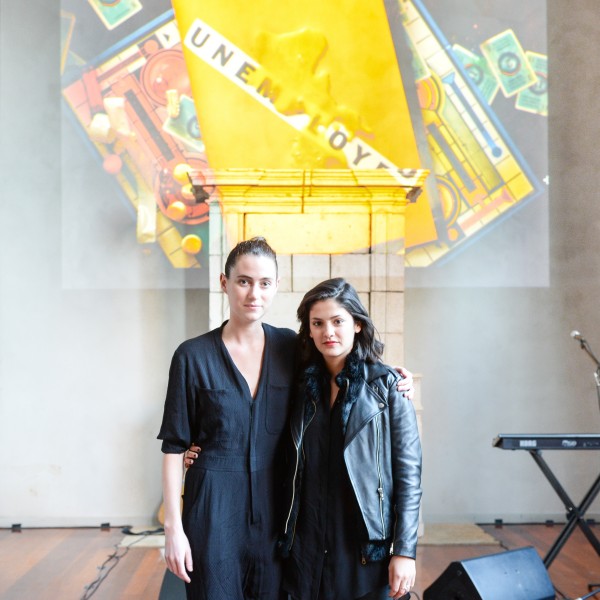 So what's the best part of actually being unemployed…or funemployed, as I like to say?
Cecile: Partying.
Sophie: Having the free time to explore what really gets your socks off, and making up job titles for yourself like "executive creative consultant."
What's planned for issue #2?
Cecile: It's a surprise.
Sophie: She's only told me.
I adore surprises! So why did you do a magazine with no words?
Cecile: I want people to put the pages up on their walls.
Sophie: It's also a matter of archiving our generation and it's evolution in print form. Think of it as a capsule.