Read today's dose of chic intel right here…
Savage X Fenty reveals new category, with a little help from Adam Selman 
Rihanna has once again teamed up with longtime collaborator, designer Adam Selman, for an exciting new category launch. Revealed today, Savage X Fenty Sport is here to disrupt the activewear sector, with a no-holds-barred offering of pieces that fuse sexiness with sportiness in the empowering, body positive way that Savage X Fenty knows best. With Selman as executive design director of sport and lounge, the emphasis is on pushing the limits of what is traditionally deemed sportswear (and any fans of Adam Selman Sport, aka A.S.S, can attest to that). In a release, Rihanna said: "We wanted to push the boundaries with how we define sport and sportswear and there is no one I'd rather do that with than Adam. We think of sport as how you move through your life. I want people to feel sexy, carefree and powerful when they put these pieces on and Adam is the perfect designer to carry out that vision." The line of bodysuits, high-waisted leggings, jumpsuits, sports bras, and more will be available to shop on November 9 (early access for Xtra VIP members from November 1). In the meantime, whet your appetite with the campaign featuring Avani Gregg, Precious Lee, Elsa Stallings, Nelita Villezon, Joanna Pauline, and Ayasha.
Jacquelyn Jablonski launches new drop, Good Sport
Say hello to Jacquelyn Jablonski's aptly-named new feel-good drop, Good Sport. Sold exclusively on Sports Verified, the supermodel's latest venture is a cheeky nod to both the culture of sportswear and an ode to the streets of NYC. For this drop, Jablonski enlisted notable downtown names to star in the campaign and showcase the crewnecks and tees, which range from $60-$110. Peep below for a look at the campaign, featuring the likes of Ronnie Flynn and Luke Cleary, Brianna Lance, Daria Strokous, Alana Zimmer, Anaa Saber, and more.
Images: Courtesy
Candice Swanepoel is the new face…and pins…of SCHUTZ
She's back in the big apple. Candice Swanepoel has stepped into her latest role, as campaign star for SCHUTZ' Fall '22 offering. The South African runway regular-turned-entrepreneur is captured in the city taking out the footwear brands latest hits for a test drive. This time around, the focus of the campaign—shot by Luigi and Lango and art directed by Giovanni Bianco against urban and skyline backdrops—calls out the Julianna cage-inspired heels, the Tessie boots, and the Zachy cowboy-approved style. Catch a glimpse, below: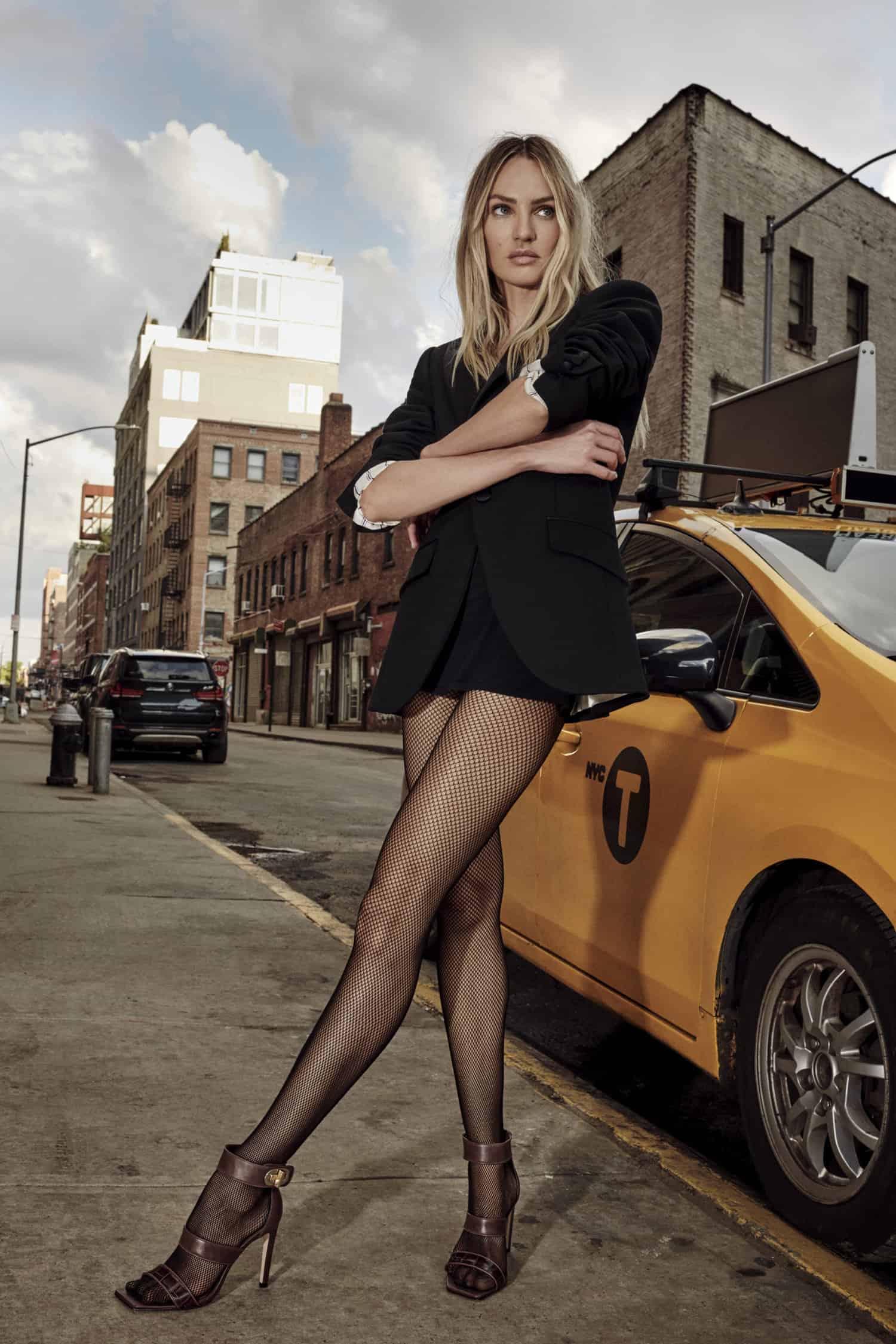 Images: Courtesy
Umm, who attacked Julia Fox and her Birkin with a machete?!
The Internet, nay TikTok, is a question-inducing place at the best of times. But Julia Fox's latest update is a particular type of head scratcher. In a clip that's quickly going viral (we're talking 1.1 million views already today), the omnipresent Fox shared a look at her grey Hermès Birkin with its noticeable slices as a result of a machete attack. Like those in the comments section, we have many, many queries. Alas, if there's one thing Fox will always do, it's surprise us. Answers on a postcard, please!
Nordstrom & Paloroma hosted a sweet breakfast with Rickie De Sole and Jane Keltner de Valle
Making for a cute brekkie moment, Nordstrom celebrated its launch of the elevated and clean children's skincare brand, Paloroma, and its new Let's Bounce nourishing conditioner. Paloroma's stylish founder Jane Keltner de Valle (formerly Architectural Digest's style director) and Nordstrom's Rickie De Sole (women's designer fashion & editorial director at the retailer) gathered editors, influencers, and tastemakers alike for breakfast at the Soho outpost of Ladurée to also toast to Paloroma's adorable newly-unveiled campaign. Attendees on the morning included plenty of well-heeled guests (and moms!) such as Athena Calderone, Aube Jolicoeur, Chiara de Rege, Dani Stahl, Dee Poku, Eva Chen, Jessica Wang, Kathy Lee, Marina Larroudé, Priya Shukla, Rachelle Hruska MacPherson, Sade Strehlke, Sarah Hoover, Sophie Elgort, Solange Franklin, and more.
Images: BFA
Cultured & Valentino highlight breast cancer awareness 
Pink is synonymous with the tireless work of the Breast Cancer Research Foundation, and it's undoubtedly a hue put on the Fall Winter '22 color wheel thanks to Valentino, so it makes sense that they would meet in the middle this October. Valentino and Cultured teamed up to present a shopping experience and informative panel discussion with Dr. Elizabeth Comen, Kinga Lampert, and Cultured founder Sarah Harrelson at the luxury brand's Soho boutique yesterday evening. The talk brought to light the hosts' experience with breast cancer and implored everyone in attendance to always trust their instincts when it comes to health, and to book in for regular early screenings. Among those in the audience listening in—and shopping for a cause!—were Cynthia Rowley, Athena Calderone, Gigi Laub, Marjon Carlos, and Marcy Warren.
Images: BFA
to our newsletter and follow us on Facebook and Instagram to stay up to date on all the latest fashion news and juicy industry gossip.