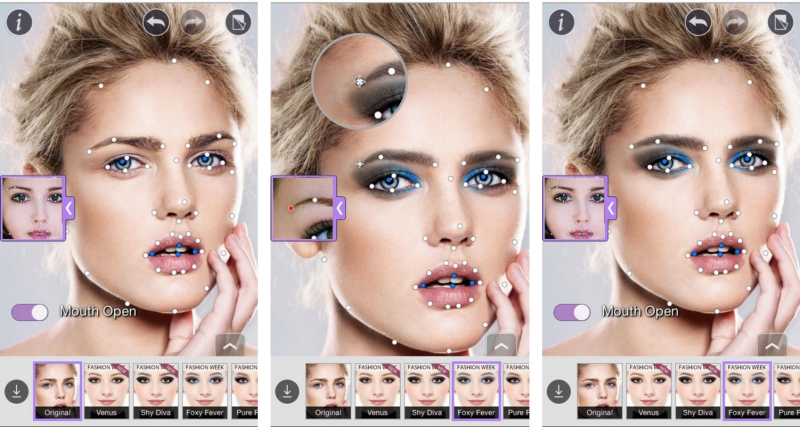 Sponsored Content: Fashionistas are becoming ever more tech savvy, and the fashion and tech worlds have been colliding for some time. Now the relationship is really taking off. Par example? LVMH recently hired a former Apple exec as its chief digital officer; last year Google partnered up with the CFDA, Barneys New York, and Opening Ceremony to launch stylish wearable technology; this season, a handful of designers chose to show their collections exclusively by video online or live-streamed the runway (Misha NoNoo even showed hers exclusively on Instagram); and makeup companies are beginning to put products through a "selfie" test before they go to market. And the number of apps available for all things fashion and beauty is on a constant rise, from Malzee's Tinder approach to shopping to the blogger favorite Like To Know It to the expert wardrobe organizer Stylebook.
So what's next? For one, YouCam Makeup. This smartphone app, developed by Perfect Corp., uses a high-tech, advanced facial recognition technology, allowing you to apply a variety of makeup looks to your selfie (like lipstick, eyeliner, and complete looks), tailored to your facial features. The technology can detect even the most extreme facial expressions and angles, and senses dozens of facial data points to give you lifelike makeup styles before actually using the products. What's more, the app offers Beauty Circle, a dynamic social and e-commerce network with millions of active beauty followers. You can try on your favorite makeup brands and colors before purchasing them, like new looks by Clinique, and share your selfie with the network. In Beauty Circle, you can also get tips from your fave style experts like InStyle and PureWow.
While YouCam Makeup is creating the runway of the future by virtually releasing looks inspired by Fashion Week trends, "bionic model" Rebekah Marine took to the catwalk this New York Fashion Week for FTL Moda. So what's next for tech, fashion, and beauty? Needless to say, we can't wait to see where the future is headed, and if it looks anything like YouCam Makeup, it's looking pretty good.
For a chance to win a trip to New York Fashion Week next year (hotel and flight included!), download the YouCam Makeup app and enter your supermodel selfie into their contest by using one of the Fashion Week looks and tagging your entry #PerfectFashionWeek. Click here to enter. Entries are accepted through October 7. The app is available at iTunes and the Google Play store.