Tanya Taylor is the fourth designer to open shop in the CFDA's Retail Lab space at the Cadillac House in NYC's Tribeca, following in the footsteps of Timo Weiland, Cushnie et Ochs, and Public School. Keen on color and famous for her punchy prints, Taylor gives the dish on the digs, what we can expect at the store, her plans for retail expansion, and where you can find her around the neighborhood—just check out Westville!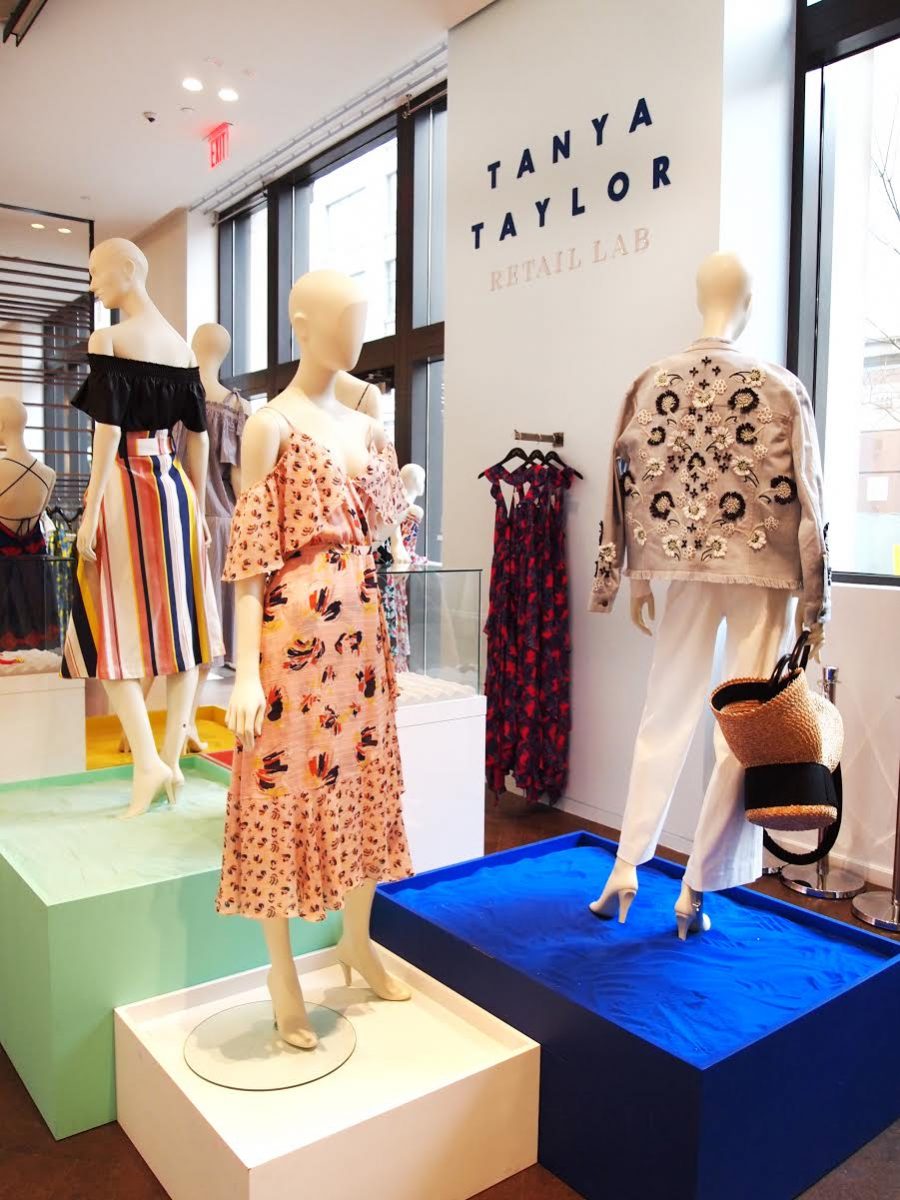 Tanya, tell us about the concept of your pop-up shop! 
We put together an installation for our spring show that involved building multicolored sandboxes. Then we filled them with tons of matching sand—we thought it would live just for Fashion Week, but people loved it so much that we wanted to continue it for our Retail Lab. So, we have some of that installation still living within the space and then we have mannequins standing in the sand in different looks. What's nice is we've expanded outside of ready-to-wear, so it's given us that opportunity to play with upholstery and we have a really cool bench in one of our prints. The dressing rooms are in all our print. We made custom pillows. We can really bring prints to life here, and that's something that means a lot to me.
How did you edit down what merchandise would be available at the store?
We edited the ready-to-wear collection. We have three deliveries that we've shipped to actual stores, so we picked our favorites from those. It was definitely an internal debate, considering this is our first retail foray. It's amazing how many opinions there are within the team about how to best represent the collection and think about different body types, different ages [and] different price points. We have introduced a lot more entry-level price points, so we have t-shirts in out prints. We collaborated with a sunglass company, Le Specs. We have Lizzie Fortunato jewelry and Eugenia Kim bags. We did some of our own little bags and we have our earrings for sale as well. There's a lot of breadth to the collection that you can't see at a store that we sell it at, and you can't even see on our e-commerce. It's an amazing opportunity for someone to walk into the world of what the Spring '17 collection feels like.
The store has a beach element. Would you consider yourself a beach girl?
Kind of! But I'm probably the palest human you will ever see in your life, so I can't say that I work well in sunlight. My mom lives in Barbados and I grew up going to Barbados my whole life, so I definitely have an appreciation for the effortlessness and the spirit of what it feels like to be more island-based. Our brand is super optimistic so spring/summer is always our strongest season—we really feel like it's the best time to have really happy prints and have color at the forefront of what we are communicating.
Who's your dream person to come into the store?
I love Olivia Wilde. I think during the whole Hillary Clinton year, she was very vocal. I think she's really intelligent and I'm just fascinated by her. I'd love for her to walk through the door!
Do you have plans to open your own brick and mortar space?
We see this as an opportunity to learn a lot about [retail] before we ever commit to doing something like that. Our goal is to spend the three months really engaging new customers. We have 15 events on the calendar with a lot of women's groups, whether they're from Ernst & Young to JP Morgan [or] Tribeca Moms. I want to learn more about what those women are doing when it comes to brick and mortar shopping.
What are some of your favorite spots around the Retail Lab neighborhood?
Westville across the street, for sure! Since I've moved to New York, that's a go to every week. The Manhattan Car Club that used to exist down the street, which is now a little further west, is super cool. They have an open bar on weekends, and they have vintage cars in their show space. Joe's Coffee Shop in the Cadillac headquarters is great, too. We have the staff wearing our t-shirts and we've put pillows all through the café. Every time I pop by, it's buzzing, and I think that's been a really cool location for a lot of the businesses in the area.
What was your first job in fashion?
I worked in retail at a vintage store called Paper Bag Princess. It was in L.A. and Toronto and I worked in the Toronto location—I was in charge of their window displays. They promoted me to some of their vintage alterations for customers, but I definitely over-embellished my ability to sew. I tried by best, but it also kind of helped me realize I needed to go to Parsons and learn how to sew before I started mending $1,000 gowns.